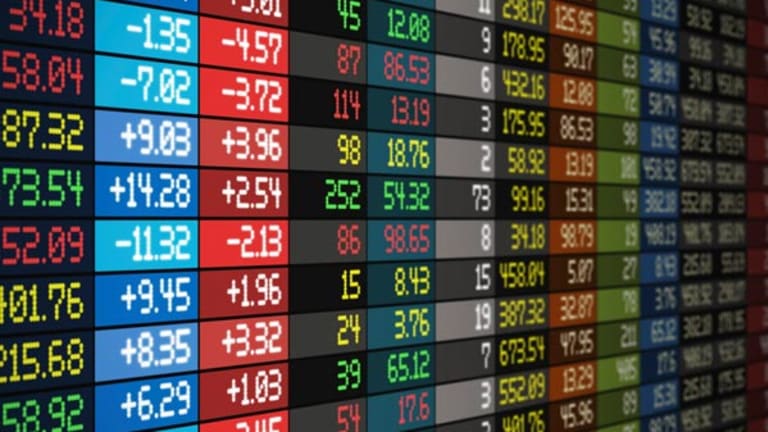 Stocks Wrap Up Big Quarter
The broad averages end lower on the last day of the first quarter, but they're off to a solid start in 2006.
Updated from 4:11 p.m. EST
Stocks weren't able to stay aloft on the last day of the first quarter, but that didn't erase the fact that the broad averages still collected solid gains in the three months since the calendar turned to the new year.
The
Dow Jones Industrial Average
lost 41.38 points, or 0.37%, to 11,109.32, while the
S&P 500
was down 5.43 points, or 0.42%, to 1294.82. The
Nasdaq Composite
slipped 1.03 points, or 0.04%, to 2339.79.
"Today showed the pushing and pulling we've been going through all week," said Edgar Peters, chief investment officer with Pan Agora. "Now we can look ahead to important economic numbers next week, including the nonfarm payrolls data and the ISM figures. Those are two that the
Federal Reserve
will be keeping a close eye on."
The first three months of 2006 have been kind to investors, representing one of the best single quarters in three years. The Dow has gained 3.65% since Dec. 31, while the S&P 500 has risen about 3.72%. The Nasdaq is higher by 6.09%. The Dow and the Nasdaq had their best first quarters since 2002. For the S&P, the gain was even more impressive, as the index had its strongest first quarter since 1999.
For the week, however, the Dow fell 1.51%, and the S&P 500 lost 0.61%. The Nasdaq managed to gain 1.17%.
The Dow remained in negative territory for the session as components
Altria
(MO) - Get Altria Group Inc Report
,
Merck
(MRK) - Get Merck & Co., Inc. Report
and
Verizon
(VZ) - Get Verizon Communications Inc. Report
fell by 1% or more.
About 1.61 billion shares traded on the
New York Stock Exchange
, with advancers matching decliners. Trading volume on the Nasdaq was 1.91 billion shares, and winners topped losers 9 to 7.
The 10-year Treasury bond was up 1/32 in price to yield 4.85%, while the dollar was higher against the yen and euro.
Before the opening bell, the Commerce Department said that personal income rose by 0.3% in February, while personal spending edged up 0.1%. Both results were in line with expectations. The core personal consumption expenditure index, considered the Fed's favorite inflation indicator, rose a quiet 0.1% last month.
"The PCE deflator was unchanged, so real spending rose 0.1%, slightly better than we had expected," said Ian Shepherdson, chief economist with High Frequency Economics. "Even if real spending is unchanged in March, the first quarter as a whole will be up 4.7%, making a GDP number in excess of 4% more or less a done deal."
Helping to ease the market's inflation fears were comments from Kansas City Fed President Thomas Hoenig, who said rates had moved to a point much closer to neutral. Traders took that to mean the central bank's 21-month-long string of rate hikes might be near an end.
Earlier this week, Fed policymakers raised the fed funds target rate by a quarter-point to 4.75%, the 15th increase since June 2004, when the rate was 1%.
Rising bond yields have sapped the market's momentum in the quarter's closing days. At current levels, the yield on the 10-year Treasury note is at its highest point since June 2004, as traders have fretted that strong economic data will prevent the Fed from halting its rate-tightening campaign.
The selloff in bonds hurt blue chips Thursday, with the Dow finishing down 0.6% at 11,151, and the S&P 500 losing 0.2% to 1300. The Nasdaq bucked the trend and rose 0.1% to 2341.
"If there was a honeymoon time for the bond market and Ben Bernanke, it's over now," said Ken Tower, chief market strategist with CyberTrader. "We're extremely close to four-year highs on Treasury yields. The prices are tumbling. Stock market investors are so far willing to ignore these rising rates for the short term, but the question is how much longer will investors manage to keep ignoring rates."
Also on the economic front, February factory orders rose by 0.2%, far below expectations of a 1.4% rise. The March Chicago purchasing managers' index increased to 60.4, up from 57.0. In addition, the University of Michigan's revised consumer sentiment reading for March came in at 88.9, firming from the preliminary reading of 86.7.
Oil eased but remained ensconced above $66 a barrel, reflecting concerns that the stalemate around Iran's nuclear ambitions will end up stretching worldwide energy supplies. In Nymex floor trading, May crude finished down 52 cents to $66.63 a barrel.
Leading the corporate news was word that auto-parts supplier
Delphi
( DPHIQ) will seek the rejection of its labor contract and will impose big wage and benefit cuts through a bankruptcy court judge. The move could result in a strike. The company will also reduce its salaried workforce by 25%, or 8,500 jobs. Delphi rose 8 cents, or 15.5%, to close at 63 cents.
General Motors
(GM) - Get General Motors Company Report
, Delphi's biggest customer and former parent, said it disagrees with Delphi's approach but will remained committed to the company. Some estimates say a strike could cost the automaker more than $100 million a day and worsen an already precarious financial situation. Still, GM added 21 cents, or 1%, to $21.27.
Freddie Mac
( FRE) estimated its full-year 2005 net income at $2.5 billion, down more than 10% from a year ago. Freddie Mac gave the estimate as it prepares its formal financial statements for filing with the
SEC
. The stock fell $1.45, or 2.3%, to $61.
Business software maker
Cognos
( COGN) said fourth-quarter earnings fell 19% from a year ago to $44 million, or 48 cents a share, while revenue edged down to $253.1 million. The results beat estimates, and Cognos finished higher by 75 cents, or 2%, to $38.90.
Prudential downgraded
Dow Chemical
to neutral from overweight, citing lower demand. Shares lost 50 cents, or 1.2%, to $40.60.
Friedman Billings raised
T. Rowe Price
(TROW) - Get T. Rowe Price Group Report
to outperform, citing growth momentum. T. Rowe Price was higher by $3.89, or 5.2%, to close at $78.21.
Elsewhere, Credit Suisse raised its price target for video game retailer
GameStop
(GME) - Get GameStop Corp. Class A Report
to $52 from $47. The stock tacked on 7 cents, or 0.2%, to $47.07.
Overseas markets were mostly weaker, with London's FTSE 100 down 0.8% to 5964 and Germany's Xetra DAX losing 0.2% to 5970. In Asia, Japan's Nikkei rose 0.1% overnight to 17,060, while Hong Kong's Hang Seng fell 0.5% to 15,805.