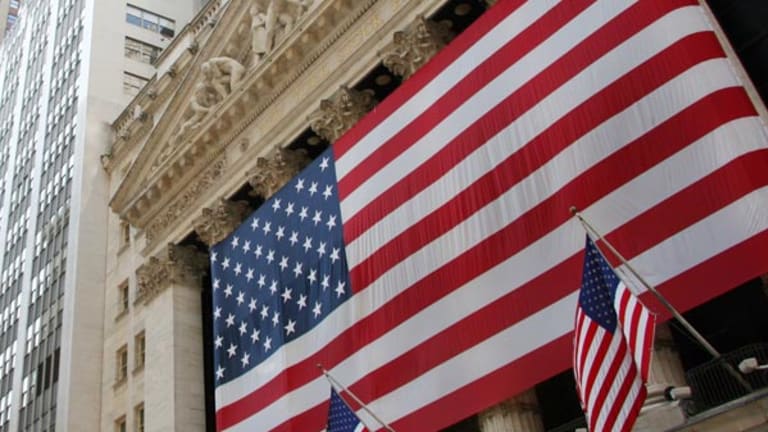 Stocks Work Through Headwinds
Futures rise despite weak Wal-Mart guidance and higher oil.
Stocks were building on last week's gains early Tuesday as investors went shopping despite higher oil prices and weak guidance at
Wal-Mart
(WMT) - Get Free Report
.
Index futures recently showed the
trading 3 points above fair value, while the Nasdaq 100 was set for a 4-point gain. The 10-year Treasury bond was up 10/32 in price to yield 4.55% -- 12 basis points below the two-year note -- while the dollar rose against the yen and euro.
Wal-Mart's fourth-quarter earnings rose 12.5% from a year ago to $3.6 billion, or 86 cents a share, on an 8.6% jump in sales to $89.3 billion. Adjusted earnings were 84 cents a share. Analysts had been forecasting earnings of 83 cents a share on sales of $90.4 billion.
Wal-Mart expects to earn 58 cents to 62 cents a share in the first quarter and $2.88 to $2.95 a share in the current year. Analysts surveyed by Thomson First Call were forecasting earnings 62 cents a share in the first quarter and $2.98 a share in the full year.
Home Depot's
(HD) - Get Free Report
fourth-quarter earnings rose 23% from a year earlier to $1.29 billion, or 60 cents a share, beating estimates by 4 cents. Sales rose 16% to $19.49 billion, beating the $18.74 billion consensus.
Crude was sharply higher amid renewed rebel activity in Nigeria, where nearly 20% of oil production has been halted. The March contract was recently up $1.32 to $61.20 a barrel. Since bottoming out below $58 last Wednesday, front-month crude is up more than 6%.
U.S. stocks are coming off a week in which the
Dow Jones Industrial Average
rose 1.8%, the S&P 500 gained 1.6%, and the
Nasdaq Composite
added 0.9%.
Overseas markets were stronger Tuesday, led by Japan, where the Nikkei rallied 3% overnight to 15,895 on signs that pricing power is returning to the economy. Hong Kong's Hang Seng tacked on 0.2% to 15,627. In Europe, London's FTSE 100 was recently up 0.3% to 5882, while Germany's XETRA DAX rose 0.8% to 5840.
To view David Peltier's video take on today's premarket action, click here
.
In other earnings news Tuesday,
Clear Channel
(CCU) - Get Free Report
swung to a fourth-quarter profit of $461.6 million, or 86 cents a share, as sales rose 1% to $1.78 billion. Adjusted earnings of 34 cents a share were a penny shy of the Thomson First Call consensus.
Placer Dome's
fourth quarter earnings fell to $22 million, or 5 cents a share, from $39 million, or 9 cents a share, a year ago. Sharply higher gold and copper prices were offset somewhat by hedging activities.
RadioShack
(RSH)
CEO David Edmondson resigned Monday amid a growing controversy about the accuracy of his resume. Edmondson last week admitted that his prior claims to a pair of college bachelor's degrees were inaccurate.