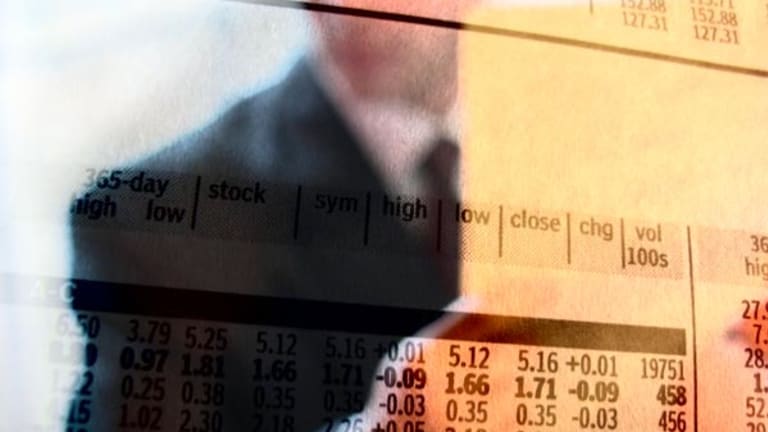 Stocks Work Off Their Lows
Investors speculate on the fate of Lehman and digest new data on foreclosures, PPI and monthly retail sales.
Updated from 9:56 a.m. EDT
Stocks in the U.S. were lately trading near the baseline following a mixed bag of reports about the fate of harried brokerage
Lehman Brothers
undefined
and a disappointing monthly retail-sales report.
The
Dow Jones Industrial Average
was down 19 points at 11,414, but the
up nearly a point at 1249. The
Nasdaq
was down 1.5 points at 2256.
Traders have leveled an intense gaze at the financial sector this week following the government takeover of mortgage giants
Fannie Mae
undefined
and
Freddie Mac
undefined
. Throughout the week, investor jitters were evident in volatile price action in Lehman and
Washington Mutual
(WM) - Get Free Report
.
Following the market's close Thursday,
The Wall Street Journal
reported that Lehman was shopping itself to, among others,
Bank of America
(BAC) - Get Free Report
. The
Journal
and
Reuters
both listed British bank
Barclays
(BCS) - Get Free Report
as another potential buyer. Both publications also said that the Treasury and
were offering counsel to Lehman as it explores its options. A solution to
could help restore confidence in U.S. financial markets.
Investors are on edge thanks to uncertainty about Lehman's fate, said Alan Gayle, senior investment strategist and director of asset allocation at RidgeWorth Capital Management. "In the absence of an announcement today, investors may want to go flat or minimize their exposure over the weekend," he said.
Gayle said a deal brokered without government funds would signal to the market that we're further along in stabilizing the credit markets and the banking system.
"Lehman will cease to be an independent entity," said Bill Fleckenstein, hedge fund manager at Fleckenstein Capital Management. He said that a shotgun marriage with another institution may be on the horizon, with or without backing by the Treasury or Federal Reserve. "They're gone," he said. "The only question is in what way are they gone and how much collateral damage is there from that goneness."
Troubles in the financial system extend beyond Lehman and permeates many other financial institutions, said Fleckenstein. "It's a very dangerous situation," he said.
, late Thursday, said it has $50 billion in liquidity and announced that its retail deposit base remained at levels reached at the end of 2007. The company also said it expects its third-quarter loan-loss provision to be about $4.5 billion, down from $5.9 billion in the second quarter.
Ratings agency Moody's
downgraded WaMu's credit rating
to below investment grade, citing "reduced financial flexibility." Goldman Sachs had a more positive take, upgrading shares of WaMu to neutral from sell. According to a
Bloomberg
report, Goldman said the company might be able to avoid another capital raise.
Bloomberg
also reported that the company may have to sell some of its deposits and branches as it struggles to raise capital. Thursday's late rally aside, shares of the Seattle bank have been pounded in recent days on fears about its sizable exposure to bad mortgage debt.
Goldman Sachs had a more positive take, upgrading shares of WaMu to neutral from sell. According to a
Bloomberg
report, Goldman said the company might be able to avoid another capital raise.
Reflecting broader trouble in credit markets, a sale of $228 million in
Clear Channel
bonds last week failed to attract as many buyers as underwriters had anticipated.
In the realm of commodities, crude oil was rising $1.21 to $102.08 a barrel. Oil refiners were shutting down some production as Hurricane Ike menaced the Texas Gulf Coast. Gold was up $13.10 to $758.60.
Gayle of RidgeWorth said the threat that Hurricane Ike will force reductions in pumping and refining capacity is spooking investors. "We'll find out how much damage gets done, but it looks like some damage will get done," he said. However, he said he believes oil is headed below $100 a barrel.
As for economic data, RealtyTrac said that August foreclosure filings were up 27% year over year to 303,000, or one out of every 416 U.S. homes.
The Bureau of Labor Statistics' August producer price index fell 0.9%, a broader decline than expected by economists and down from a 1.2% uptick in July. The core read on inflation rose 0.2%, a narrower increase than 0.7% in July. The Census Bureau's retail sales figures showed a decline of 0.3% for August, whereas analysts were looking for an increase of 0.3%. Excluding autos, retail sales fell 0.7%.
"The economy's sinking," said Fleckenstein. He said that last quarter's 3.3% GDP growth was dependent on the belief that inflation was at 1%, a notion he disputes. Further, the economy was propped up by the government's stimulus checks, which have now been spent, he said.
A consumer sentiment survey from the University of Michigan showed that sentiment rose to an eight-month high in September, beating analyst estimates.
Longer-dated U.S. Treasury securities were lower in price. The 10-year note was down 12/32, yielding 3.69%. The 30-year lost 22/32 to yield 4.26%. The dollar was losing ground vs. the euro and pound but rising against the yen.
Indices abroad were mainly higher. The FTSE in London, the Nikkei in Japan and the Dax in Frankfurt were higher, while the Hang Seng in Hong Kong took losses.