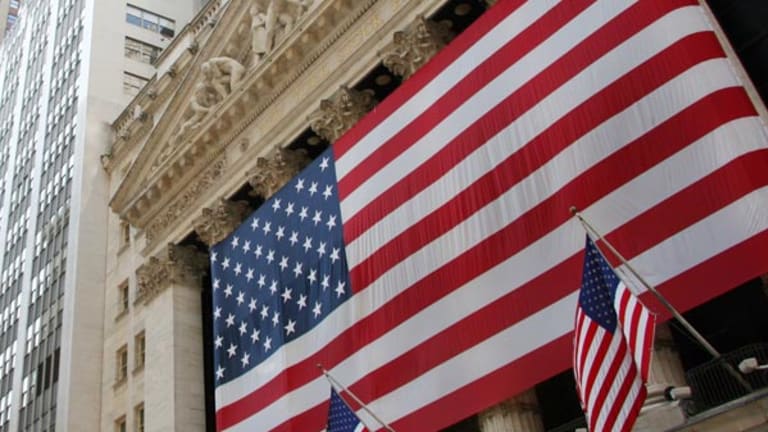 Stocks' Winning Streak Ends
Stocks edge lower Tuesday after a day of mixed trading and weak momentum. Gregg Greenberg reviews the day in The Real Story.
NEW YORK (
) -- Stocks failed to build on a six-session winning streak Tuesday as U.S. indices closed slightly to the downside.
The
Dow Jones Industrial Average
finished down by 1.7 points, or 0.02%, at 10,545.4. The
lost 1.6 points, or 0.1%, to close at 1126.2, and the Nasdaq was down by 2.7 points, or 0.1%, at 2288.4.
Stocks lacked direction for much of the session as economic data came in as expected and the U.S. Treasury's $42 billion auction of five-year notes saw better support than Monday's two-year note auction. The five-year note sale captured a high yield of 2.665% and had a bid-to-cover ratio (which compares the number of bids received to those accepted) of 2.59, which exceeded the average ratio of 2.36.
>>Exclusive: Ford's Mulally Got Wings at Boeing
Foreign central banks and other indirect bidders took 44%, dispelling fears that the auction would see dismal demand after indirect bidders took only 34.8% of the $44 billion of two-year notes auctioned on Monday. Auctions of shorter-term maturities like the two-year note usually go well, according to Mary Ann Hurley, vice president and fixed-income trader at DA Davidson. The healthy interest in the five-year note sale came as a welcome surprise.
Yields on government debt securities fell, lifting prices shortly after the auction results were released Tuesday afternoon and were little changed later in the session. Yields on the two-year note and the five-year note were 1.095% and 2.576%, respectively, while the yield on the benchmark 10-year note was 3.807%.
Andrew Fitzpatrick, director of investments at Hinsdale Associates, attributed the session's sluggish trading to a lack of momentum in the wake of the market's six-day rally.
"It's simply a reflection of low volume and markets cooling off. There's a natural downward pressure as people are taking a little bit off of the table and going into the new year pretty happy with where they are," Fitzpatrick said, adding that he expects markets to trade sideways throughout the week.
Trading volumes have been light following the long holiday weekend and are expected to stay that way during the shortened trading week as markets close on Thursday in observance of New Year's Day. On Tuesday, volume on the Dow was nearly 65 million, compared with its 10-day average volume of 182.4 million.
Stocks fell off morning highs after the Conference Board said
consumer confidence hit a three-month high in December. The Consumer Confidence Index jumped to 52.9, meeting economists' expectations for a reading of 53, suggesting that some market watchers had been counting on a sharper increase. The Conference Board also upwardly revised November's level to 50.6 from 49.5.
In other consumer news, the Johnson Redbook Retail Sales Index rose 3% in December's final week, on the heels of the prior week's 1.9% gain. Month over month, however, the index fell 4.5%.
The International Council of Shopping Centers-Goldman Sachs chain-store sales index recorded a 0.4% increase in the week ended Dec. 26 as shoppers played catch-up after heavy winter storms blanketed the North and Southeast in the previous week. The holiday season also saw a slower gift-completion rate, according to the ICSC, suggesting some shoppers appear to have waited until after Christmas to finish gift-shopping to capitalize on post-holiday sales.
"As a result of those two 'catch-up forces' -- which pushed more pre-Christmas sales into the week ending Dec. 26 than last year -- and a calendar that included more pre-holiday shopping days than last year's period, the week's unadjusted sales performance was strong, aided by the sales strength from the post-Christmas shopping day," said the ICSC's Michael Niemira.
Retail shares were mixed Tuesday with upscale department store
Saks
(SKS)
finishing up by 0.6%, and
Macy's
(M) - Get Free Report
down by 0.6%. Shares of
Wal-Mart
(WMT) - Get Free Report
added 18 cents, or 0.3%, to close at $54.16.
Earlier, the
Standard & Poor's/CaseShiller index of home prices in 20 metropolitan areas came in flat for October, although September's figure was upwardly revised to 0.4%, from 0.3% previously. The annual rate decline improved to a decrease of 7.3%, which was roughly in line with the 7.2% drop forecast by economists.
The
SPDR S&P Homebuilders
(XHB) - Get Free Report
ETF was down by 0.5% at the end of Tuesday's trading session. Shares of
Hovnanian
(HOV) - Get Free Report
and
Lennar
(LEN) - Get Free Report
fell 2.2% and 0.9%, respectively.
Stocks finished Monday's session higher as a holiday retail report indicated improved consumer spending, mitigating weakness in the airline sector spurred by travel security concerns. Airline shares remained weak on Tuesday with
US Airways
(LCC)
closing down by 3.4% and
Continental Airlines
(CAL) - Get Free Report
off by 1.7%.
Delta Air Lines
(DAL) - Get Free Report
managed to close ahead by 0.4%.
A stronger dollar also weighed on equity and commodity markets as the dollar index ticked higher by nearly 0.2%.
Gold prices weakened with the most actively traded February contract losing $9.80, or 0.9%, to settle at $1,098.10 an ounce.
Crude oil for February delivery lost 10 cents, or 0.1%, to settle at $78.87. After the close of trading, the American Petroleum Institute said crude oil stockpiles gained 1.7 million barrels in the week ended Dec. 25, dashing estimates for a 2.2 million-barrel drawdown as projected by analysts polled by Platts.
The Energy Information Administration releases its inventory data for last week at 10:30 a.m. EST on Wednesday.
--Written by Melinda Peer in New York
.