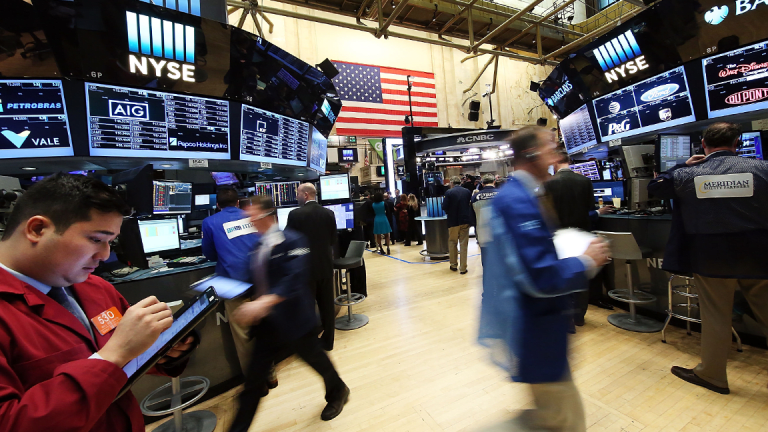 Trade War Fears Continue to Roil Stock Markets Globally
World stocks fell to their lowest level in three months Thursday, with China pulling Asia to a 9-month trough, as investors count the cost of trade and tariffs on global economic growth.
World stocks fell to their lowest level in three months Thursday, with China pulling Asia to a 9-month trough, as investors count the cost of trade and tariffs on global economic growth.
The Thursday Market Minute
Global hit lowest level in three months as China pulls Asia to 11-month low amid trade war pullback.
Copper slides to three-month, U.S. yield curve continues to flatten as investors watch signals of a broader economic slowdown.
Oil prices ease from near-four year highs as dollar tests near year-to-date peak, but falling U.S. crude stocks and OPEC supply questions keep markets bullish.
Wall Street futures hold early gains, but equity market sentiment soured by comments that President Trump is "not retreating" on China.
Market Snapshot
Global stocks weakened again Thursday, with shares in Asia falling to the lowest level in nine months, as investors continue to count the cost of trade tariffs and protectionism among the world's biggest economies.
The market's sentiment was further soured by signals that growth is starting to slow as a result of the tit-for-tat trade wars that have escalated since early March, and a statement from Donald Trump's top economic adviser that the President was "not retreating" in his approach to trade with China. With the U.S. Treasury yield curve showing persistent signs of a slowdown, copper prices falling to a three month low and oil rising to the highest in nearly four years, investors appear increasingly concerned that the global equity market rally may have run its course. 
That was echoed Thursday by the European Central Bank, which said in its regular monthly economic bulletin that "The near-term prospects of greater trade protectionism have increased, which could have a significant impact on global activity and trade."
"Other downside risks relate to the possibility of a further tightening of global financial conditions, disruptions associated with China's reform process and geopolitical uncertainties associated, in particular, with Brexit-related risks," the ECB said.
Against that backdrop, the MSCI Asia ex-Japan index fell 0.52% into the close of trading Thursday, hitting the lowest level in nine months earlier in the session as markets in China continued to extend declines amid the ongoing trade war rhetoric and a move by the White House to more-closely probe potential investments into the U.S. tech sector under the guise of national security concerns. 
Japan's Nikkei 225 was little-changed by the close of trading in Tokyo for the second day in a row as investors continue their preference for cash and safe-haven assets amid the trade war uncertainty and warnings from the auto sector over the potential damage rising tariffs will have on one of the world's most important industries.
European stocks were weaker at mid-day with the Stoxx Europe 600 falling 0.74% from its Wednesday close while benchmarks in German (-1.16%) and France (-0.6%) gave back earlier gains. London's FTSE 100, however, was trading modestly lower, with a 0.19% decline, even with both the euro (1.1579) and the pound (1.3082) holding at multi-week lows against a resurgent U.S. dollar.
The dollar index, which tracks the greenback against a basket of six global currencies, traded at the highest level since July 2017 overnight, rising 0.08% to 94.381, even as benchmark 10-year U.S. Treasury yields slipped to 2.83%.
That move continued the so-called 'flattening' of the yield curve, a condition in which the difference between 2-year and 10-year bond rates narrows, to a difference of just 0.32%, the lowest since 2007.
This 'flattening' of the yield curve is often associated with slowing economic growth, while an inversion of the curve, when 2-year bond rates are higher than 10-year rates, is quite frequently taken as a sign of potential recession. Benchmark 2-year Treasury yields were marked at 2.504% while 10-year notes traded at 2.825%.
Watch more about the yield curve below. 
U.S. equity futures gave back earlier gains the opening bell grew closer, with contracts tied to the Dow Jones Industrial Average  I:DJI pointing to a 23 point dip for the 30-stock average and those linked to the S&P 500  I:GSPC indicating a 1 point decline for the broader benchmark. 
Global oil prices eased extended gains in European trading, despite the rising U.S. dollar, and are still holding at the highest levels in three-and-a-half years as President Trump pressures Iranian exports and investors react to a sharp 9.9 million barrel decline in domestic crude stocks last week. Brent crude futures contracts for September delivery were marked 29 cents higher from their Wednesday close in New York and changing hands at $77.92 in early trading while WTI contracts for August were seen 11 cents higher at $72.87 per barrel.