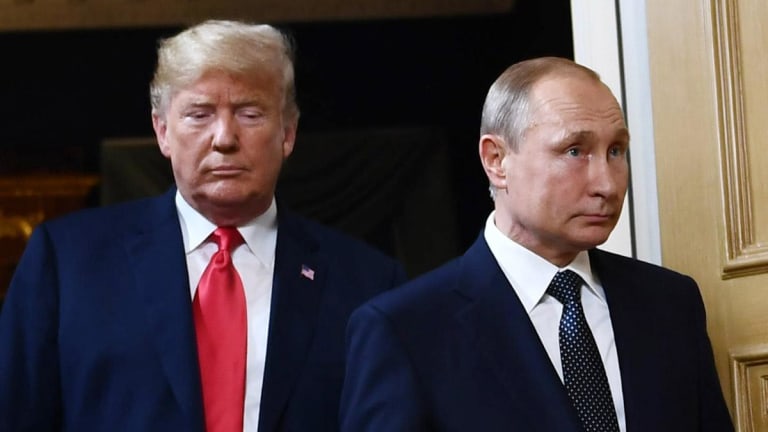 Stocks Weaken as Trump's Fed Rate Comments Open New Front in Global Trade War
Global stocks weakened Friday as investors continue to fixate on developments in trade disputes between the U.S. and China and comments from President Donald Trump that could suggest the dollar may by the next weapon in the White House's arsenal in the brewing trade war.
The Friday Market Minute
Global stocks slide as Trump comments on Fed rate hikes rattles markets, hammers dollar.
U.S. dollar index falls more than 1.6% from Thursday's 52-week high after President says he's "not thrilled" with Fed tightening. 
China's PBOC fixed yuan at lowest level in 13 months as currencies move to center stage in trade war.
Oil markets rebound as dollar slips, but are still on track for their third consecutive weekly decline.
U.S. equity futures point to mixed open on Wall Street, with Microsoft earnings boosting the Nasdaq as the Dow and the S&P 500 slip modestly into the red.
Market Snapshot
U.S. equity futures extended declines Friday after President Donald Trump said Friday he was ready to increase tariffs on China-made goods to as much as $500 billion in order to address what he has called an unfair trade deficit with the world's second largest economy.
In an interview with CNBC television, broadcast Friday, insisted he wasn't concerned about the political implications of his decision to take on China's trade surplus, which hit a record $133.8 billion over the first six months of the year, and said the stock market could be significantly higher if he were to abandon the various trade disputes he's ignited with Beijing, Brussels and London.
"This is the time," he said, to go after the trade imbalances between Washington and its allies and competitors. "You know the expression, 'we're playing with the bank's money?' This is the time."
Futures contracts tied to the Dow Jones Industrial Average undefined  are now indicating an opening bell decline of 75 points while those linked to the broader S&P 500 undefined predicting a 4.6 point pullback.
Last night's stronger-than-expected fourth quarter earnings from Action Alerts Plus holding Microsoft Inc. (MSFT) , however, should support a more solid start for the tech-focused Nasdaq Composite undefined , which is poised to gain 3 point dipt at the opening bell, according to futures prices at 6:30 am eastern time.
The week's busy earnings slate will be rounded out Friday by numbers from General Electric (GE) and Honeywell (HON) , another stock in TheStreet founder Jim Cramer's Action Alerts Plus portfolio.
Trump's comments followed a weak session for global equities, with modest gains in Asia offset by a weaker start in Europe, as investors continue to fixate on developments in trade disputes between the U.S. and China and the suggestion that the dollar may by the next weapon in the White House's arsenal in the brewing trade war.
Trump sent markets tumbling Thursday when he told CNBC that he "wasn't thrilled" with the Federal Reserve's signalling of future rate hikes, and the dollar strength it inevitably creates, when China's yuan is "dropping like a rock" and the European single currency is declining. "It puts us at a disadvantage," he said.
Trump's comments, which breach years of Presidential protocol that allows the Fed to operate independently,  followed two-days of testimony from Fed Chairman Jerome Powell that appeared to have cemented the case for at least two more rate hikes this year, as the economy continues to outperform and inflation accelerates, pushing the dollar index to its highest level in a year.
"Every time you go up they want to raise rates again," Trump said "I am not happy about it. But at the same time I'm letting them do what they feel is best."
"I don't like all of this work that we're putting into the economy and then I see rates going up," he added.
The dollar index responded to the President's comments in overnight trading, falling 0.8% from yesterday's July 17 high against a basket of six global currencies to 94.85, even as investors appeared to make no change to their bets of Fed rate hikes in September and December, according to the CME Group's FedWatch tool.
However, China's reaction to the dollar weakness was also illustrative of the growing concern that currencies may become the next weapon in the ongoing trade war between Washington and Beijing, with the People's Bank of China fixing the yuan at the lowest level in 13 months, at 6.8128, and lower for the seventh consecutive session, before reportedly asking commercial banks to intervene late in the Asia trading session.
The whipsaw allowed China stocks to stage a late Friday rally, with the Shanghai Composite rising more than 2% and the bluechip CSI 300 gaining 1.9%, moves that pulled the region-wide MSCI Asia ex-Japan index 0.58% higher heading into the end of the trading day. Japan's Nikkei 225 closed out 0.29% to the downside at 22,697.88.
However, the momentum wasn't able to find its way into the European session, with stocks around the region slipping into the red as the euro edged modestly higher against the dollar to 1.1649 and investors absorbed news that European Commission President Jean-Claude Juncker has prepared a list of nearly $300 billion in reciprocal tariffs ahead of his meeting with Trump in Washington next week.
The Stoxx Europe 600 index was marked 0.5% lower by mid-day in Frankfurt, while benchmarks around the regional slipped similarly into the red. Britain's FTSE 100 was 0.28% to the downside as the pound held close to a 8-month low of 1.3036 following a series of weaker-than-expected economic data releases this week that could scupper near-term rate hike plans from the Bank of England.
Away from equities, the U.S. Treasury bond curve continued to suggest investor concern for the medium-term strength of the domestic economy, as the gap between 2-year and 10-year notes narrowed to 24.6 basis points, close to its recent 11-year low, as cash piled in to benchmark 10-year bonds following release of the President's comments, taking the yield to 2.845% in overnight trading.
Global oil prices were modestly stronger in overnight trading, with weaker U.S. dollar adding support to a market that has fallen for three consecutive weeks, thanks to the addition of further American supply and the unblocking of bottlenecks in war-torn Libya.
Gains were limited, however, to news that Saudi Arabia will reduce its August production rates by 100,000 barrels a day in order to ensure that OPEC members aren't pumping more crude than the market currency requires as the cartel continues to seek what it calls a "balance" for global crude.
Brent contracts for September delivery were marked 30 cents higher from their Thursday close in New York and changing hands at $72.88 during early European trading while WTI contacts for the same month, the new domestic benchmark, were seen 1 cents lower at $68.23 per barrel.