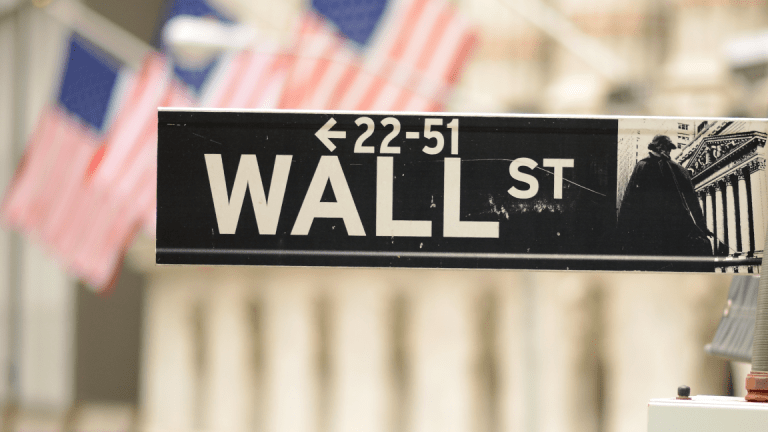 Stocks Weaken as Trade War Shifts To Investment Curbs; China Extends Declines
New moves by U.S. lawmakers to limit foreign investment could signal a new shift in the simmering global trade war as stocks fall and U.S. bond yields signal slowing economic growth.
New moves by U.S. lawmakers to limit foreign investment could signal a new shift in the simmering global trade war as stocks fall and U.S. bond yields signal slowing economic growth.
The Wednesday Market Minute
Global stocks soften as trade war focus shifts to U.S. investment laws.
Asia shares slide, led by weakness in China and a stronger U.S. dollar, as investors fret over next move in global trade disputes.
China stocks extend declines, even as yuan pegged at a six-month low against the dollar.
Oil markets extend gains amid concerns over Libya supply and U.S. moves to stop Iranian imports.
U.S. bond yields signal growth concerns as gap between 2-year and 10-year bonds narrows to the lowest since 2007.
Wall Street futures drift lower as global uncertainty over U.S. position on trade and tariffs keeps some investor cash on the sidelines.
Market Snapshot
Global stocks were mixed Wednesday, with trade war concerns following support for tighter investment rules by U.S. lawmakers holding down markets in Europe and Asia and pulling Wall Street futures further into negative territory. 
The U.S. House of Representatives passed one of two bills workings its way through Congress late Tuesday that proposed broader powers to the U.S. Committee on Foreign Investment, which probes potential corporate partnerships and takeover by foreign companies. This comes ahead of Friday's expected announcement of further curbs on investments by China-backed firms into U.S. companies that have "industrially significant" technologies.
The shifting of focus from tariffs to investment suggests the White House is prepared to elongate the time frame during which it will work towards addressing both its long-standing trade deficit with China, which President Donald Trump again referenced yesterday -- describing it is $500 billion -- and what it sees as unfair trade agreements with other major economic partners around the world.
With Asia on the front lines of that brewing trade war, stocks in the region extended declines Wednesday, with the MSCI Asia ex-Japan index falling 0.5% into the close of the session and the Nikkei 225 in Japan sliding 0.31% to end the day at 22,271.77 points. 
Stocks in China were weaker, as well, even as the People's Bank of China set the mid-point for the yuan at 6.5569, the lowest in six months, and the more freely-trade spot rate slipped below 6.6 for the first time since December. The Shanghai Composite -- which slid into bear market territory yesterday -- falling a further 1.42% while the blue-chop CSI 300 was marked 2.27% to the downside at 3,459.73 points.
European stocks drifted lower in the opening 2 hours of trading, with the Stoxx Europe 600 benchmark sliding 0.68% into the red at one stage before rebounding by mid-day in Frankfurt to a 0.02% gain as the euro slipped lower against the dollar. Britain's FTSE 100 bumped 0.11% lower to 7,548.48 points in the opening hours of trading in London.
Auto stocks were once again leading decliners, with Daimler AG (DMLRY)  falling 0.97% to €55.09 each in mid-day trading in Frankfurt. Domestic rival BMW AG shares (BMWYY) were also under pressure, falling 1.1% to €77.60 each while Volkswagen AG (VLKAY) shares were marked 0.95% lower at €143.12 each.
The Stoxx Europe 600 Automobiles and Parts index slid into negative territory for the session and is now trading at the lowest levels since early September following a Tuesday Tweet from the President that the U.S. was close to finishing a study on EU auto imports, suggesting he may be nearing a decision to follow-through on an earlier threat to impose fresh new tariffs on French and German carmakers.
Deutsche Bank (DB) - Get Report shares were also in focus, falling to the lowest level on record Wednesday as investors continue to question the health of Europe's second-largest lender and the turnaround plans of new CEO Christian Sewing.
Shares in the group slipped below the €9 mark for the first time since September 2016 in early Wednesday trading before falling 3.8% to a record low of €8.76 in Frankfurt amid ongoing questions over its ability to generate profits in a low interest rate environment that pressures margins while its funding and borrowing costs rise follow a recent warning from Standard & Poor's that put its credit ratings on watch for a potential downgrade.
Early indications from U.S. equity futures suggest a softer open for Wall Street, as well, with contracts tied to the Dow Jones Industrial Average  I:DJI pointing to a 97 point decline for the 30 stock average while those linked to the S&P 500  I:GSPC suggest a 7.8 point dip for the broader benchmark. 
Away from equities, the U.S. dollar index, which tracks the greenback against a basket of six global currencies, was marked modestly higher in early New York trading at 94.70, while the euro eased to 1.6636 and the pound traded at 1.3205. 
Investors were also focused on early moves in the U.S. Treasury market, where the so-called yield curve -- or the difference between 2-year and 10-year bond rates -- narrowed to just 0.33%, the lowest since 2007. 
This 'flattening' of the yield curve is often associated with slowing economic growth, while an inversion of the curve, when 2-year bond rates are higher than 10-year rates, is quite frequently taken as a sign of potential recession. Benchmark 2-year Treasury yields were marked at 2.525% while 10-year notes traded at 2.855%.
Global oil prices extended recent gains, as well, with traders citing move by the U.S. to cut off imports from Iran and ongoing concerns over supply disruptions in OPEC member Libya.
Brent crude contracts for September delivery, the new global benchmark, were seen 46 cents higher from their Tuesday close in New York at $76.79 per barrel while WTI contracts for August delivery were marked 33 cents higher at $70.86 per barrel.