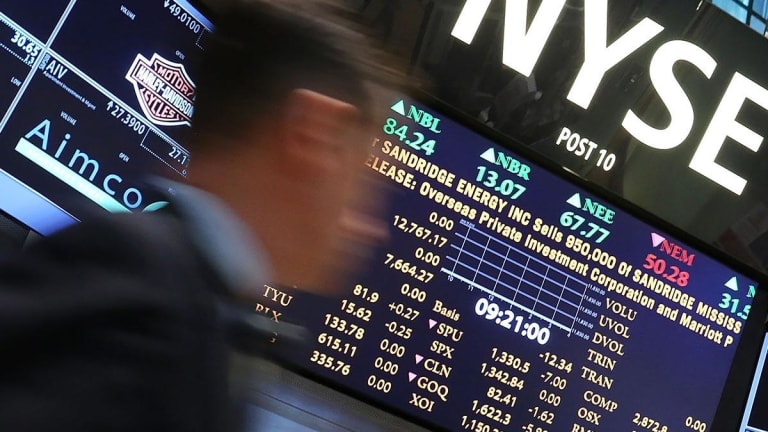 Publish date:
Stocks Weaken as Trade Tensions Accelerate, Driving Dollar to Multi-Week Highs
Global stocks weakened for second consecutive session Wednesday, with investors citing ongoing trade tensions between Washington and its major economic allies and renewed turmoil in emerging markets.
Global stocks weakened for second consecutive session Wednesday, with investors citing ongoing trade tensions between Washington and its major economic allies and renewed turmoil in emerging markets.
The Wedesday Market Minute
Global stocks weaken as trade concerns, emerging market turmoil, drive safe-haven retreat.
Economic data from China suggests world's second-largest economy continues to slow into the second half of the year as tariffs bite.
Looming U.S. tariffs on $200 billion in China made goods, as well as pressure to include Canada in any NAFTA overhaul, continue to weigh on sentiment.
S&P 500 poised to add to August gains, with futures suggesting a 6-point fall for the broadest equity benchmark.
Market Snapshot
Global stocks weakened for second consecutive session Wednesday, with investors citing ongoing trade tensions between Washington and its major economic allies and renewed turmoil in emerging markets as catalysts for a defensive tone in trading that has lifted the U.S. dollar to the highest level in two weeks.
With the stalled talks between the U.S. and Canada centred on overhauling NAFTA, a decades old agreement that includes Mexico and covers more than $1 trillion in annual trade, set to resume Wednesday, and fresh tariffs on $200 billion worth of China-made goods possibly coming in to force Thursday, investors are growing increasing concerned that the various trade disputes instigated by the White House will remain unresolved until early next year.
"We've said from the very beginning that we need a dispute resolution mechanism like Chapter 19 and we will hold firm on that," Canada's Prime Minister Justin Trudeau said Tuesday. "We will not sign a deal that is bad for Canadians and, quite frankly, not having a Chapter 19 to ensure that the rules are followed would be bad for Canadians."
That concern, coupled with private sector data showing that activity China's services sector eased to its lowest level in 10 months, has sent stocks in Asia to the lowest levels in two weeks and driven investors into safe currencies such as the dollar and the yen.
Early indications from U.S. equity futures suggest the global mood will trim gains on Wall Street today, with contracts tied to the Dow Jones Industrial Average I:DJI indicating a 65 point decline for the 30-stock benchmark while this linked to the broader S&P 500 I:GSPC were marked 5.9 points to the downside.
Tech stocks are likely to be in focus today as Twitter Inc. (TWTR) - Get Report CEO Jack Dorsey and Facebook Inc. (FB) - Get Report COO Sheryl Sandberg testify in front of a panel of lawmakers on the Senate Intelligence Committee as part of an investigation into malign political influences on social media.
"The actions we've taken in response (to allegations of Russian meddling in the 2016 Presidential election) show our determination to do everything we can to stop this kind of interference from happening," Sandberg said in a statement prepared for the Committee. 
Overnight in Asia, the region wide MSCI Asia ex-Japan index was marked 1.2% lower heading into the final hours of trading Wednesday while Japan's Nikkei 225 fell for the third consecutive session to end the day 0.5% lower at 22,580.83 points. China's Shanghai Composite fell 1.68% while the Hang Seng index in Hong Kong was marked 2.56% lower at 27,258.17 points
European stocks were also weaker at the open, with the Stoxx Europe 600 benchmark falling 0.61% to 377.44 points by mid-day in Frankfurt as indices around the region recorded similar percentage pullbacks. Britain's FTSE 100 was marked 0.4% lower, with consumer and basis resource stocks leading to the downside.
The U.S. dollar index, which tracks the greenback against a basket of six global currencies, extended gains to trade at 95.405, the highest level in two weeks, even as benchmark 10-year U.S. Treasury bond yields rose to 2.9% following Tuesday's ISM reading which showed U.S. factory activity running at the fastest level in 14 months, adding further fuel to the bullish case for rate hikes from the Federal Reserve.
The dollar's moves, however, contrasted another session of selling in emerging markets, where persistent concerns over slowing economic growth, rising oil prices and a stronger dollar have caused investors to pull billions of cash from both stocks and currencies in some of the world's larger developing regions.
Argentina's peso has been one of the worst hit currencies, having lost more than half of its value this year alone, and slumped a further 2% yesterday as President Mauricio Macri races to cut government spending and unlock $50 billion in new support loans from the International Monetary Fund.
Start, and end, your trading day right with TheStreet's 'Daily Snapshot' on your favorite smart-speaker. Learn more about TheStreet's market coverage for your trusted smart-speaker here.
Turkey's lira, which has fallen 40% against the dollar so far this year, hovered at around 6.68 to the greenback in early trading, but pressure remains amid a diplomatic spat with the U.S. over the release of evangelical pastor Andrew Brunson, whom Turkish officials have accused of being involved in a 2016 coup attempt, and the searing level of inflation in the $800 billion economy.
The broader global concerns over growth, exacerbated by the U.S. China trade dispute, have raised questions over crude oil demand, particularly in emerging markets, although prices have been supported by the looming U.S. sanctions on the sale of Iranian crude, which come into force in November, and recent report from Reuters that suggests Saudi Arabia wants to maintain a price range between $70 and $80 a barrel over the near term to cushion the blow of scrapping the planned IPO of its state-owned oil company Saudi Aramco.
Crude prices were modestly softer overnight, however, as Tropical Storm Gordon proved to be less damaging to the U.S. Gulf region than first anticipated and the resurgent U.S. dollar held down prices elsewhere.
Brent crude contracts for November delivery were seen 83 cents lower from their Tuesday close in New York and changing hands at $77.34 while WTI contacts for the same month, which are more tightly-linked with U.S. gas prices, were marked 95 cents lower at $68.63 per barrel.