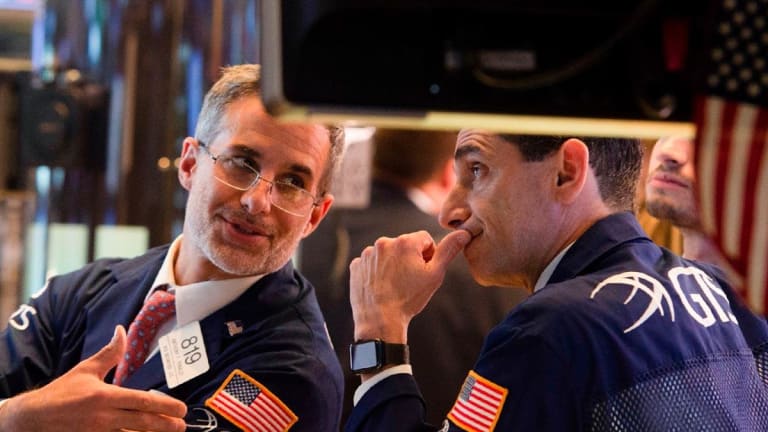 Stocks Weaken as China Hits Back in Trade War
Global stocks were mixed again Thursday, with a solid rally in China supporting markets in Asia even as trade war concerns held down gains in European and on Wall Street.
The Thursday Market Minute
Global stocks mixed as trade wars, sanctions and currency moves keep investors cautious.
China shares rebound sharply amid hopes of further fiscal stimulus following new tariff details on U.S. exports to Beijing.
European stocks edge lower as China trade concerns blunt sentiment.
Russia's rouble slides to 2016 low as U.S. unveils sanctions for Novichok poisoning.
Turkish lira hits fresh record low amid trade, human rights dispute with the United States.
Wall Street futures mixed ahead of earnings from Coca-Cola, Gannett and Occidental Petroleum.
Market Snapshot
Global stocks were mixed again Thursday, with a solid rally in China supporting markets in Asia even as trade war concerns held down gains in European and on Wall Street amid ongoing tariffs disputes between Washington and Beijing and fresh sanctions on Russia for its role in the poisoning of a former security agent in the United Kingdom.
China stocks traded largely independent from the rest of the Asia region Thursday, as investors took signals from the government that would suggest further fiscal stimulus and the relaxation of rules that would allow easier access to markets from foreign investment houses.
Near 2% gains for the Shanghai Composite and the CSI allowed the broadest measure of regional share prices, the MSCI Asia ex-Japan index, 0.44% into the close of the session even as China detailed its tariff response to the United States with levies on a further $16 billion in imported goods that takes its planned or imposed tariff total to $110 billion.
"The two countries' trade conflict, which is merely push and shove at the moment, is likely to escalate into more than just a scuffle if the U.S. administration cannot marshal its mobster mentality," an editorial in the state-run China Daily said. "China continues to do its utmost to avoid a trade war, but in the face of the U.S.'s ever greater demand for protection money, China has no choice but to fight back." 
European stocks, however, opened weaker across the board, with the Stoxx 600 index slipping 0.14% to 389.15 points by mid-day in Frankfurt despite some solid corporate earnings and a modestly weaker euro, which edged lower against the U.S. dollar to 1.1588.
Adidas AG (ADDYY) was a notable early market mover, with the sportswear group rising more than 8% in early Frankfurt trading to change hands at €204.50 each after it posted stronger-than-expected second quarter earnings as it continues to outpace rival Nike Inc. (NKE) - Get Report in the lucrative U.S. market. 
Britain's FTSE 100 was also softer at the start of trading, falling 0.61%, with basic resource and oil and gas stocks leading to the downside as investors trimmed growth expectations owing to the fresh round of China tariffs announced yesterday. The benchmark was also unable to take advantage of the weaker pound, which held near its 11-month low against the greenback to trade at 1.2988 as traders continue to hedge against the prospect of Britain crashing out of the European Union next March without a bespoke trade deal.
Wall Street futures, however, were essentially flat in early European trading, with contracts tied to both the Dow Jones Industrial Average I:DJI and the S&P 500 I:GSPC suggesting little or no change to last night's indecisive close.
Roku Inc. (ROKU) - Get Report shares are set to open at a record high Thursday after the device maker said second quarter sales topped analysts' forecasts even as it challenges giants such as Apple , Amazon (AMZN) - Get Report and Google (GOOGL) - Get Report in the television streaming market.
Roku shares surged more than 13.2% in pre-market trading in New York Thursday, indicating an opening bell price of $53.50 each, a record high and a move that would take the stock into positive territory for the year.
Russia's rouble, as well as its stock and bond prices, extended declines Thursday, with the currency falling to a near two-year low of 66.73 after the U.S. applied fresh sanctions on the Kremlin followig the poisoning attempt of a former Russian spy -- Sergei Skripal -- and his daughter with the chemical agent Novichok earlier this year in the rural English town of Salisbury.
"Making a linking to these events is for us unacceptable and such restrictions like those passed by the American side earlier ... are absolutely illegal and do not correspond to international law," Kremlin spokesman Dmitry Peskov told reporters Thursday.
Turkey's Lira hit a new all-time low of 5.4477 against the dollar, extending its year-to-date decline to around 20% after the White House said it would reviews Turkey's "duty free" access to the U.S. market as part of an ongoing spat with Ankara over the arrest of evangelical pastor Andrew Brunson, whom officials accuse of leading the failed 2016 coup.
Global oil prices held near two-month lows in early European dealing, following last night's sharp sell-off sparked by China's decision to hit U.S. exports of gasoline, diesel and other petroleum products with a fresh 25% tariff and trade data that showed China importing the third lowest amount of crude of the year over the month of July.
Brent crude futures for October delivery, the new global benchmark, were seen 16 cents higher from their Wednesday close in New York and changing hands at $72.44 per barrel while WTI contracts for September were 7 cents higher at $67.01 per barrel.