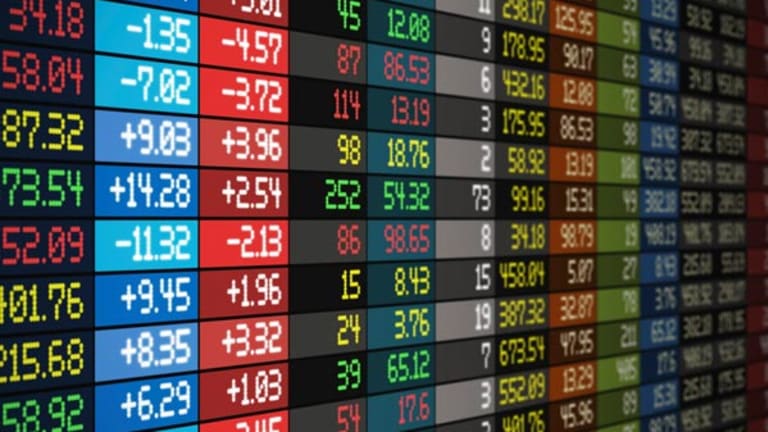 Stocks Vaulted Higher by Afternoon Rally
The market traded in a wide band before surging ahead late in the session Friday, a rally that coincided with reports New York Fed leader Tim Geithner is likely to be nominated as the next secretary of the Treasury.
Updated from 1:03 p.m. EST
As is perfectly normal these days on Wall Street, stocks traded in a wide band before surging ahead late in the session Friday, a rally that coincided with reports that New York
Federal Reserve
leader Tim Geithner is likely to be nominated as the next secretary of the Treasury.
During the final hour of trading, the
Dow Jones Industrial Average
skyrocketed to close up 494.13 points, or 6.5%, at 8046.42. The
S&P 500
added 47.59 points, or 6.3%, to 800.03, and the
Nasdaq
gained 68.23 points, or 5.2%, at 1384.35.
As the markets continued to process the likelihood of a severe economic downturn,
NBC News
reported that President-elect Barack Obama will on Monday name
as his choice to run the Treasury Department.
"I'm very, very pleased," said Paul Mendelsohn, chief investment strategist at Windham Financial. He said that the New York Fed has provided Geithner excellent preparation to head the Treasury. "Put him together with
Fed Chairman Ben Bernanke, and you really have two monetary experts there."
Mendelsohn said that the news of Geithner's selection was also well-timed, coming on an options-expiration Friday, when market moves can be extended by high volume and volatility. "It's almost like
Obama knows," he said. "I'm just happy this week is over. Maybe things can get back to a little bit of normal."
James Paulsen, chief investment strategist for Wells Capital Mangement, said he was hoping Geithner would be a calmer presence. "
The selection just means that we've got new leaders, and that's going to be good, at least for a while."
Paulsen said he welcomes a new approach to the economic crisis, but "the real proof in the pudding will come on how he handles himself ... in the next couple weeks."
Reports of Geithner's selection came amid more worries about the future viability of the financial sector. Beleaguered banking giant
Citigroup (C) - Get Citigroup Inc. Report
, whose stock has been crushed this week despite a large investment by Saudi billionaire shareholder Prince Alwaleed, rose early following a report by
The Wall Street Journal
that it's contemplating selling part or all of itself.
On the other hand, reports by the
New York Times
and
CNBC
indicated that senior executives, including CEO Vikram Pandit, are not interested in shedding segments of the business and believe the company has adequate capital and a solid business model. Left behind by the late rally, Citi shares finished down 20% at $3.77.
"Part of the problem with all the financials is that there's no way to really value them, quite simply because their book values belong on the fiction shelf," said Dirk Van Dijk, director of research at Zacks Investment Research. With so many hard-to-value assets on Citi's balance sheet, investors are having a difficult time pricing the stock, he said.
During the previous two outings, the major averages got hammered as economic data suggested a downturn would be worse than initially feared. The fate of troubled
General Motors
(GM) - Get General Motors Company Report
,
Ford
(F) - Get Ford Motor Company Report
and
Chrysler
remained uncertain after they failed Thursday to secure emergency funding from Congress.
The Big Three were continuing to adjust to headwinds. Media reports suggested that GM was preparing to make more production cuts at several of its factories after already announcing thousands of layoffs this year. GM climbed 6.3% to $3.06, and Ford rose 2.9% to $1.43.
The flagging auto market was also hurting foreign manufacturers.
Honda
(HMC) - Get Honda Motor Company Ltd. Report
announced it would cut production in Japan and Europe. Shares climbed 6.1% to $20.31.
Back in the financial space, government-controlled mortgage buyers
Fannie Mae
undefined
and
Freddie Mac
undefined
said they would cease foreclosures on some homes until January, as they give borrowers a chance to restructure their loans.
Separately, Freddie received a warning from the
New York Stock Exchange
that it's stock might be delisted, just days after Fannie got a similar notice. Freddie shares dropped 16% to 41 cents, while Fannie lost 9.1% to 30 cents.
Meanwhile,
Bloomberg
reported that the Federal Deposit Insurance Corp. may not include loans with maturities of 30 days or less in its $1.4 trillion debt-insurance program. By removing proposed insurance fees from the shortest-term debt markets, the move is expected to help stabilize the overnight lending rate that the Fed seeks to control.
Earnings statements from several technology companies were also bolstering sentiment. PC maker
(DELL) - Get Dell Technologies Inc. Class C Report
announced earnings that declined year over year but beat analysts' estimates. However, revenue was light.
Salesforce.com
(CRM) - Get Salesforce Inc. Report
had even rosier news. The Internet software firm reported a rise in profit on soaring revenue. Despite the encouraging quarterly results, Dell shares dropped 5.2% to $9.30, and Salesforce.com gave back 2.2% to $22.32.
gave another big-cap tech name a lift, as Oppenheimer upgraded software giant
Microsoft
(MSFT) - Get Microsoft Corporation Report
to outperform from perform with a $22 price target on the stock. Shares rocketed 12% to $19.68.
Beyond technology shares,
Heinz
(HNZ)
reported rising profits, benefiting from strong sales of its frozen foods as struggling consumers stayed at home to prepare their meals. The stock climbed 4.1% to $39.57.
Despite optimistic early action, broader economic gloom continued to hang overhead, as Goldman Sachs reduced its growth forecast for the U.S. economy. According to a research note released by the bank and reported by
Bloomberg
, GDP is falling at an annual rate of 5% in the fourth quarter and will decline in the first and second quarters of 2009. Unemployment will hit 9% by the fourth quarter next year, the note predicted.
President Bush signed into law Friday a bill to extend issuance of unemployment-benefit checks until the end of the year after an unexpected rise in unemployment for the week ended Nov. 15.
Van Dijk of Zacks said the consumer, facing a declining stock market, the risk of unemployment and an inability to take on additional debt, is in for additional troubles. That, coupled with impending declines in the commercial real estate market and weakening global demand for U.S. goods, spells serious danger for the economy. "Everybody has to set their expectations a lot lower," he said.
Elsewhere,
JPMorgan Chase
(JPM) - Get JP Morgan Chase & Co. Report
is cutting 10% of its investment-banking jobs, according to a report by the
Associated Press
. The stock slipped 2.8% to $22.72.
JPMorgan wasn't alone on the layoff front.
Bank of New York Mellon
(BK) - Get The Bank of New York Mellon Corporation Report
said it would lay off 1,800 employees starting in January. Shares gained 6.1% to $25.84.
Meanwhile,
Delta Air Lines
(DAL) - Get Delta Air Lines Inc. Report
said in a regulatory filing that waning demand has prompted it to cut back on future flight capacity, and shares tumbled 2.9% to $6.82.
In other company news, discount retailer
Wal-Mart
(WMT) - Get Walmart Inc. Report
said Mike Duke, vice chairman of its international division, would replace CEO Lee Scott when he retires in February. The stock ended the day up 4.5% at $52.92.
Shifting to commodities, crude oil for January delivery added 51 cents to settle at $49.93 a barrel. Gold climbed $43.10 to settle at $791.80 an ounce.
After roaring higher Thursday, longer-dated U.S. Treasury securities were plummeting in price. The 10-year was losing 1-21/32 to yield 3.17%, and the 30-year was down 3-18/32, yielding 3.66%. The dollar was rising vs. the yen but falling against the euro and pound.
Mary Ann Hurley, vice president of fixed-income trading for D.A. Davidson, said that as stocks made marginal gains, bond prices came down as Thursday's flight-to-quality bid trade was unwinding. "We never should have gone up to that extreme yesterday, so to see profit-taking occur today is not surprising at all," she said.
Overseas, European exchanges, such as the FTSE in London and the DAX in Frankfurt, were trading lower. In
, Japan's Nikkei and Hong Kong's Hang Seng finished on the upside.