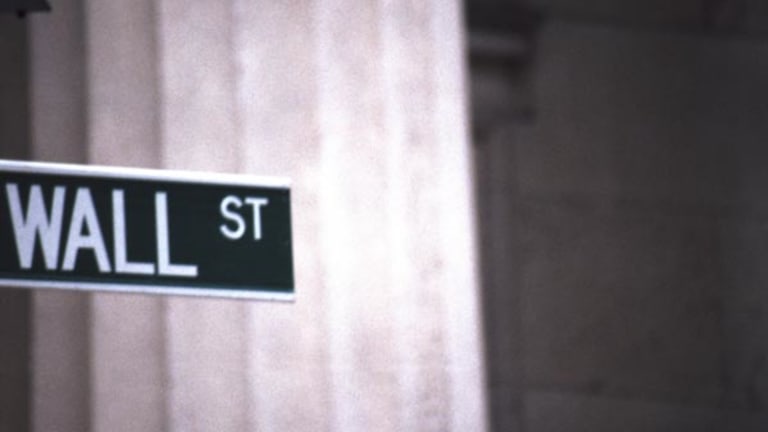 Stocks Use Late Push to End With Big Gains
Investors put two rough sessions behind them. Enron slides again.
Investors put two rough sessions behind them. Enron slides again.
Updated from 3:26 p.m. EST
Stocks rallied to close at their session highs Thursday as cautious optimism finally gave way to confidence in the final minutes of trading.
The
Dow Jones Industrial Average finished up 117.56 points, or 1.2%, to 9829.42. The
Nasdaq was up 45.28 points, or 2.4%, to 1933.25, and the
S&P 500 was up 11.69 points, or 1%, to 1140.21.
Overseas, European stocks were mixed with London's FTSE 100 fractionally higher at 5209 and Germany's Xetra DAX up 0.4% to 4936. Asian stocks posted modest gains, with the Nikkei 225 finishing up 0.3% to 10,656 and the Hang Seng adding 0.2% to close at 11,091.
The market continued to await
Enron's
( ENE) next move after its planned acquisition by
Dynegy
(DYN)
fell through Wednesday. The stock lost 25 cents, or 41%, from the prior session's
New York Stock Exchange close to close at 36 cents. Most of the stock's value was erased Wednesday.
Nvidia
(NVDA) - Get Report
officially replaced Enron as a component of the S&P 500 at the close. Shares of the graphics processor maker were up $2.25, or 4.38%, at $53.61.
After Wednesday's close,
Brocade Communications
(BRCD)
reported a fourth-quarter loss of $53.7 million, or 24 cents a share, compared with $27.2 million, or 11 cents a share, a year ago. Excluding charges, the company posted a profit of 5 cents a share, beating analysts' expectations by a penny. Shares of the switching equipment maker climbed $2.88, or 10%, at $31.70 Thursday.
Broadcom
saw its shares tumble on comments made at a Credit Suisse First Boston technology conference, where the company indicated that visibility remains weak. The stock fell 91 cents, or 1.94%, to $46.04.
On the economic front, the Labor Department reported worse-than-expected initial jobless claims for the week ended Nov. 24. The number of first-time applications rose to 488,000 from 427,000 the previous week. Economists were expecting the number to come in at 448,000. Durable goods orders for October came in well ahead of expectations with a 12.8% increase, as compared with the 8.5% decline in September.
Looking at the major sectors, chipmakers and banks were leading the way, while biotech stocks reversed course to secure modest gains. Airlines turned in a solid performance, with
AMR
(AMR)
up 65 cents, or 3.18%, to $21.07, and
UAL
(UAL) - Get Report
gaining 24 cents, or 1.49%, to $16.40.
U.S. air strikes intensified in Afghanistan, as U.S. warplanes successfully bombed key Taliban positions near Kandahar. The CIA confirmed that one of its officers was killed during a prison riot in Mazar-e Sharif.
Around 4 p.m. EST, the 10-year Treasury was up 1 6/32 to 101 25/32, yielding 4.77%.