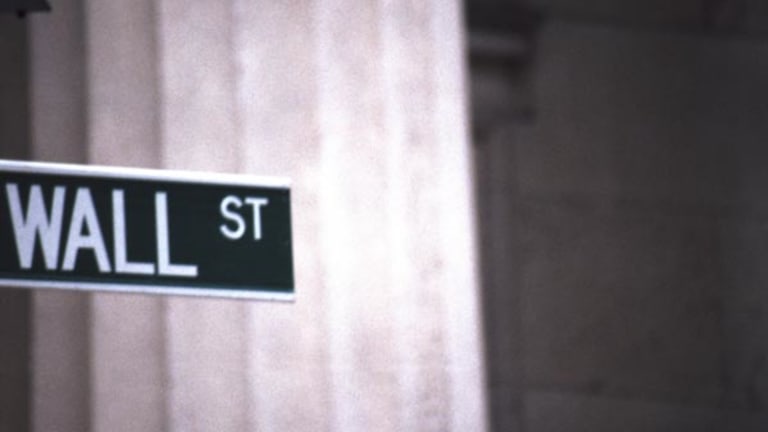 Stocks Turn In Another Up Session
GE's optimism and good news from the housing sector is lending support.
Updated from 3:10 p.m. EST
Stocks cruised to the finish line Tuesday as positive comments from
General Electric
(GE) - Get Report
and an encouraging report on the housing market fueled more buying.
The
Dow Jones Industrial Average finished up 106 points, or 1.08%, to 9998, while the
Nasdaq gained 17 points, or 0.87%, to 2005 and the
S&P 500 added 9 points to 1144.
Among the major sectors, chipmakers and Internet stocks posted substantial gains while biotech shares pulled back.
GE's chief executive told an analysts' meeting Monday night that the company is comfortable with current-year earnings estimates and expects profits to grow 17%-18% next year. It also foresees significant growth in its medical technology and aircraft businesses. The company's shares were closed up $1.64, or 4.28%, to $39.94.
The Commerce Department said housing starts rose 8.2% in November for a 1.645 million-unit rate, well ahead of the 1.54 million consensus estimate. Building permits rose 5.3% to 1.564 million, also much stronger than the 1.47 million consensus.
Meanwhile, electronics-parts giant
Solectron
(SLR)
said it lost 8 cents a share before charges in its second quarter and broke even before goodwill adjustments. The company also lowered second-quarter guidance and said it plans to sell $1 billion of adjustable conversion-rate equity securities. The stock was under selling pressure, falling $2.75, or 18.6%, to $12.06.
Cisco
(CSCO) - Get Report
, one of Solectron's biggest clients, finished up 32 cents, or 1.66% to $19.58.
Seibel Systems
(SEBL)
benefited from positive comments by Banc of America, which said the company finished strong in the fourth quarter. Shares of the e-commerce software company jumped $3.71, or 13.7%, to $30.91.
Micron
(MU) - Get Report
agreed to acquire Toshiba's commodity DRAM business. Micron shares climbed $1.48, or 4.82%, to $32.18.
Priceline.com saw its stock rise 57 cents, or 10.2% to $6.14 after inking an online advertising deal with
AOL-Time Warner
(AOL)
.
Foreign markets were mostly higher, with London's FTSE 100 gaining 0.3% to 5151 and Germany's Xetra DAX down 0.6% to 5040. In Asia, Japan's Nikkei closed up 1% to 10,432 while Hong Kong's Hang Seng added 0.2% to 11,487.
The yen continued its downward spiral overnight after the Japanese finance minister called on the government to pump more money into the banking system. Masajuro Shiokawa said the government hasn't done enough to defend the struggling economy.
The 10-year Treasury note was up 13/32 at 99, yielding 5.13%.