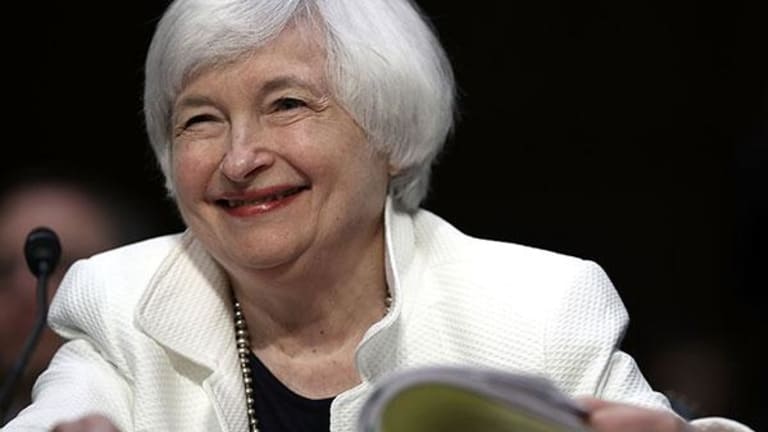 Stocks Break Lower in Choppy Trade on Fed Jitters
Stocks break into the red by mid-afternoon Thursday after a choppy morning as Federal Reserve members head to Jackson Hole, Wyo., for their closely watched summer summit.
Updated from 12:03 p.m.
Stocks broke into the red by mid-afternoon Thursday after a choppy morning as Federal Reserve members headed to Jackson Hole, Wyo., for their closely watched summer summit.
The S&P 500 was down 0.14%, the Dow Jones Industrial Average slid 0.17%, and the Nasdaq slipped 0.09%.
Prominent central bankers, finance ministers and economists from around the world will meet in Jackson Hole Thursday to discuss economic trends and monetary policy action.
Investors are most eager to hear from Fed Chair Janet Yellen, who will deliver a widely anticipated speech on Friday. Her comments will provide important context to the markets' outlook for interest rates. Yellen's comments will likely remain dovish and conservative, emphasizing data dependence for any future rate moves.
A number of Fed members have signaled that steady improvement in the U.S. economy warrants a rate hike sooner than later. Kansas City Fed President Esther George said growth in the job market and inflation forecasts indicate "it is time to move" in an interview with Bloomberg Radio Thursday morning. Separately, Dallas Fed President Robert Kaplan, a voting member of the Federal Open Market Comittee, told CNBC that the arguments for a rate hike are progressing. 
The chances of a September rate hike currently sit at 21%, according to CME Group fed funds futures. A rate hike in November has better chances at 41%.
Orders for long-lasting goods in the U.S. in July increased 4.4%, the Commerce Department reported Thursday. Orders for civilian and defense aircraft drove July's strength. Core durable orders increased 1.6%. The better-than-expected improvement signaled a recent downturn in manufacturing activity is coming to a close.
The number of new claims for unemployment benefits fell 1,000 to 261,000 in the week ended Aug. 20, the Labor Department said Thursday. The less-volatile four-week average declined by 1,250 to 264,000. Jobless claims have remained below the 300,000 mark for 77 straight weeks, the longest streak since 1970.
In earnings news, HP (HPQ) - Get HP Inc. (HPQ) Report  was flat as fourth-quarter forecasts disappointed. The printer company expects current-quarter earnings no higher than 37 cents a share, short of consensus estimates of 41 cents. Weak sales of its printers weighed on projections, even as notebook sales offset softer demand.
HP earned 48 cents a share on revenue of $11.9 billion in its third quarter. Analysts expected profit of 44 cents a share on revenue of $11.47 billion.
Workday (WDAY) - Get Workday, Inc. (WDAY) Report climbed 7% on a mixed second quarter. A net loss of 4 cents a share was double what analysts had expected, while revenue of $377.7 million beat estimates by $5 million. Third-quarter sales guidance of $398 million to $400 million came in short of consensus of $401.3 million.
Guess? (GES) - Get Guess?, Inc. Report jumped 22% after it exceeded earnings estimates but missed sales forecasts in its recent quarter. The fashion brand earned 14 cents a share in its second quarter, 7 cents higher than expected. Revenue inched 0.2% lower to $545. million, coming in $5.5 million below expectations.
Williams-Sonoma (WSM) - Get Williams-Sonoma, Inc. Report added 2.3%. The company reduced its full-year forecast, with chief executive officer Laura Alber citing a "more cautious consumer." The home-goods retailer reported a 4.8% decline in comparable-brand sales at Pottery Barn, its largest brand by sales. Williams-Sonoma cut its annual earnings estimates to $3.35 to $3.55 a share, down from $3.50 to $3.65 a share.
Tiffany (TIF) - Get Tiffany & Co. Report moved 7% higher after reporting a mixed second quarter. The jeweler earned 84 cents a share, up from 81 cents in the year-ago quarter and 12 cents higher than estimates. Revenue fell short, falling 6% to $932 million and just falling shy of consensus. Worldwide same-store sales declined 8%.
Sears (SHLD) declined 5.5% after reporting a quarterly loss on the back of declining sales. The retailer is just the latest to report weaker shopping trends over the recent quarter. Kmart same-store sales fell 3.3% and sales at domestic Sears locations slid 7%. Chief Executive Edward S. Lampert blamed a "challenging competitive environment."
Dollar General (DG) - Get Dollar General Corporation Report fell 18% after reporting a disappointing second quarter. The discount retailer earned $1.08 a share, a penny short of estimates, while revenue of $5.39 billion missed by $110 million. Dollar General reported same-store sales growth of 0.7%.
Mylan (MYL) - Get Mylan N.V. (MYL) Report moved lower after taking steps to reduce the cost of its EpiPen in the wake of criticism from Democratic presidential candidate Hillary Clinton. The drugmaker said it would take "immediate action" to make its allergy medicine more accessible, including doubling the eligibity for its patient assistance program and reducing the cost of the treatment. The cost of the treatment has increased fivefold since 2007.