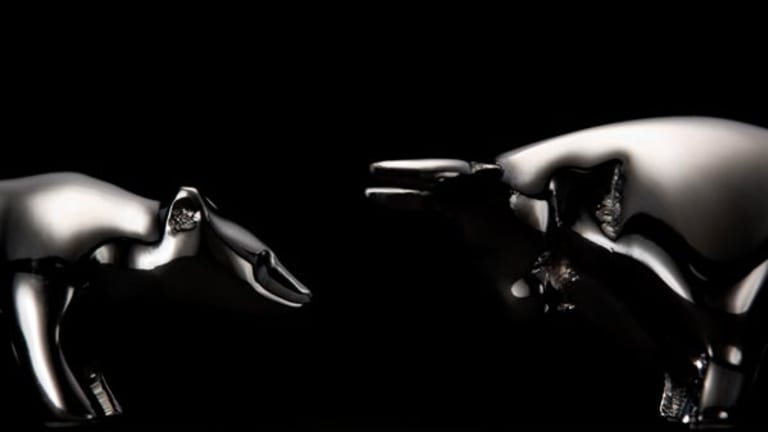 Stocks Tumble to Year Lows
The Dow Jones Industrial Average plunges 229 points in two days.
Updated from 4:06 p.m. EDT
Stocks plunged to their lowest levels of 2005 in brisk volume Thursday, hurt by losses in steel and transportation and another walloping for
General Motors
(GM) - Get Report
.
The
Dow Jones Industrial Average
fell 125 points, or 1.2%, to 10,279, its low close for the year. The
S&P 500
lost 11.8 points, or 1%, to 1162, also a new 2005 low. The
Nasdaq
fell 27.6 points, or 1.4%, to 1946, its lowest close since Oct. 26, 2004. Over the last two sessions, the Dow has lost 229 points, and the Nasdaq has given up 58 points.
"It's a very nervous market," says Al Goldman, chief market strategist with A.G. Edwards. "There is a low level of greed and a pretty high level of fear."
Things could easily get worse on Friday after
IBM
(IBM) - Get Report
unexpectedly posted lackluster first-quarter earnings after the bell.
Sun Microsystems
(SUNW) - Get Report
,
RF Micro Devices
(RFMD)
and
Extreme Networks
(EXTR) - Get Report
all also offered various versions of postclose earnings disappointment.
The 10-year Treasury note rose 5/32 in price to yield 4.34%, while the dollar rose against the yen and euro.
About 1.9 billion shares traded on both the
NYSE
and Nasdaq.
General Motors continued to be a major drag on the Dow, falling about 6% after the
Securities and Exchange Commission
subpoenaed documents related to its accounting for payments from its former unit
Delphi
(DPH)
. The shares fell $1.67 to $26.66.
Transportation stocks were among Thursday's weakest, with the Dow Jones Transportation Average falling 3%. Computer hardware and financials were also under pressure. Steel stocks were also broadly lower on a newspaper story suggesting demand in the U.S. is weakening.
U.S. Steel
(X) - Get Report
and
Nucor
(NUE) - Get Report
both fell more than 3%.
Oil, whose sharp decline over the past eight sessions had little impact on stocks, rose 91 cents to $51.13 a barrel. The May crude contract is still down more than 8% in roughly a week, driven lower by a series of reports that showed global supply fundamentals improving.
In economic news, the Labor Department said initial jobless claims for the week ended April 9 fell 10,000 to 330,000, matching economists' expectations. Also, the Commerce Department said that business inventories in February rose 0.5%, while sales fell 0.4%. Economists had expected inventories to rise 0.6%. The sales decline was the largest since April 2003.
"We've started to see some indications that the growth rate in the economy may be slowing somewhat," says Michael Sheldon, chief market strategist with Spencer Clarke LLC. "There's been a sea-change in sentiment recently, and people are dumping their economically sensitive stocks they've been buying. So this rotation is creating a lot of upheaval. Over the near term, until we get a sense of how quickly the economy is slowing down, I think investors want to favor defensive stocks, dividend-paying companies and larger-cap stocks."
U.S. stocks were whacked Wednesday as markets reacted nervously to an anemic retail sales report and a handful of earnings warnings. Combined with a weak March employment report and a swelling trade deficit, that caused many investors to shift the focus of their concern from inflation to growth in recent days.
Contributing to the jitters has been the start of the first-quarter earnings season, which has seen warnings and flat-out misses from companies as varied as
Siebel Systems
(SEBL)
,
LaBranche
(LAB)
,
USF
(USFC)
and
Anheuser-Busch
(BUD) - Get Report
.
"It's a mixed bag of earnings we've gotten thus far," says Peter Cardillo, chief market analyst with S.W. Bach & Co. "Earnings are causing some jitters in the market. Also, the economic data lately has showed a slowing of economic activity in the second quarter, raising concern about the level of inflation."
Wednesday night,
Advanced Micro Devices
(AMD) - Get Report
reported an unexpected loss and said it would separate out its flash memory business via an initial offering. The chipmaker lost $17 million, or 4 cents a share, on sales of $1.23 billion. During the same quarter last year, AMD earned $45.1 million, or 12 cents a share, on sales of $1.24 billion.
Both Prudential and Piper Jaffray upgraded AMD to overweight and outperform, respectively. Shares of AMD fell 80 cents, or 4.7%, to $16.26. The decline helped drag the Philadelphia semiconductor sector index down 1.6%.
Apple Computer
(AAPL) - Get Report
beat per-share earnings estimates by a dime and guided higher, but still saw its shares fall after their big run over the last year. Apple earned $290 million, or 34 cents a share, in its second quarter, up from $46 million, or 6 cents a share, last year. Sales jumped 70% to $3.24 billion. Those results were well ahead of both analysts' expectations and the company's own guidance.
The Wall Street consensus was for 24 cents a share in earnings on $3.21 billion in sales, according to Thomson First Call. Apple predicted in January that it would earn 20 cents a share in the just-completed quarter, on $2.9 billion in sales. Still, the shares closed down 9%.
A handful of big companies reported mostly solid earnings Thursday morning, including
UnitedHealth
(UNH) - Get Report
, which said first-quarter earnings rose 41% from a year ago to $779 million, or $1.16 a share, beating estimates by 3 cents; and
Southwest Airlines
(LUV) - Get Report
, which said first-quarter earnings tripled to $76 million, or 9 cents a share, beating estimates by 4 cents.
PepsiCo
(PEP) - Get Report
said first-quarter earnings were $912 million, or 53 cents a share, compared with earnings of $804 million, or 46 cents a share, last year. Analysts had been expecting earnings of 50 cents a share. The soft drink giant guided full-year results in line with estimates. PepsiCo rose 2.8% to $55.14.
The New York Times
(NYT) - Get Report
reported a first-quarter net profit of $111 million, or 76 cents a share, up from $58.4 million, or 38 cents a share, a year ago. Earnings include an after-tax gain of 43 cents a share from the sale of its headquarters building and a 3-cents-a-share gain from the sale of Florida property. Excluding gains, profit would have totaled 30 cents a share, matching analysts' projections, according to Thomson First Call. The stock lost 1.4% to $35.05.
Late Wednesday,
Lam Research
(LRCX) - Get Report
posted net income for the fiscal third quarter of $59.5 million, or 41 cents a share, compared with $19.2 million, or 13 cents a share, a year ago. Analysts expected earnings of 43 cents a share, according to Thomson First Call. The company, however, gave revenue guidance for the fourth quarter of $340 million to $360 million, higher than analysts' estimates. Lam Research rose 1% to $26.38.
In brokerage action,
Mentor
(MNT)
rose almost 7% after CIBC upgraded shares to sector outperform from sector perform on Thursday. A Food and Drug Administration panel urged advisers to allow the company's silicone breast implants back into the U.S. market after a 13-year ban on most uses of the implants. Shares rose 7% to $37.91.
Merrill Lynch cut
Morgan Stanley
(MWD)
to neutral from buy, citing the risk of potential "brain drain" after the exit of two top investment bankers. Joseph Perella and Tarek "Terry" Abdel-Meguid resigned Wednesday from Morgan Stanley, just two weeks after Chief Executive Phil Purcell replaced three senior executives amid a battle with a group of dissident shareholders who want Purcell to resign. Morgan Stanley fell 1.5% to $52.33.
J.P. Morgan cut
Best Buy
(BBY) - Get Report
to underweight from overweight, citing possible price and margin pressures. Shares of Best Buy lost 2.5%, to $49.48.
Also, CSFB raised its rating on
Qualcomm
(QCOM) - Get Report
to outperform from neutral, citing an improved outlook for the company in the global handset market. Shares rose 2% to $33.57.
Overseas markets were lower, with London's FTSE 100 recently down 0.3% to 4946 and Germany's Xetra DAX flat at 4404. In Asia, Japan's Nikkei fell 0.6% overnight to 11,563, while Hong Kong's Hang Seng dipped 0.2% to 13,772.