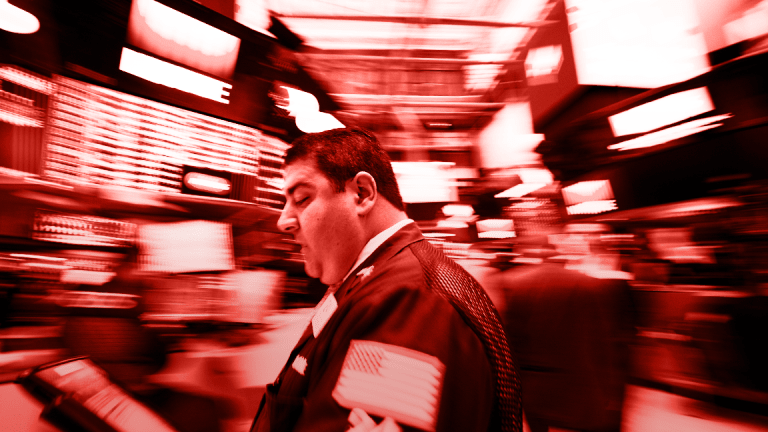 Stocks Fall on Report China Could Slow or Halt Investments in U.S. Debt
Stocks tumble on Wednesday, the dollar slumps and bond yields spike on reports that China may be reconsidering its investment in U.S. government debt.
Stocks declined on Wednesday, Jan. 10, the dollar slumped and bond yields spiked to a 10-month high following reports that China may be reconsidering its investment in U.S. government debt.
If stocks finished lower on Wednesday it would be the first down day of 2018.
The Dow Jones Industrial Average fell 44 points, or 0.18%, the S&P 500 slipped 0.22%, and the Nasdaq was down 0.5% after Bloomberg reported that officials managing China's massive $3.14 trillion in foreign reserves -- which touched a September 2016 high last month -- were considering slowing or even halting their investments in U.S. Treasuries, citing trade tensions between Beijing and Washington as well as the lure of other global asset classes.
The Dow's biggest laggards on Wednesday were Walmart Stores Inc. (WMT) - Get Report and Intel Corp. (INTC) - Get Report . General Electric Co. (GE) - Get Report was the leading gainer on the blue-chip index.
"If the reports turn out to be true and China no longer sees Treasuries as an attractive option, the repercussions could be significant as the country is one of the biggest holders of U.S. debt," said foreign exchange strategist Craig Erlam of Oranda. "A significant change in policy could put considerable upside pressure on U.S. yields, the result of which would be an effective tightening for the U.S."
Benchmark 10-year Treasury bond yields spiked to 2.588%, reflecting a growing chorus in the financial community that a "bear market" in bonds may have begun. U.S. 2-year Treasury yields also rose to a financial crisis peak of 1.981%.
The dollar index, a measure of the greenback's strength against a basket of six global currencies, fell 0.45% to 92.09 thanks to a surge in the yen, which rose to a six-week high of 111.5 following the Bloomberg report amid bets that Japanese government bonds could become increasingly attractive to Chinese buyers.
China is the world's biggest foreign investor in U.S. government debt, according to the latest available Treasury Department data from October, with $1.189 trillion on its balance sheet.
Eastman Kodak Co. (KODK) - Get Report  rose 56% on Wednesday following a jump of 119% in the previous session after the photo company said it would shift its focus toward blockchain technology and enter the world of initial coin offerings. 
Kodak said Tuesday it would launch its own form of cryptocurrency, KODAKCoin, that would "empower photographers and agencies to take greater control in image rights management" inside its existing KODAKOne platform.
Lennar Corp. (LEN) - Get Report   fell 0.3% despite the homebuilder reporting weaker-than-expected profit for its fiscal fourth quarter.
Sears Holdings Corp. (SHLD)  rose 3.4% after the struggling retailer announced it would raise $100 million in new financing and was seeking an additional $200 million from other counterparties.
Target Corp. (TGT) - Get Report  gained 1.6% after shares of the retailer were upgraded to positive from neutral at Susquehanna Financial and the price target was raised to $84 from $54.
Supervalu Inc. (SVU)  reported third-quarter adjusted earnings of 61 cents a share, topping forecasts of 46 cents, but sales fell short of analysts' expectations. The stock fell 13.6%.
Berkshire Hathaway Inc. (BRK.A) - Get Report  agreed to add two new members to its executive board in what could be the first in series of moves designed to replace the billionaire investor who heads one of the world's most famous funds. 
Greg Abel, 55 and Ajit Jain, 66, both of which have "Berkshire in their blood," according to Buffett, will fill the two new posts with Abel also taking on the role of vice chairman for Berkshire's non-insurance business operations and Jain assuming a similar role for its insurance operations.
European stocks tumbled with the Stoxx 600 benchmark, the region's broadest measure of share prices, falling 0.51% after breaching a two-and-a-half year high Tuesday following stronger-than-expected industrial data from Germany and the fastest decline on record for eurozone unemployment.
Asian shares finished Wednesday's session mixed.
Oil came off its highs Wednesday after the U.S. Energy Information Administration reported that domestic crude supplies fell by 4.9 million barrels in the week ended Jan. 5, wider than the declines expected by analysts. West Texas Intermediate crude, the U.S. benchmark, gained 0.3% to $63.17 a barrel.
General Electric is a holding in Jim Cramer's Action Alerts PLUS Charitable Trust Portfolio. Want to be alerted before Jim Cramer buys or sells the stock? Learn more now.
More of What's Trending on TheStreet: