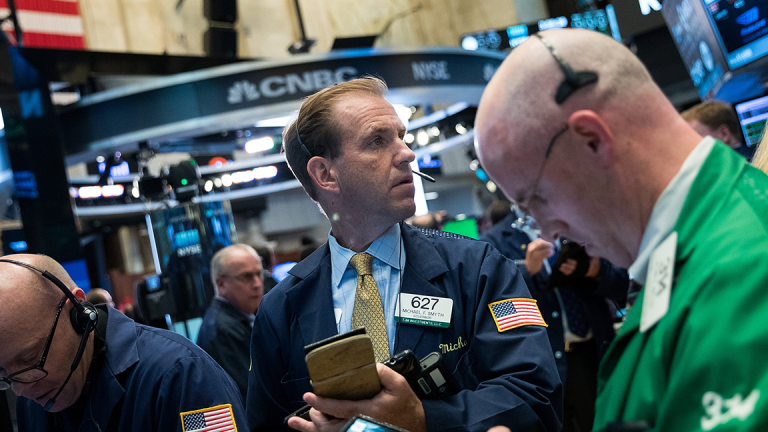 Stocks Tumble, Dollar Jumps as Turkey's Economic Crisis Rattles Global Markets
Turkey's economic crisis threatened to spill over into the global financial markets Friday as the lira plunged to a fresh all-time low, sending safe-haven assets, including the U.S. dollar, notably higher and hitting stock markets all over the world.
Turkey's economic crisis threatened to spill over into the global financial markets Friday as the lira plunged to a fresh all-time low, sending safe-haven assets, including the U.S. dollar, notably higher and hitting stock markets all over the world.
The Friday Market Minute
Global stocks slump on contagion concerns as Turkey's economic crisis sends lira to record low.
Asia shares hit as investors dump risk and drive cash into the dollar and the yen.
European stocks fall hard, with banks leading the decline, amid concerns over Turkey exposure.
Russia's rouble holds 2016 low after U.S. unveils sanctions for Novichok poisoning.
Wall Street futures point to triple-digit losses for the Dow as dollar hits 14-month high, Treasury bond yields slide to 2.89%.
Market Snapshot
Global stocks fell across the board Friday as investors dumped risk positions and piled cash into U.S. Treasuries and the dollar amid the ongoing collapse of the Turkish lira and concerns its economic and political crisis could spread to into Europe and elsewhere. 
Turkey's lira hit a fresh all-time low of 6.395 against the dollar, extending its year-to-date plunge to around 30%, before paring the decline to 5.99 after a trade delegation of senior government officials left Washington yesterday with no verifiable progress on the White House's decision to review Turkey's "duty free" access to the U.S. market as part of an ongoing spat with Ankara over the arrest of evangelical pastor Andrew Brunson, whom officials accuse of leading the failed 2016 coup.
The modest rebounded was snuffed out, however, by a defiant speech from President Recep Tayyip Erdogan, who urged Turks to take the gold from "under their pillows" and convert it into lira, vowing that "we are only responsible to our own people and our own righteousness." 
President Donald Trump responded via Twitter shortly after, announcing he would double the level of tariffs applied to Turkish steel and aluminium imports, a move that extended the lira's decline and pushed U.S. equity futures deeper into the red.
Contracts tied to the Dow Jones Industrial Average I:DJI indicating a 120-point decline for the 30-stock benchmark while those linked to the S&P 500 I:GSPC are pricing in an 11.5 point pullback for the broader benchmark.
The slump has rattled markets around the world and driven investors, already unnerved by Russia's rouble sliding to a two-year low amid a fresh sanctions row with the Trump Administration and the ongoing trade tensions between Washington and Beijing, into safe-have trades around the world. Those moves lifted the U.S. dollar index to a 14-month high of 96.05 against a basket of six global currencies and drove benchmark 10-year U.S. Treasury yields to 2.89%. 
In fact, Russian Prime Minister Dmitry Medvedev called the prospect of fresh U.S. sanctions; "a declaration of economic war."
Equity markets in Asia traded notably lower, with Japan's Nikkei 225 falling 1.3% to a one-month low of 22,298.08 points and the region-wide MSCI Asia ex-Japan index slumping more than 0.93% heading into the final hours of trading. 
China's ongoing attempt to defend its position in the global trade war, which has elicited tariffs that will ultimately impact 5.2% of world exports, is also causing some investors concern, with a Friday editorial in the widely-read People's Daily newspaper suggesting the government isn't willing to back down in the face of pressure from the United States.
"After more than a century of hard work, China has returned to the centre of the world stage, and this is the basic fact we must observe in the China-U.S. trade friction," the editorial said. "Such a large size, such a heavy thing, can't be hidden by 'being low key', just like an elephant can't hide behind a sapling."
European stocks were nursing heavy losses in the opening minutes of trading as investors retreated from markets around the region, particularly within the banking sector, over concerns for potential contagion as a result of the economic meltdown in Turkey.
The Stoxx 600 index, the broadest measure of share prices, was marked 0.87% lower by mid-day in Frankfurt as benchmarks in Germany and France fell nearly 1.5% amid the "risk-off" sentiment fulled by Turkey, Russia and weaker commodities markets linked to the ongoing trade war and slower China demand.
European banks with noted exposure to the Turkish market were the region's biggest decliners, with Spain's BBVA (BBVA) - Get Report falling 3.2% and Italy's UniCredit SpA  (UNCRY) sliding 3.5%. France's BNP Paribas SA (BNPQY) , Europe's third-largest lender, was marked 2.8% to the downside at €52.61 each. 
The euro, meanwhile, was marked a 14-month low of 1.1468 against the dollar, while the pound slumped to a fresh 11-month trough of 1.2791, hit by the twin concerns of the broader currency market sell-off and the risk that Britain will crash out of the European Union next year without a bespoke trade deal.
Global oil prices extended their declines as well, with investors citing the prospect of slowing demand from China following Beijing's to hit U.S. exports of gasoline, diesel and other petroleum products with a fresh 25% tariff and trade data earlier this week that showed it importing the third lowest amount of crude of the year over the month of July.
Brent crude futures for October delivery, the new global benchmark, were seen 21 cents higher from their Thursday close in New York and changing hands at $71.85 per barrel while WTI contracts for September were seen 18 cents higher at $66.53 per barrel.