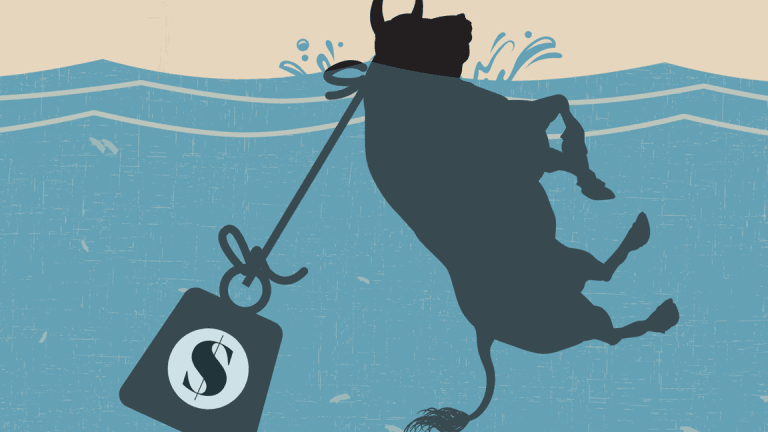 Dow Gets Walloped, Falls 665 Points as Bond Yields Spike
Stocks plunge and Treasury yields spike after the U.S. adds 200,000 jobs to payrolls in January and wages increase.
The Dow Jones Industrial Average plunged 665 points and other stock indexes fell sharply as bond yields spiked on Friday, Feb. 2, after the U.S. added 200,000 jobs to payrolls in January, above forecasts, and yearly wage gains rose at the fastest pace since the Great Recession of 2008-2009. 
It was the sixth largest single-day point drop for the Dow in history.
The Dow declined by 2.5% to finish at 25,520. The S&P 500 dropped by 2.12%. The Nasdaq fell by 1.96% 
Economists were forecasting jobs gains of 175,000 last month. The unemployment rate of 4.1% in January held steady from December. But yearly wages rose 2.9% from 2.6% after average hourly wages rose 9 cents, or 0.3%, to $26.74 in January.
In Europe, the Stoxx 600 index, the broadest measure of share prices, fell 1.4%.
A notable spike in benchmark U.S. Treasury yields, which took 10-year notes to as high as 2.85%, a four-year high, also had investors on edge amid signals of faster inflation in the world's largest economies and the impact it will have on growth and interest rates. Most recently, the yield was at 2.832%.
The Federal Reserve has signaled at least three rate hikes in 2018, and the European Central Bank was widely expected to at least ease the pace of its €2.55 trillion quantitative easing program later this year amid the strongest economic performance for the region in a decade.
"This is a much stronger outcome than most expected. The headline unemployment is good but the wage growth is really positive," said analysts at Aberdeen Standard Investments. "It definitely makes it a bit more likely that the Fed will has to do more than the three hikes that they're currently planning for this year. U. .bond markets aren't going to like it though. Treasuries have been suffering a sharp selloff and such strong numbers are going to pour fuel on the fire."
The dollar index rose 0.49% against a basket of global currencies on Friday to 89.09. Investors remained concerned about the partisan battles among U.S. lawmakers and the potential for another government shutdown next week as Congress squabble over budget allocations and immigration rules.
Sentiment also was held down by a mixed set of first-quarter earnings from Apple Inc. (AAPL) - Get Report , which unveiled record revenue for the three months ended in December of $88.3 billion and profits of $3.89 a share, but disappointed investors by selling fewer than expected iPhones over the period (77.3 million) and forecasting less-than-anticipated sales for its current fiscal quarter.
However, Apple also told investors that it would work toward reducing its $285 billion cash balance with the aim of returning it to shareholders, a move that helped boost the stock by more than 2.4% in premarket trading. The stock, however, turned lower and finished down 4%.
Apple is a holding in Jim Cramer's Action Alerts PLUS Charitable Trust Portfolio.Want to be alerted before Cramer buys or sells the stock? Learn more now.
Amazon.com Inc. (AMZN) - Get Report  reported one of its best fourth quarters ever, with Alexa at the forefront of its recent milestones. Planning ahead, the e-commerce giant said it will focus on capital investments in the grocery and food sector in 2018.
Amazon.com said fourth-quarter earnings more than doubled to nearly $1.9 billion, or $3.75 a share, way above Wall Street's forecast of $1.88. Net sales rose 38% to $60.5 billion, above the anticipated $59.75 billion.
Amazon shares rose 2.8% on Friday to $1,458.66.
Alphabet Inc. (GOOGL) - Get Report  fell 5% on Friday after the parent of Google missed Wall Street earnings forecasts but topped revenue expectations. 
Google earned $9.70 a share in the fourth quarter, while analysts polled by FactSet expected profit of $9.98. Including the impact of the new U.S. tax law, Alphabet lost $4.35 a share. 
Fourth-quarter revenue rose 24% to $33.32 billion and well exceeded the consensus of $25.57 billion.
Merck & Co. (MRK) - Get Report  shares were down 2% after the company posted fourth-quarter earnings that topped forecasts but revenue that didn't. 
Energy shares were a leading laggard on Wall Street on Friday.
Exxon Mobil Corp. (XOM) - Get Reportearned $1.97 a share in the fourth quarter, up from 41 cents a share a year earlier. The energy giant recorded a gain of $5.942 billion from the new U.S. tax law. Adjusted earnings of 88 cents a share, which included the gain and a separate asset impairments charge of $1.3 billion, failed to meet analysts' expectations. The stock fell 5%.
Chevron Corp.'s  (CVX) - Get Reportearnings soared in the fourth quarter after the company recorded a tax benefit of $2.02 billion from the tax law. Earnings in the quarter were $1.64 a share, up from 22 cents a year earlier. The stock, however, fell 5.5%.
Apple and Alphabet are holdings in Jim Cramer's Action Alerts PLUS Charitable Trust Portfolio.Want to be alerted before Cramer buys or sells the stocks? Learn more now.
More of What's Trending on TheStreet: