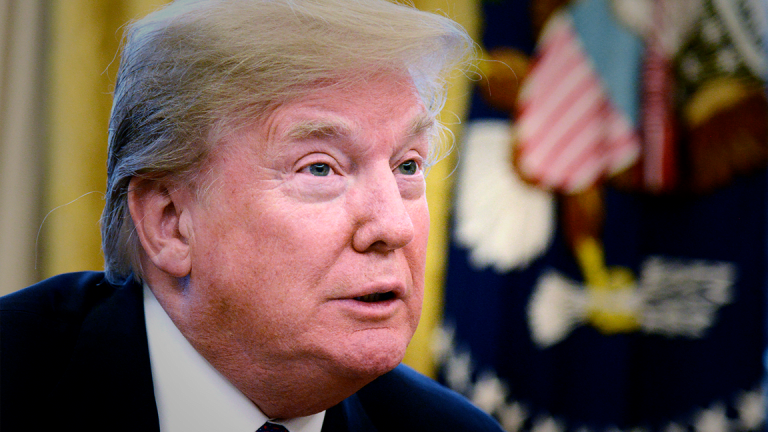 Dow Sinks 724 Points, or Nearly 3%, After Trump Announces China Trade Action
Stocks fall sharply on Thursday after Donald Trump announced a trade action against China that could be worth $60 billion.
Here Are 4 Hot Things to Know About Stocks Right Now
Shares of Facebook Inc. fell for the third day of four after CEO Mark Zuckerberg broke his silence about the data privacy scandal. The stock declined 2.6% on Thursday.
Donald Trump announced tariffs on Chinese goods entering the U.S.
The Dow Jones Industrial Average was down sharply on Thursday and is now more than 2,600 points below its all-time high reached on Jan. 26.
A bear market in stocks could be coming, reported TheStreet's Executive Editor Brian Sozzi. 
Wall Street Overview
Stocks fell sharply Thursday, March 22, as investors reacted to Donald Trump's announcement that he was launching a trade action against China that could be worth $60 billion and vowed to lower the U.S. trade deficit with the world's second-largest economy.
The Dow Jones Industrial Average finished down 724 points, or 2.93%. The S&P 500 dropped 2.51% and the Nasdaq tumbled 2.43%.
Leading the Dow lower were Caterpillar Inc. (CAT) - Get Caterpillar Inc. Report  , 3M Co. (MMM) - Get 3M Company Report and Boeing Co. (BA) - Get Boeing Company Report .
Trump issued a presidential memorandum levying as much as $60 billion in new retaliatory tariffs against China in a bid to thwart intellectual property theft in the country.
"The word that I want to use is reciprocal," Trump said at a briefing Thursday.
The presidential memo directs the Office of the U.S. Trade Representative and the Treasury Department to enact "what could be" $60 billion in tariffs to offset what the trade representative's office found to be about $48 billion in harm done toward the U.S. via Chinese trade practices.
Stocks finished lower on Wednesday, March 21, after the Federal Reserve announced it would be raising interest rates for the sixth time since late 2015 in a bid to keep inflation from rising too fast as the economy accelerates.
The U.S. central bank's monetary-policy committee raised the benchmark rate by a quarter point to a range of 1.5% to 1.75%. The Fed had held the rate close to zero from 2008 through 2015 in a bid to revive the economy and markets following the financial crisis.
The Fed said Wednesday that the "economic outlook has strengthened in recent months," a new sentence the central bank hadn't included in previous reports. The Fed also raised its GDP forecasts for 2017 and 2018, leaving many Fed-watchers to believe the three rate hikes in 2018 forecast by the Fed may not be the minimum.
CEO Mark Zuckerberg of Action Alerts Plus holding Facebook Inc. (FB) - Get Facebook, Inc. Class A Report  said in a televised interview that he would be willing to testify before Congress and is open to regulation in light of the social media giant's data breach scandal.
Earlier on Wednesday, March 21, Zuckerberg, after drawing criticism from investors for his silence over the Cambridge Analytica data, said in a lengthy post that the social media giant has a "responsibility to protect your data, and if we can't then we don't deserve to serve you."
Zuckerberg's company came under fire this week following news that data analysis firm Cambridge Analytica harvested personal information from as many as 50 million Facebook users to influence elections in the U.S. and U.K.
Facebook shares slumped 2.6%, the third day of four this week the stock has declined.
Reckitt Benckiser Group PLC, the British consumer goods maker, said Thursday it terminated talks to buy the consumer healthcare business of Pfizer Inc. (PFE) - Get Pfizer Inc. Report just hours before it was expected to table a formal offer.
Pfizer shares declined 1.8%.
Twitter Inc. (TWTR) - Get Twitter, Inc. Report was down 4.6% following reports that its Chief Information Security Officer Michael Coates was leaving the company.
Shares of Conagra Brands Inc. (CAG) - Get Conagra Brands, Inc. Reportrose 0.3% on Thursday after the branded food company reported fiscal third-quarter profit that topped analysts' forecasts and it raised its outlook for fiscal 2018.
Darden Restaurants Inc. (DRI) - Get Darden Restaurants, Inc. Report  posted third-quarter adjusted earnings of $1.71 a share, higher than estimates of $1.64, and raised its earnings outlook for fiscal 2018. Shares fell 8%.
Guess Inc. (GES) - Get Guess?, Inc. Report  jumped 28% after the clothing retailer posted fourth-quarter earnings and sales that were better than analysts' expectations.
Accenture PLC (ACN) - Get Accenture Plc Class A Report fell 7% despite reporting fiscal second-quarter earnings and sales that topped forecasts and issuing better full-year guidance.
Jobless claims in the U.S. last week rose 3,000 to 229,000.