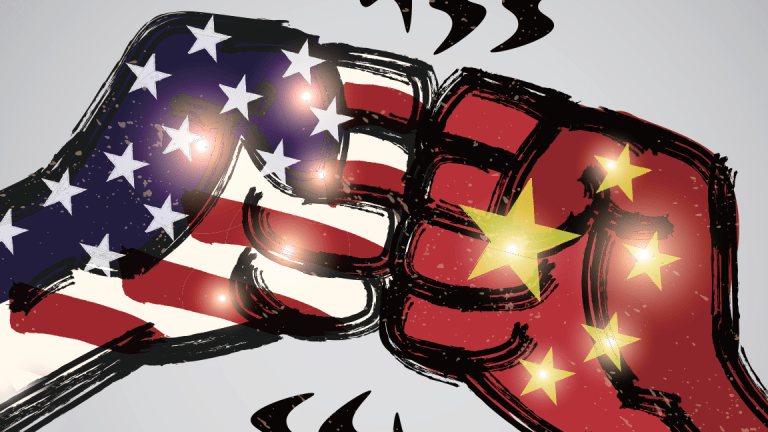 Stocks Tumble as Trump Escalates Trade War With $200 Billion Tariff Threat
Global stocks tumbled Wednesday after President Donald Trump broke the brief trade war lull with a new list of $200 billion worth of China-made goods he says will be hit with fresh 10% tariffs.
The Wednesday Market Minute
Global stocks tumble as White House unveils new $200 billion list of China-made goods targeted for fresh 10% tariffs.
China says new list is "bad for China, U.S. and the rest of the world" and vows to retaliate.
Copper leads metals prices lower, falling 3% to a one-year low as investors bet global economic growth will slow.
Oil falls hard on demand concerns and comments from Secretary of State Pompeo that some countries may be exempted from sanctions on the purchase of Iranian crude.
U.S. equity futures point to a 175-point fall for the Dow; benchmark 10-year Treasury yields retreat to 2.84%.
Join Jim Cramer's monthly call with Action Alerts PLUS club members today. Register here.
Market Snapshot
Global stocks traded sharply lower Wednesday following the latest escalation in trade war rhetoric from the White House, which published a list of $200 billion worth of China-made goods it says will be hit with fresh tariffs.
The list, which includes products across sectors such as consumer technology, agriculture and automobile parts and equipment, comes just days after President Donald Trump unveiled $34 billion in tariffs on Chinese goods that were immediately reciprocated by Beijing.
"For over a year, the Trump administration has patiently urged China to stop its unfair practices, open its market, and engage in true market competition," U.S. Trade Representative Robert Lighthizer said in a statement. "Rather than address our legitimate concerns, China has begun to retaliate against U.S. products ... There is no justification for such action."
China's Commerce Ministry said Wednesday that the latest tariff threat was "bad for China, the U.S. and the rest of the world" and promise to retaliate with both "quantitative and qualitative" measures.
Market sentiment was also hit when images were broadcast from the opening of today's NATO summit in Brussels, where President Trump harangued Jens Stoltenberg, the group's Secretary General, and insisted that Germany's purchase of natural gas from Russia made it a "captive" of the former Soviet state.
Stocks in Asia were hit hard on the news, taking the region-wide MSCI Asia ex-Japan index 1.03% lower into the close of trading while Japan's Nikkei 225 ended the day down 1.19% at 21,932.21 points. China's offshore yuan also drifted lower, although it did not cross the 6.7 mark against the U.S. dollar that it briefly surpassed at the height of trade tensions last month.
European stocks followed suit, with heavy selling in the opening hours of trading that took the Stoxx 600 1.19% lower, led by 1.33% and 1.2% declines for benchmarks in Germany and France respectively. Britain's FTSE 100 also slid 1.33% at the start of trading in London as oil and basic resource shares suffered in the global trade war concern. 
One early moving stock of note was Sky plc (SKYAY) , which fell 0.3% to £14.98 each after news that Twenty-First Century Fox (FOXA) - Get Fox Corporation Report increased its bid to buy the pay-TV group, just one day ahead of expected clearance from U.K. authorities in a deal that could pressure Comcast's (CMCSA) - Get Comcast Corporation Class A Common Stock Report ability top Walt Disney Corp (DIS) - Get The Walt Disney Company Report in the race for Rupert Murdoch's U.S. media assets.
Fox will pay £14 a share for the 61% of Sky that it doesn't already down, the companies said, up from the original bid price of £10.75 per share it put on the table in December 2016. The deal values Europe's biggest pay-TV company at £24.5 billion ($32.5 billion) and tops the £12.50 bid that Comcast made earlier this year.
Early indications from U.S. equity futures suggest notable weakness on Wall Street today as a result, with contracts tied to the Dow Jones Industrial Average undefined pricing in a 175-point decline for the 30-stock average while those linked to the S&P 500 undefined suggest a 15.3 point slide for the broader benchmark.
Amid increasing investor concern that the escalating trade war will hit global economic growth prospects, industrial metals prices slipped to a one-year low in overnight Asia trade, with three months copper futures sliding 3% to just over $6,000 a ton and Zinc slumping nearly 5% to the lowest level since June 2017.
Investor caution also drove cash into the U.S. dollar, which gained 0.26% against a basket of six global currencies to trade at 94.403, and took benchmark U.S. Treasury yields to 2.84%. Benchmark 2-year notes, meanwhile, traded at 2.565%, taking the difference between the two yields, often referred to as the "curve", to just 0.275%, the lowest since 2007.
Global crude prices eased in overnight as well, thanks in part to both the stronger U.S. dollar, the newly-ignited trade war and comments from U.S. Secretary of State Mike Pompeo that suggested some countries could be exempted from sanctions on the purchase of Iranian crude, which are set to phase in later this year.
Brent crude contracts for September delivery, the global benchmark, were seen $1.8 lower from their Tuesday close in New York at $77.06 per barrel while WTI contracts for August were marked 71 cents lower at $73.40 per barrel.