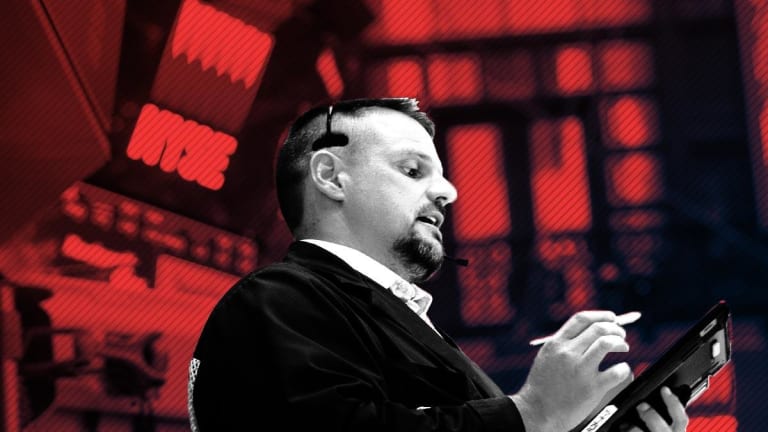 Dow Ends Off More Than 800 Points, Nasdaq Loses 4%
Stocks crumble Wednesday as fears of higher rates sent Wall Street to its worst day since February.
Here Are 4 Hot Things to Know About Stocks Right Now
The Dow lost 832 points for the day, its third worst point decline ever.
The S&P 500 saw its worst fall since February., and its lowest close since July 11 as it marked five consecutive losing sessions.
The Nasdaq tumbled 4% as chipmakers led the slide.
Sears Holdings Corp. (SHLD)  fell 14% following a report it has hired advisors to prepare a bankruptcy filing.
What Are "Closed-End" Mutual Funds and How Do They Fit Into a Savvy Investors' Portfolios?Click here to register for a free online video in which TheStreet's retirement expert Robert Powell and an all-star panel run down all you need to know. 
Wall Street Overview
The Dow Jones Industrial Average ended off more than 800 points on Wednesday, Oct. 10, as waves of selling hit Wall Street amid questions over the pace of economic growth and the impact of the still-simmering trade dispute between Washington and Beijing.
The Dow fell 831.83 points, or 3.1%, to 25,598. The S&P 500 declined 3.3%, and the Nasdaq was down 4% as the tech sector was the market's worst performer on Wednesday. Chipmakers Intel Corp. (INTC) - Get Free Report and Qualcomm Inc. (QCOM) - Get Free Report fell 3% and 4%, respectively. Microsoft Corp. (MSFT) - Get Free Report declined 5%.
"Once the 2860 level on the SPX was breached the markets were vulnerable to a ton of downside, and that happened rather quickly," said Bob Lang, founder of ExplosiveOptions.net and a contributor to TheStreet.com'sTrifecta Stocks Newsletter. "It's time to step back, wait for things to settle down."
The benchmark 10-year Treasury yield rose Wednesday to 3.22% after falling slightly during the previous session but only after the yield hit a fresh seven-year high. 
Bond yields have been rising as recent strong U.S. economic data have investors anticipating the Federal Reserve will raise interest rates at a pace faster than expected as inflation pressures mount in the world's biggest economy. 
"I don't like what's happening," said Jim Cramer, founder of TheStreet. "I could tell you that the velocity of the decline of the Nasdaq is extraordinary. The speed of the decline in the Nasdaq is usually not sustainable."
The Producer Price Index for September - a measure of inflation at the wholesale level - rose 0.2% following a drop of 0.1% in August. PPI over the last 12 months slowed to 2.6% from 2.8%.
Sears Holdings Corp. (SHLD) has hired M-III Partners LLC to prepare a bankruptcy filing that could come as soon as this week, The Wall Street Journal reported, citing people familiar with the situation, as the struggling retailer faces a debt payment deadline.
Boutique advisory firm M-III Partners has spent the past few weeks working on the potential filing, the people told the Journal. Sears continues to discuss other options and could still avert an in-court restructuring, the people added.
Sears shares tumbled 14% to 50 cents.
PPG Industries Inc. (PPG) - Get Free Report   rose 1% on Wednesday after hedge fund Trian Fund Management said it bought 2.59 million shares of the paints maker.
PPG fell more than 10% on Tuesday after the company issued third-quarter earnings and sales guidance below analysts' expectations. PPG said it "continued to experience significant raw material and elevating logistics cost inflation, including the effects from higher epoxy resin and increasing oil prices."
Starbucks Corp. (SBUX) - Get Free Report  declined 2.7% on Wednesday after gaining 2.1% on Tuesday and moving into positive territory for the year following word that activist investor Bill Ackman said he was building a stake in the coffee chain.
Ackman told Grant's Interest Rate Observer Conference in New York that his hedge fund, Pershing Square Capital Management, now holds 15.2 million shares in the coffee chain, or $900 million. That equates to roughly 1.4% position in the world's biggest coffee chain, which he called "one of the greatest businesses in the world."
Start, and end, your trading day right with TheStreet's 'Daily Snapshot' on your favorite smart-speaker. Learn more about TheStreet's market coverage for your trusted smart-speaker here.
TransDigm Group Inc. (TDG) - Get Free Report said it would buy Esterline Technologies Corp. (ESL) in a $4 billion deal that includes debt. TransDigm will pay $122.50 in cash for each Esterline share, which represents a 38% premium to Esterline's closing price Tuesday of $88.79. TransDigm fell 3% on Wednesday while Esterline jumped 30% to $115.35.
Campbell Soup Co. (CPB) - Get Free Report rose 1% after Daniel Loeb's Third Point Management said in a filing it increased its stake in the soup maker to 6.98% from 5.65%.
Want to Buy $1 Worth of Stock for 90 Cents or Less?Click here to register for a free online video in which TheStreet's retirement expert Robert Powell and an all-star panel. The webinar is sponsored by Nuveen.