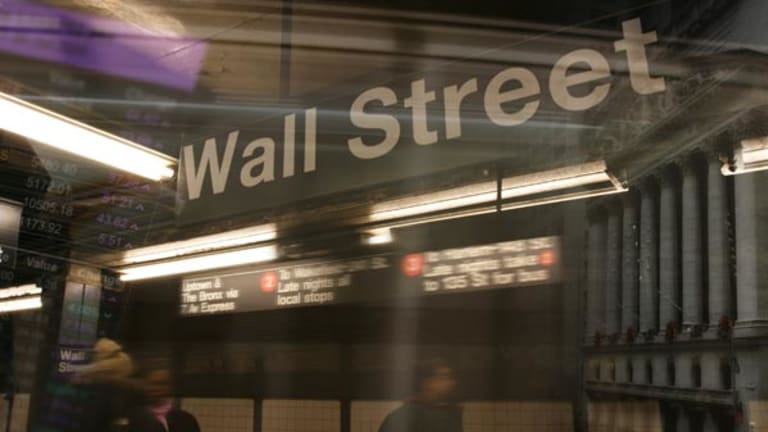 Stocks Tumble as BofA Slumps
Stocks in New York fall Monday as traders take in a heavy dose of earnings and deals. Frank Curzio reviews the action in The Real Story above.
Updated from 4:26 p.m. EDT
Financials dragged stocks in New York sharply lower Monday as traders tried to digest a series of deals, another round of earnings and what the CEO of one major bank called "extremely difficult challenges."
The
Dow Jones Industrial Average
lost 289.60 points, or 3.6%, to 7841.73, with all 30 components in negative territory, while the
shed 37.21 points, or 4.3%, to 832.39. The
Nasdaq
gave up 64.86 points, or 3.9%, to 1608.21.
Immediately after the close,
IBM
(IBM)
reported a first-quarter profit that was slightly better than expectations, but sales were light. Shares lost 0.8% in the regular session and were down 2.6% in the post market.
Movers of the day included
Sun Microsystems
(JAVA)
, which surged 36.8% to $9.15 on merger news. However, the bulk of the notable winners and losers were on the downside.
Citigroup
(C)
and
Bank of America
(BAC)
were off by 19.5% and 24.3%, respectively. The KBW Bank Index fell 15.4%.
Stocks are coming off of their sixth consecutive week of gains in the U.S., marking the largest six-week gain on the Dow since 1938, although the pace has slackened. Wall Street is still mixed on whether the run-up is a bear market rally or a true change of heart.
Anu Sharma, managing director of the Market Intelligence Desk at Nasdaq OMX, says the market is dealing with "two drastically different sentiments." Quarterly reports from the nation's biggest banks have done little to worry the bulls as most have come in well ahead of expectations, although others are quick to point out that expectations were low and the economy is far from improved.
"We're still in a contracting economy, even if it's not at the rapid pace of the end of last year," says Paul Nolte, director of investments at Hinsdale Associates.
Bank of America became the latest of the big banks to top analysts'
, but CEO Ken Lewis said the bank is facing "extremely difficult challenges," primarily due to deteriorating credit quality. That sent BofA's shares lower at the start of the new week.
Bank of America joins Citigroup,
JP Morgan Chase
(JPM)
and
Goldman Sachs
(GS)
in breezing past estimates. But this unexpected performance may be a one-quarter phenomenon as banks are backing away from government aid due to the restrictions that come with it, says Nolte.
"They are going to want to remove those TARP shackles and try to go it on their own, so they won't see additional government dollars coming in that would flow through various business lines," he says.
Some banks like
are already planning to repay TARP funds. However, President Obama's top economic advisers are simultaneously
of government loans in some of the nation's biggest banks into common stock, according to a report in
The New York Times
. The Treasury previously negotiated this sort of conversion with Citigroup, turning aid into available capital for the bank and giving the government a bigger ownership stake.
In an effort to reduce its risk profile and strengthen its balance sheet, Swiss bank
UBS
(UBS)
agreed to sell its Brazilian operation, UBS Pactual, for about $2.5 billion to BTG Investments. Shares fell 8.3% to $11.
Elsewhere, shares of Sun Microsystems soared after
with news that it would buy the company for $9.50 a share in a deal valued at $7.4 billion. The news comes after negotiations between IBM and Sun fell apart.
In another deal at the beginning of the week,
PepsiCo
(PEP)
made a
the outstanding shares of
Pepsi Bottling Group
(PBG)
and
PepsiAmericas
(PAS)
that it doesn't already own, valuing those companies at $29.50 a share and $23.27 a share, respectively.
PepsiCo fell 4.4% to $49.86, while Pepsi Bottling Group rose 21.9% to $30.73 and PepsiAmericas added 26% to $25.04.
Also, drugmaker
GlaxoSmithKline
(GSK)
confirmed that it
privately held Stiefel Laboratories for $2.9 billion in cash. Glaxo shares fell 1.8% to $30.05.
Back in earnings, pharmaceutical giant
Eli Lilly
(LLY)
got past
with some help from rising sales of antidepressant Cymbalta and a drop in costs related to the insulin Humalog. Eli Lilly's shares fell 2.3% to $32.99.
The dollar was mixed. Meanwhile, oil fell $4.45 to settle at $45.88 a barrel, while gold rose $19.60 to $887.50 an ounce.
Longer-dated Treasuries were recently rising, with the 10-year adding 26/32 to yield 2.9% and the 30-year climbing 1-28/32, yielding 3.7%.