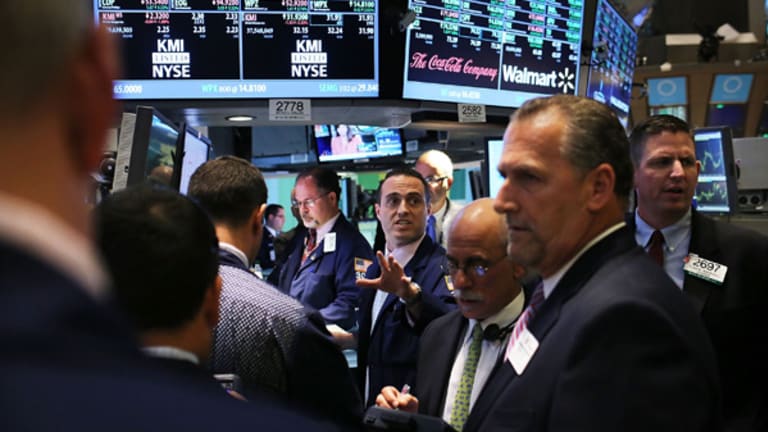 Stocks Tumble After April Jobs Report
The Nasdaq closes lower by 1.9%, and the Dow barely stays above 10,000.
The Nasdaq closes lower by 1.9%, and the Dow barely stays above 10,000.
Updated from 4 p.m. EDT
Stocks traded in negative territory all day and closed lower Friday as the latest
employment report showed that the jobless rate in April reached its
highest level in almost eight years.
The
Dow Jones Industrial Average finished with a loss of 85.24 points, or 0.8%, to 10,006.63. The
Nasdaq fell 31.79 points, or 1.9%, to 1613.03, and the
S&P 500 was lower by 11.13 points, or 1%, to 1073.43.
The Labor Department issued its monthly employment report before the bell, revealing that nonfarm payrolls rose by 43,000 last month, while the unemployment rate rose to 6% from 5.7% in March. Economists were expecting the unemployment rate to rise to 5.8%, with 60,000 workers added to payrolls. The report is considered the single best measure of the overall health of the economy and will set the tone for other indicators that will be released this month.
Another economic report, the Institute for Supply Management's monthly
nonmanufacturing survey, indicated that the service sector of the economy grew again in April but at a slower pace than in the prior two months. The report follows the ISM's
factory sector data earlier this week, which showed the same trend. According to the latest report, the ISM's nonmanufacturing index fell to 55.3 last month from 57.3 in March. Analysts were expecting a reading of around 57.
Little corporate news was filtering through Friday, but after the close Thursday,
Emerson Electric
(EMR) - Get Report
said second-quarter earnings fell because of weak demand at its electronics and telecommunications businesses, but still met analysts' forecasts. Separately, regional utility company
Allegheny Energy
(AYE)
posted weaker first-quarter earnings, but matched expectations, as unseasonably warm weather conditions curbed heating demand. Emerson gained 3.5%, and Allegheny was down 4.4%.
Vodafone
(VOD) - Get Report
lost 12.4% to $13.91 after the mobile phone service provider cut its expectations at its German and Italian businesses. Meanwhile, shares of medical devices maker
Guidant
(GDT)
fell 2.4% to $38.40 even though the company received regulatory approval for its new implantable defibrillator.
Some of the other big percentage losers on the
New York Stock Exchange included
Sierra Pacific Resources
(SRP)
, down 14%;
Texas Instruments
(TXN) - Get Report
, off 5%; and
Aurora Foods
(AOR) - Get Report
, down 33%.
Winners on the Big Board included
Tesoro Petroleum
(TSO)
, up 17%, and
Administaff
(ASF)
, higher by 8%.
EMC
(EMC)
was the most active issue, falling 4.1% to $8.01.
In other corporate news, Germany's
Schering AG
said it will purchase
Immunex's
(IMNX)
Leukine cancer treatment in its latest effort to expand its reach in the world's biggest drug market. Immunex lost 2% to $25.51.
U.S. Treasury issues were higher following the employment report. The 10-year note was up 8/32 to 98 19/32, yielding 5.06%, and the 30-year bond was the strongest issue.
Overseas markets were mixed, with London's FTSE 100 up 0.6% to 5203 and Germany's Xetra DAX down 1.7% to 4883. Japan's Nikkei 225 was closed, while the Hang Seng added 0.2% to 11,797.