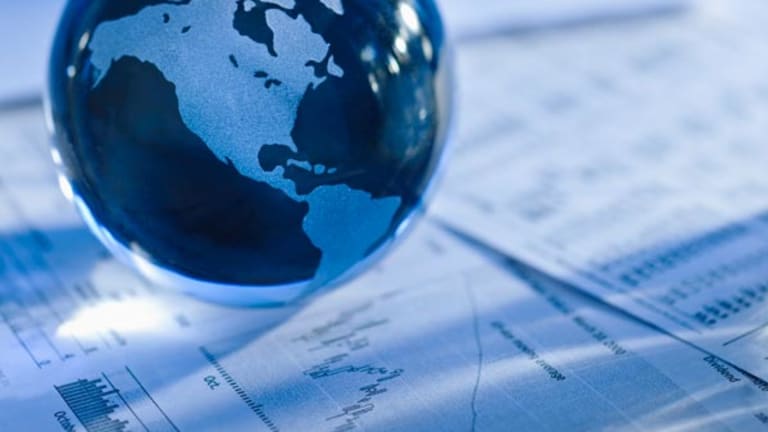 Stocks Tumble Across Asia
Markets in Hong Kong and India are hard hit.
The surging cost of yen and oil destabilized Asian markets in trading on Wednesday, with all the key indices ending deep in the red.
Markets in Hong Kong and India were hardest hit. The Hang Seng tumbled 1,153 points, or 4.15%, to 26,618, while the Bombay Sensitive Index lost 678 points, or 3.52%, to 18,602. In China, the Shanghai Composite Index fell 79 points, or 1.5%, to 5214.
"We expect global inflation to remain sticky, Asian and global growth to slow further and G7 credit problems to persist for longer," writes Sean Darby, head of Asian strategy for Nomura Bank in Hong Kong, in a research note issued to the bank's clients.
"Equity markets are to likely to face a period of stagnation as rising oil prices, higher risk aversion and slowing earnings momentum undermine sentiment. The probability of a policy mistake is rising," adds Darby.
Darby recommends that U.S. investors acquire a basket of Asian telecom stocks, which he says, "offer higher local currency returns."
In Hong Kong, telecoms plunged after surging on upbeat news in recent days.
China Netcom
(CN) - Get Xtrackers MSCI All China Equity ETF Report
slid 6.17% to HK$22.05, while
China Telecom
(CHA) - Get China Telecom Corp. Ltd. Report
plummeted 8.32% to HK$5.40, and
China Unicom
(CHU) - Get China Unicom (Hong Kong) Ltd. Report
slumped 7% to HK$14.68.
China Mobile
(CHL) - Get China Mobile Ltd. Report
shed 4% to HK$129.
Financials, another recent favorite among value investors, were also hard hit by the selling.
China Life Insurance
(LFC) - Get China Life Insurance Company Limited American Depositary Shares Report
declined 5.75% to HK$40.95, and
Ping An
shed 4.75% to HK$83.95.
HSBC Holdings
(HBC)
lost 1.55% to HK$131.80.
Among commodity stocks,
PetroChina
(PTR) - Get PetroChina Company Limited Report
ended down 3.5% to HK$14.32. On the mainland,
Sinopec Shanghai Petrochemical
(SHI) - Get SINOPEC Shangai Petrochemical Company Ltd. Report
fared similarly, losing 3.6% to 15.98 yuan, and
Aluminum Corp of China
(ACH) - Get Aluminum Corporation of China Limited American Depositary Shares Report
lost 1.6%, to 38.53 yuan.
Nomura's Darby is advising the bank's clients to sell Chinese and Hong Kong ETF's like the
iShares FTSE Xinhua
(FXI) - Get iShares China Large-Cap ETF Report
and the
iShares Hong Kong
(EWH) - Get iShares MSCI Hong Kong ETF Report
, and instead buy those weighted in Singaporean stocks, such as the
iShares Singapore Free Index
(EWS) - Get iShares MSCI Singapore ETF Report
, and Japanese equities, like the
iShares Japan Index
(EWJ) - Get iShares MSCI Japan ETF Report
.
Many regional value investors also like Singapore right now, which they say offers value without political risk, along with globally diversified income streams.
Darby also advises against counting on central banks' interest rate policy to provide liquidity to markets and keep share prices buoyant.
"Equity investors who have relied on central banks to provide a smooth economic cycle may find themselves betrayed as policy decisions grow more awkward, and policymakers have to decide between outright asset deflation and a banking crisis or the specter of inflation," he writes.
In Japan, the Nikkei plummeted further to touch a new 52-week low, sinking 373 points, or 2.46%, to 14,837. Economic data released there was mixed. While the trade surplus in Japan was down by 37% on the month in October, to 1.018 trillion yen, or $9.95 billion, it was still up 53.2% on the year. Exports also rose on the year, by 13.9% vs. analysts' expectations of a 12.2% gain.
Some bears on the yen pointed out that the data mean the yen may be ready to fall again soon against the dollar, as exports increased to Europe and Asia, but declined to the U.S. The U.S. is seen as Japan's key trading partner.
The yen was stronger in Asian trading, at 108.94 vs. the dollar.
In India, stocks followed the rest of Asia's declines. Among financials,
Icici Bank
(IBN) - Get ICICI Bank Limited Report
gave up 5.5% to 1,103 rupees, while
HDFC Bank
( HBD) also fell, by 3% to 1,583 rupees.
As for technology shares,
Infosys
(INFY) - Get Infosys Limited American Depositary Shares Report
fell 1.04% to 1,584 rupees, while
Wipro
(WIT) - Get Wipro Limited Report
slipped 2.7% to 436 rupees, and Patni Computer Systems lost 2.02% to 310 rupees.
"One of the main factors driving the Indian market is liquidity," says Jayesh Shroff, a fund manager for the $6 billion SBI Mutual Fund in Mumbai. "If the yen equation doesn't change too much from here on, because it's providing liquidity globally, then I think global liquidity conditions remain good."
In financials, Shroff says there are "no external shocks" like subprime in India, so stocks should remain strong.
Shroff also says that Indian technology shares, although undervalued, will be uncertain until February next year, when U.S. corporations reassess their information technology budgets.
He is bullish on construction companies and steel companies, like
Tata Steel
, and says that identifying sectors and stocks is a better strategy for a long-term U.S. investor.
"It depends on the kind of money someone is willing to commit. If you come in as a one-time investor there is no point in trying to identify sectors, so you can just buy a benchmark basket," says Shroff. "But if someone is a long-term player then maybe he will go down to micro level and identify specific sectors and stocks."
Daniel M. Harrison is a business journalist specialising in European and emerging markets, in particular Asia. He has an MBA from BI, Norway and a blog at
. He lives in New York.