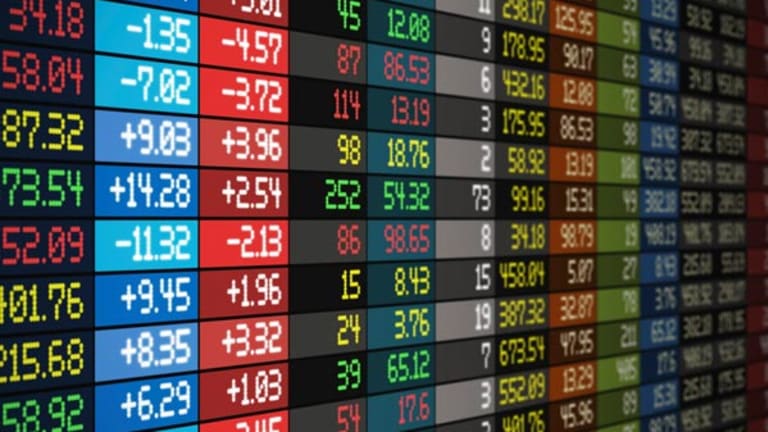 Stocks Trip Over Charts; Nasdaq Pummeled
Stocks fall sharply at technical levels. The dollar strengthens, and new-home sales and mortgage volume drop. Gregg Greenberg reviews the day in The Real Story.
(Updated with commentary, stock prices.)
NEW YORK (
) -- Stocks accelerated and closed significantly lower Wednesday as the dollar strengthened. The major indices tripped on technical levels, building on selling that began after new-home sales and mortgage applications fell.
Metals, energy and tech stocks were among those feeling the brunt of risk aversion, with the
Nasdaq
faring the worst of the major averages, down 56.48 points, or 2.7%, at 2059.61.
The
Dow Jones Industrial Average
fell 119.48 points, or 1.2%, to 9762.69, while the
S&P 500
lost 20.78 points, or 2%, to 1042.63, a level that would make it negative for the month of October.
Stock Wrap: The Real Story, October 28
"Most of today's negative action has been dollar-related, and the tripping of technical levels that fired off another short trade or a sell order or something like that -- we're right in the zone where you would expect to trigger selling," says Marc Pado, U.S. market strategist at Cantor Fitzgerald. "The flip of the dollar trade is to unwind or cover your short in the dollar and sell commodities and the Russell 2000, and so this has produced a break of the uptrend line since the March lows."
If you look at the groups that have been the strength of the rally -- energy, materials and tech, for instance -- you can see how they are affected by the reverse trade. "And really the leadership of the entire move has been technology, and they're getting just crushed today," he said.
"What it amounts to is that breaking an uptrend line means that the momentum has shifted, or you've fully discounted the good news -- we started seeing that several days ago," he added.
"We've seen about a 5% drop since the high last week, and
the major averages have broken below the 50-day moving average for the first time since July -- but this is also the fifth time we've seen a 5% retracement or more since the lows in March," says Anu Sharma, managing director of the market intelligence desk at Nasdaq.
Losses accelerated after
new-home sales fell by 3.6% in September to 402,000, vs. a downwardly revised 417,000 in August. The September figure fell short of expectations, which were for an increase to 440,000. There is a 7.5 month supply, up from 7.3 months a month prior.
Earlier in the morning, the Mortgage Bankers Association said home loan demand as measured by
fell 12.3% last week, as the deadline for the $8,000 tax credit would likely come too soon for most buyers putting in new applications.
"It definitely has an effect; it's the first time it's shown a downward kick for new-home sales in five reports," says Sharma. "But the biggest concern here is that we've had a tremendous earnings season -- 85% of S&P companies have beat expectations -- but for the most part the market already worked in all of these numbers and is looking at the economic data instead.
"Traders are digesting the fact that economic growth will be slow at best," says Sharma. "This tremendous move has probably gotten ahead of what economic growth should dictate."
But, writes James De Porre, founder and CEO of Shark Asset Management and a
RealMoney.com
contributor, thanks to this latest dip, "we are oversold enough now that market players are looking for a bounce and have made a couple of forays." DePorre adds that a bounce would likely favor bigger, more conservative stocks first.
In other data, the Department of Commerce said durable goods orders increased 1%, in line with expectations, after a 2.6% decline the month prior.
Adding pressure to the market,
Goldman Sachs
(GS) - Get Goldman Sachs Group, Inc. Report
reduced its third-quarter GDP forecast to 2.7% from 3.0%.
Meanwhile,
CIT Group
(CIT) - Get CIT Group Inc. Report
announced it borrowed an additional $4.5 billion money from "a diverse group of lenders, including many of the company's bondholders" as it tries to restructure its debt and restore its business of lending to small and midsize companies. Shares added 10.4%.
Broad, early declines followed losses overseas and some earnings angst as enterprise-software maker
SAP
(SAP) - Get SAP SE Report
said it expects services revenue to decline about 6% to 8% for the full year, sending shares down 9.9%.
Conoco Phillips
(COP) - Get ConocoPhillips Report
-- down 2.8% -- said profit plummeted 71% in the third quarter, but it is increasing production as crude prices rise.
In other news, so-called pay czar Kenneth Feinberg, who sliced total compensation for top executives at seven bailed-out firms last week, has now increased base salaries at the banks, automakers and insurers,
The Wall Street Journal
reported.
Feinberg testified Wednesday before the House Oversight Committee on the compensation decisions he's made regarding the seven companies, which include
Bank of America
(BAC) - Get Bank of America Corp Report
,
Citigroup
(C) - Get Citigroup Inc. Report
,
AIG
(AIG) - Get American International Group, Inc. Report
,
Chrysler
,
GM
,
Chrysler Financial
and
GMAC
.
Gold added 10 cents, to $1,030.50, while crude oil futures dropped $2.09 to $77.46.
The latest data from the Energy Information Administration showed an uptick of 800,000 barrels in crude oil inventories, a 1.6 million barrel increase in gasoline inventories and a drawdown of 2.1 million barrels of distillates.
Stocks overseas were widely lower. In Europe, the FTSE in London and Dax in Frankfurt fell 2.3% and 2.5%, respectively. In Asia, Hong Kong's Hang Seng and Japan's Nikkei lost 1.8% and 1.4%, respectively.
-- Written by Elizabeth Trotta in New York.