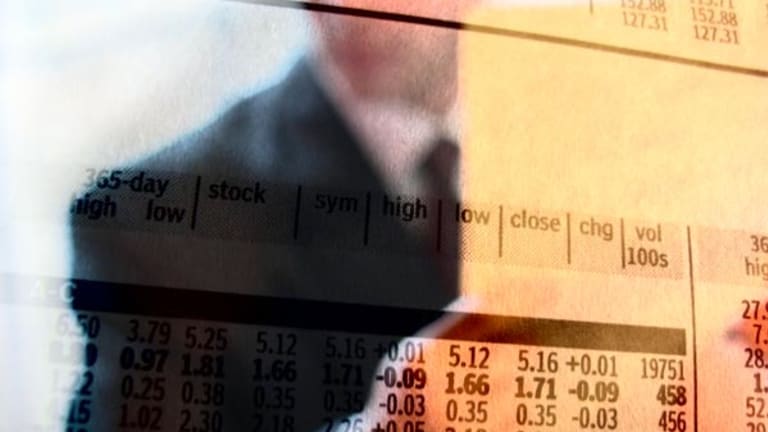 Publish date:
Stocks Trickle Higher
Stocks moved little Wednesday despite respectable demand for the government's final bond auction of the year and news that Midwest business activity improved in December.
Stocks moved little Wednesday despite respectable demand for the government's final bond auction of the year and news that Midwest business activity improved in December.
NEW YORK (
) -- Stocks danced around the flat line Wednesday despite promising business activity in the Midwest and strong demand for the government's final bond auction of the year.
The
Dow Jones Industrial Average
closed slightly ahead, adding 3.1 points to 10,548.5. The
S&P 500
was up by less than a point at 1126.4 and the
Nasdaq
was up by 2.9 points, or 0.1%, at 2291.3.
>>Five Big Stocks Set to Rally
Late Wednesday, the U.S. Treasury committed $3.8 billion of new capital to automotive lender GMAC, which was less than the $5.6 billion that was originally forecast. The infusion comes on top of the $12.5 billion GMAC received from the Treasury previously and increases the government's stake in the company to 56%, from 35%.
The U.S. Treasury's $32 billion auction of seven-year notes had a high yield of 3.345% and a bid-to-cover ratio of 2.72, which was roughly in line with an average ratio of 2.74. Foreign central banks showed a continued appetite for U.S. government debt with indirect bidders taking 44.7%.
"It was a good auction for an auction that everyone was concerned about," said Mary Ann Hurley, vice president and bond market analyst at DA Davidson. "It came right as advertised with a strong bid-to-cover ratio and heavy interest from indirect bidders, especially when a lot of people weren't around."
During the light trading week sandwiched between two long holiday weekends, the Treasury offered $118 billion of government notes. Prices on the two-year note were higher as the yield dipped to 1.083%. Prices on the benchmark 10-year were also higher as the yield fell to 3.793%.
The dollar index was up by nearly 0.1% late Wednesday against a basket of currencies.
Earlier, the Institute of Supply Management-Chicago purchasing managers index hit 60, its highest level in nearly four years. The
PMI figure easily beat the 55 reading that the market had been expecting and was well above November's level of 56.1.
The Energy Information Administration said
crude oil inventories declined by 1.5 million barrels, which wasn't as large as the 2.2 million-barrel drop anticipated by analysts polled by Platts but was better than the 1.7 million-barrel build reported by the American Petroleum Institute late Tuesday.
Gasoline stockpiles also fell, by 300,000 barrels, surprising analysts looking for an increase of 900,000 barrels. Distillate stocks, which include heating oil, dropped 2 million barrels as expected.
Oil for February delivery gained 41 cents, or 0.5%, to settle at $79.28 a barrel Wednesday.
The February gold contract settled lower, losing $5.60, or 0.5%, to $1,092.50 an ounce.
Trading volumes were light on 2009's second-to-last trading day, and analysts expect sideways trading for the remainder of the shortened trading week. Volume on the Dow was 110.15 million, compared with an average of 200.42 million. Markets will close for the weekend after Thursday's trading session for New Year's Day.
U.S. indices relinquished six days of gains on Tuesday as housing and consumer data offered no surprises, and stocks lost momentum during the sleepy session.
Chip Hanlon, founder and president of Delta Global Advisors, said the market was in "holiday light mode."
"This week between Christmas and New Year's is normally a dead one but this one seems even more dead than usual. The public really hasn't been participating in the rally as much as you'd expect and today's session is a magnification of that," Hanlon said.
"Market participants realize that there's not a lot of reason for them to dig into various sectors of the market in the same way that they may have in the past because they see that we've got a market that's largely reliant on the reflation trade. When the dollar is down, you see everything going up: stocks, commodities, etc., and when dollar is rallying, everything stagnates itself."
Shares of
U.S. Steel
(X) - Get Report
added 80 cents, or 1.5%, to close Wednesday's session at $55.51 after the U.S. International Trade Commission approved duties on
Chinese steel pipe and tube imports.
The airline sector, which has been weak amid heightened security concerns following last week's attempted terrorist attack, will remain in the spotlight after shares of
Japan Airlines
plunged 32% on bankruptcy fears.
AMR
(AMR)
and
Delta Air Lines
(DAL) - Get Report
may be interested in partnering with JAL. Shares of AMR closed Wednesday's session unchanged while Delta's stock added 0.4%.
General Motors
dropped a Dec. 31 deadline for bids for Saab, its Swedish car brand. Earlier in December, the company said it would wind down Saab if it failed to find a buyer by the end of the year.
Overseas, Hong Kong's Hang Seng fell 0.01%, and Japan's Nikkei slumped 0.9%. The FTSE in London was down by 0.7%, and the DAX in Frankfurt was off by 0.9%.
--Written by Melinda Peer in New York
.