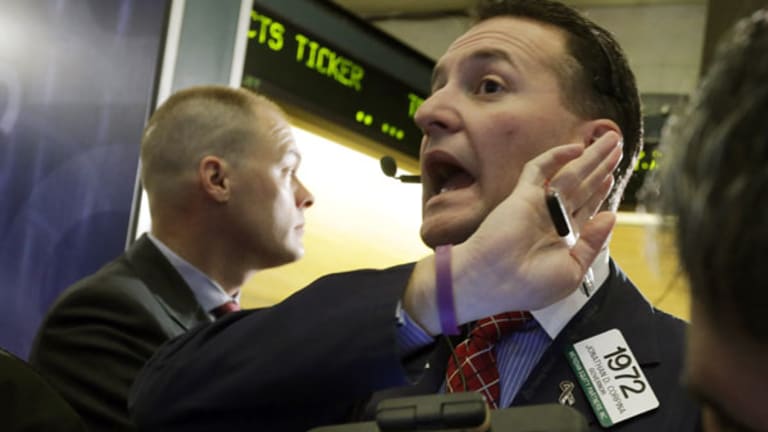 Fed Uncertainties Weigh Down Stocks Even as BlackBerry Rises
Uncertainties surrounding Fed tapering plans as well as Washington budget negotiations dragged down U.S. equities on Monday.
Updated from 4:25 p.m. with comment from the Dallas Federal Reserve Bank president.
NEW YORK (
) -- Major U.S. stock markets finished Monday in the red, with the
S&P 500
and
Dow Jones Industrial Average
logging their first three-day decline in a month as investors weighed the sugar rush that the
Federal Reserve's
ultra-loose accommodation has been providing against the still vulnerable economic backdrop that caused the central bank to maintain its $85 billion per month bond-buying stimulus program.
The uncertainty behind the pace of economic stimulus as well as the contentious budget negotiations in Washington were undermining encouraging manufacturing data from China and a strong showing in Germany elections for the party of Chancellor Angela Merkel.
The
S&P 500
fell 0.47% to close at 1,701.84. The
Dow Jones Industrial Average
declined 0.32% to 15,401.38. The
Nasdaq
traded lower by 0.25% to 3,765.29.
BlackBerry
undefined
and
Apple
(AAPL) - Get Apple Inc. Report
were finding the opportunity to shine in the overall lackluster performance of the broader market.
BlackBerry rose 1.09% to $8.82. Just one trading day after the company decided to
quit the consumer smartphone market
and become an enterprise focused handset and IT services firm, BlackBerry found
in
Fairfax Financial
at $9 a share, or $4.7 billion.
Apple popped 4.97% to $490.64 after the company announced that it sold more than 9 million iPhone 5c and 5s units,
set last year. A year earlier, Apple sold more than 5 million iPhone 5 units across the globe.
Citigroup
(C) - Get Citigroup Inc. Report
on the other hand was a prominent laggard. The company has suffered a
significant decline in trading revenue
that threatens to depress its earnings,
The Financial Times
reported, citing to people familiar with conversations between investors and the bank in recent days. Shares declined 3.2% to $49.57.
Speaking to an audience at the Fordham University Graduate School of Business in New York Monday, New York Fed Bank President William Dudley said that central bank during its meeting this month decided to maintain its current $85-billion-a-month pace in asset purchases given that "we have made progress with respect to these metrics, but have not yet achieved success." He added that "our actions are data dependent and how the data will evolve is uncertain." Furthermore, Dudley emphasized that it's likely to take a considerable amount of time to reach the 6.5% unemployment rate threshold that the Fed is watching for as a guideline for determining a gradual exit of unusually low short-term rates and that it still might wait a long time after the U.S. economy breaches that threshold before beginning to raise the fderal funds rate.
Prior to Dudley's appearance, Atlanta Federal Bank President Dennis Lockhart told an audience at the Louise Blouin Foundation in New York that there is "some evidence to the affirmative" that the U.S. is "losing its economic mojo."
Dallas Federal Reserve Bank President Richard Fisher said in remarks to the Independent Bankers Association of Texas Annual Convention in San Antonio Monday that further delaying tapering would "increase uncertainty about the future conduct of policy and call the credibility of our communications into question."
"Certainly the additional liquidity that the continued policy offers should cause the stock market to go higher as most analysts raised their year-end price targets for the S&P 500 almost immediately after the Feds announcement," Brian Amidei, HighTower Palm Desert's managing director and partner, said in a emailed comment. "The bigger question is, should equities be going higher based on current economic fundamentals? The Federal Reserve was very clear as to why they decided to hold rates low until they have more data that shows the economy is on firmer footing." Against this backdrop, Amidei expects to see higher highs and increased up and down days in the equities markets in the coming weeks. Meanwhile, he said that all eyes will be on Washington this week to see the latest struggle between congress and the president as they try to curtail the U.S.'s overspending before they agree to raise the current debt ceiling of 17 trillion dollars.
"All this should make most investors take a wait and see position over the next few weeks and could create some buying opportunities," he said.
In overseas headlines, China's HSBC flash manufacturing PMI showed that Chinese manufacturing activity reached a six-month high, while Markit's flash eurozone purchasing manager's composite output index achieved a 27-month high. Also, the U.S. flash manufacturing PMI report from Markit Economics on Monday provided the first preview of national manufacturing activity so far this month, saying that the index was down for second month running but still consistent with modest manufacturing expansion.
Chancellor Angela Merkel's Christian Democratic Union emerged victorious during Germany's elections over the weekend, though her coalition partner, the Free Democratic Party, failed to clear the 5% threshold for federal parliament representation. UBS economist Paul Donovan said in a note that a new coalition is "unlikely to offer radical changes to euro policies."
Major U.S. stock markets finished Friday's trading session in the red Friday but were able to eke out a third week of gains after the
S&P 500
was driven to fresh all-time highs in the middle of week on the
Federal Reserve's
surprise decision Wednesday to keep its current $85 billion a month bond-buying program in tact. Enthusiasm turned out to be short-lived as investors retreated to the sidelines on a host of uncertainties heading into the coming, data heavy week.
The benchmark 10-year Treasury was up 9/32, diluting the yield to 2.703%.
-- Written by Andrea Tse in New York
>To contact the writer of this article, click here:
Andrea Tse
.>