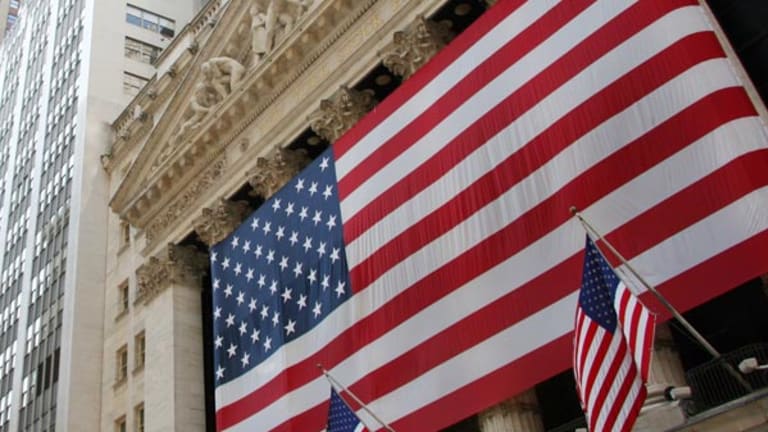 Publish date:
Stocks Waver on Flood of Mixed Earnings From GM to Intel
Stocks remain narrowly mixed on Thursday as earnings take focus and U.S. existing home sales reach their best level in more than nine years.
Stocks remain narrowly mixed on Thursday as earnings take focus and U.S. existing home sales reach their best level in more than nine years.
Stocks wavered on Thursday as a mix of earnings took focus and existing home sales in the U.S. reached their best level in more than nine years. 
The S&P 500 was flat, the Dow Jones Industrial Average fell 0.08%, and the Nasdaq rose 0.07%.
Investors looked to consolidate some gains after the Dow's record-breaking run. The Dow clocked its seventh straight record close on Wednesday on better-than-expected earnings from Microsoft (MSFT) - Get Report, the best performing stock in the blue-chip index. The S&P 500 also notched a new record.
Existing home sales rose 1.1% to a seasonally adjusted annual pace of 5.57 million in June, the strongest level since February 2007, according to the National Association of Realtors. Economists had expected the sale of previously owned dwellings to reach 5.47 million. The housing sector has remained robust with strong demand pushing sales to multi-year highs. 
Earnings continued to come in at a breakneck pace on Thursday. The second-quarter earnings season is now roughly one-fifth complete. The second-quarter blended earnings estimate is down 3.8%, according to Thomson Reuters. Excluding energy, earnings improve to 0.1% growth, a sign the earnings recession is on the mend.
General Motors (GM) - Get Report rose 2.4% after breezing past quarterly estimates. The U.S. automaker reported a 157% jump in net profit in its second quarter as strong truck demand boosted sales. Revenue increased 11% to $42.4 billion. Sales in Europe also improved, leading GM to report its first quarterly profit in the region in five years.
Intel (INTC) - Get Report fell 4% after weak quarterly growth in its server CPU segment, which is seen as the long-term solution to counteract weak PC sales. Sales in the segment grew 5% over the quarter, slowing from 9% growth in the first quarter. Overall earnings topped estimates.
Qualcomm (QCOM) - Get Report surged 7.7% thanks to unexpected strength in its chips segment over its recent quarter. Mobile chip shipments totalled 201 million over the third quarter, above Qualcomm's target of between 175 million and 195 million. Total revenue rose 4% to $6 billion, above estimates of $5.58 billion.
American Express (AXP) - Get Report exceeded quarterly estimates on its top- and bottom-lines Wednesday evening. The credit-card company earned an adjusted $2.10 a share, 15 cents above expectations, thanks partly to its sale of its Costco portfolio to Citi. Shares fell 1.5%.
Biogen (BIIB) - Get Report added more than 6% after reporting a better-than-expected quarterly results. The drugmaker also announced that CEO George Scangos would be stepping down, effective in coming months once a successor is named. 
Travelers (TRV) - Get Report reported a 20% drop in second-quarter operating earnings as claims spiked on wildfires in Canada and hailstorm damage around the U.S. over the three months to June. Catastrophe losses over the quarter reached $333 million, up from $221 million a year earlier. Operating profit of $2.20 a share fell from $2.52 a year earlier, though exceeded estimates of $2.07.
eBay (EBAY) - Get Report climbed close to 11% after reporting its second quarter of sales gains in a row. Sales of $2.23 billion were up 5.7% from a year earlier. Adjusted earnings of 43 cents a share came in a penny above estimates.
Southwest Airlines (LUV) - Get Report reported a disappointing quarter, missing both analysts' profit and sales forecasts. The airline earned an adjusted $1.19 a share in its June-ended quarter, 2 cents shy of estimates, while revenue of $5.38 billion fell short of $5.40 billion expected. Its third-quarter outlook also missed expectations. Southwest shares declined 8.7%.
Tesla (TSLA) - Get Report CEO Elon Musk envisions broader plans for his electric-automobile developer with plans extending to other transport segments such as heavy-duty trucks and buses. Musk updated his 2006 manifesto, likely in an attempt to ease investors' concerns over plans to acquire SolarCity (SCTY) where he serves as chairman. Musk said plans to "create a smoothly integrated and beautiful solar-roof-with-battery product" cannot be done while the companies are separate. Tesla shares fell 1.4%.
Joy Global (JOY) surged 18% after Japanese construction company Komatsu (KMTUY) agreed to buy the Milwaukee-based mining-equipment company in a deal worth roughly $3.7 billion, including debt. The offer of $28.30 a share is equivalent to an 18% premium to Joy's Wednesday close.
Anthem (ANTM) - Get Report and Cigna (CI) - Get Report were higher after the U.S. Justice Department filed an antitrust lawsuit against their proposed merger, according to Bloomberg. Nine states and the District of Columbia have joined the action. 
The European Central Bank opted to leave interest rates unchanged, as expected, following a meeting on Thursday. The central bank expects rates to remain at the current levels or even lower for an "extended period of time." Monthly asset purchases of 80 billion euros will also run until March 2017, though may be extended to continue longer.
Global financial markets have coped with the United Kingdom's decision to exit the European Union with "encouraging resilience," ECB President Mario Draghi said in a press conference after the announcement.
U.S. jobless claims in the past week remained extraordinarily low, a sign of continued strength in the labor market, according to the Labor Department. The number of new claims for unemployment benefits fell by 1,000 to 253,000. The less-volatile, four-week claims average fell 1,250 to 257,750.
Economic conditions in the Philadelphia region worsened in July. The Philly Fed index turned to negative 2.9 over the month from positive 4.7 in June.