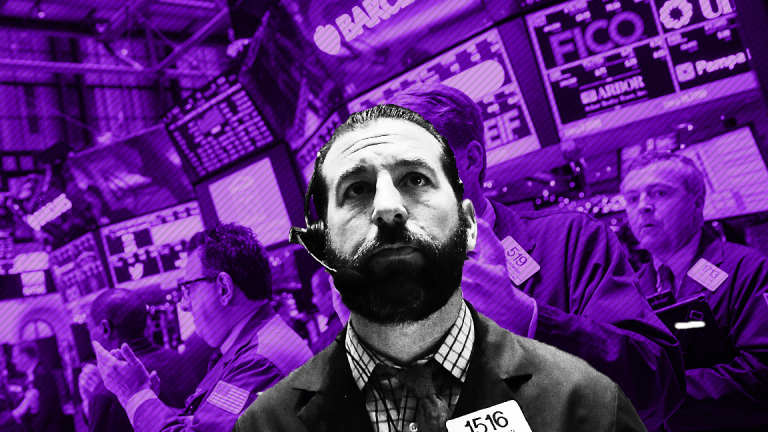 Dow Ends Higher, Nasdaq Rises as Tech Stocks Rebound
The Dow ends higher Thursday, led by 3M, Caterpillar and Apple.
Here Are 3 Hot Things to Know About Stocks Right Now
The Dow Jones Industrial Average turned higher, led by gains in 3M (MMM) - Get Report , Caterpillar Inc. (CAT) - Get Report and Apple Inc. (AAPL) - Get Report .
Walmart Inc. (WMT) - Get Report fell 2% even after after the world's largest retailer posted stronger-than-expected third-quarter earnings and raised earnings guidance for its next fiscal year.
Cisco rose 5.5% after its fiscal first-quarter earnings and sales topped analysts' expectations.
Warren Buffett's Berkshire Hathaway Inc. (BRK.A) - Get Report  purchased  shares in JPMorgan Chase & Co. (JPM) - Get Report and Oracle Corp. (ORCL) - Get Report  and those stocks rose on Thursday.
Wall Street Overview
Stocks ended higher on Thursday, Nov. 15, shrugging off mixed earnings from retail giant Walmart Inc. (WMT) - Get Report   and as tech shares and banks rebounded.
The Dow Jones Industrial Average gained 209 points, or 0.8%, to 25,289, the S&P 500 rose 1%, and the tech-heavy Nasdaq jumped 1.7% after falling earlier in Thursday's session.
U.S. stocks had received a lift before trading began on signs of progress in U.S. and China trade talks. U.S. government sources told Reuters on Wednesday that China had sent a response to U.S. demands for trade reform, raising hopes the two sides could resume talks to end their trade war.
Meanwhile, Federal Reserve Chairman Jerome Powell told an audience in Dallas Wednesday that he was "very happy about the state of the economy," noting low unemployment rates and growth around 3%. He did say, however, the U.S. economy could face headwinds in the next 18 months to two years from several factors, including slowing global growth.
In U.S. economic data, retail sales for October jumped 0.8%, topping economists' predictions of an increase of 0.6%. The Philadelphia Fed's manufacturing index declined in November to 12.9, a three-month low, from 22.2 in October. Economists has expected a November reading of 20.7.
Shares in Europe were mostly lower after the U.K. lawmaker tasked with leading Britain's exit negotiations with the European Union resigned.
The resignation of Dominic Raab, the so-called Brexit secretary, could throw the recently agreed to deal to take the U.K. out of the bloc into chaos and threaten the leadership of Prime Minister Theresa May.
The pound fell sharply following Raab's resignation on fears it could trigger a wider leadership challenge for May and, possibly, fresh national elections in the United Kingdom early next year. Sterling was 1.6% lower against the U.S. dollar at 1.2800 in London.
Walmart fell 2% even after the world's largest retailer posted stronger-than-expected third-quarter earnings and said same store sales in its key U.S. market continued to improve, helping it boost earnings guidance for its next fiscal year.
The company earned $1.08 a share on an adjusted basis in the third quarter, beating analysts' estimates of $1.01. Revenue of $124.9 billion in the quarter missed forecasts of $125.4 billion. U.S. comparable-store sales in the quarter rose 3.4%; analysts expected 3.1%. E-commerce sales rose 43% in the quarter from a year earlier.
Walmart said it expects earnings for its 2019 fiscal year, which begins in February, in the range of $4.75 to $4.85 a share.
J.C. Penney Co. (JCP) - Get Report    rose 11% after the retailer reported a third-quarter adjusted loss of 52 cents a share, narrower than analysts' estimates that called for a loss of 56 cents. Sales of $2.65 billion missed forecasts of $2.76 billion.
Same-store sales at J.C. Penney fell 5.4% in the quarter, much wider than forecasts of a drop of 0.7%. The company also withdrew its 2018 earnings guidance.
Cisco's fiscal first-quarter results topped analysts' expectations on both the top and bottom lines.
Shares of the networking giant rose 5.5% on Thursday.
Earnings on an adjusted basis were 75 cents a share on revenue of $13.1 billion. Wall Street analysts had expected adjusted earnings of 71 cents a share on revenue of $12.89 billion.
Jeff Marks, senior portfolio analyst for Jim Cramer's Action Alerts PLUS portfolio, which owns Cisco, noted that "Cisco announced great fiscal first-quarter results, accelerating top line growth -- a rarity for a company of its size -- and delivering double-digits earning growth."
3M Co.  (MMM) - Get Report issued new earnings guidance for 2019, and said it has a five-year plan to boost shareholder returns after investors punished shares of the company after it missed third-quarter profit estimates last month.
3M said it sees full-year 2019 adjusted earnings growth of as much as 11%, which would take EPS to a target range of $10.60 to $11.05, modestly higher than the midpoint of $10.78 that Wall Street analysts had pegged from last month's guidance. It also sees a 22% to 25% return on invested capital and 2% to 4% organic sales growth, when measured in U.S. dollars. The stock rose 3.5%. 
Shares of JPMorgan rose 2.5% after Berkshire disclosed a new stake of 35.66 million shares, or 1.1% of all of the bank's outstanding shares.
Oracle rose 3.6% after Berkshire disclosed it had bought 41 million shares of the software company worth $2.1 billion.
Hard-hit PG&E Corp. (PCG) - Get Reportfell 30% Thursday, as deadly wildfires continued to burn in California. Shares have lost nearly two-thirds of their value since the Camp fire began last Thursday in Northern California, about 200 miles northeast of San Francisco. Late Tuesday, the company said it had experienced equipment failure near where the fire began and that it didn't have sufficient insurance to cover liabilities in the event its equipment is found to have caused the blaze. More than 50 people have died in the fire, which almost completely destroyed the city of Paradise, Calif. 
Subscribe to our Youtube Channel for extended interviews, Cramer Replays, feature content, and more!
q