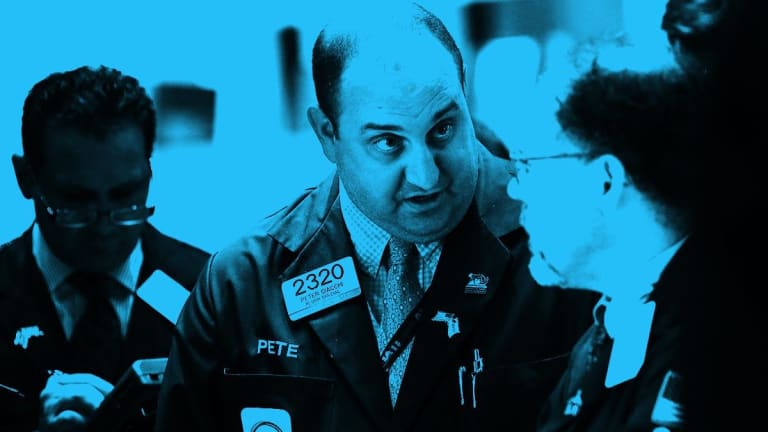 Stocks Slide In Closing Minutes to End Near Day's Lows
Stocks fall in final minutes of trading on Thursday to end day mostly lower as ongoing trade disputes between Washington and Beijing weigh on bulls.
Here Are 3 Hot Things to Know About Stocks Right Now
Wall Street Overview
Stocks slid in the final minutes of trading on Thursday, Aug. 9, as ongoing trade disputes between Washington and Beijing held down gains on Wall Street.
The Dow Jones Industrial Average I:DJI  fell 75 points, or 0.3%, to 25,509, the S&P 500 I:GSPC  fell 0.14%, and the Nasdaq I:IXIC  rose 0.04%. 
The Shanghai Composite Index rose 1.83% on Thursday even as China detailed its latest tariff response to the U.S. with levies on a further $16 billion in imported goods that takes its planned or imposed tariff total to $110 billion.
"The two countries' trade conflict, which is merely push and shove at the moment, is likely to escalate into more than just a scuffle if the U.S. administration cannot marshal its mobster mentality," an editorial in the state-run China Daily said. "China continues to do its utmost to avoid a trade war, but in the face of the U.S.'s ever greater demand for protection money, China has no choice but to fight back."
Rite Aid Corp. (RAD) - Get Report and Albertsons Cos. terminated their merger agreement after Rite Aid stockholders expressed doubts about the $24 billion deal and a shareholder advisory firm opposed the tie-up.
The retailers announced late Wednesday, Aug. 8, they were canceling the merger. Rite Aid shares fell 12% on Thursday. Albertsons is privately held. Its majority owner is private-equity firm Cerberus Capital Management LP.
Tesla Inc. (TSLA) - Get Report shares tumbled 5% to $352.26 on Thursday as investors reacted to a report of a potential probe into tweets by founder and CEO Elon Musk that claimed he had "funding secured" to take the electric vehicle maker private at $420 a share.
The Wall Street Journal reported Wednesday that the Securities and Exchange Commission was looking into the veracity of Musk's tweet, which was sent on Tuesday, Aug. 7, and why the CEO opted to inform investors of his plans via social media as opposed to a formal filing with regulators. Those questions were intensified by a statement signed by six members of Tesla's nine-member board on Wednesday that said "several" discussions about taking the group private were held last week.
Roku Inc. (ROKU) - Get Report  jumped 21% after the streaming video company said second-quarter sales topped analysts' forecasts and it added 22 million active users over the three months ended in June. The company also raised its sales outlook for the full year.
Tribune Media (TRCO) - Get Report said Thursday it terminated its $3.9 billion agreement to be acquired by Sinclair Broadcast Group Inc. (SBGI) - Get Report  and and that it has "filed a lawsuit in the Delaware Chancery Court against Sinclair for breach of contract."
"Unfortunately, Sinclair chose to follow a regulatory strategy reflecting its own self interest rather than its contractual obligations," said Tribune CEO Peter Kern during a conference call.
Tribune shares rose 3%, while Sinclair rose 2.6%.
Viacom Inc. (VIAB) - Get Report posted fiscal third-quarter earnings of $1.18 a share, higher than estimates of $1.07. Revenue fell 4% to $3.24 billion, below analysts' estimates of $3.27 billion. The stock rose 6%.
Booking Holdings Inc. (BKNG) - Get Report fell 5% on Thursday after the online travel company formerly known as Priceline Inc. said third-quarter earnings would come in well below analysts' estimates.
In U.S. economic news, the producer price index, an indicator of inflation at the wholesale level, for July was flat. Core PPI rose 0.3% for the second straight month, according to the Labor Department. Weekly jobless claims fell by 6,000 to 213,000. It was the measure's first decline in three weeks.