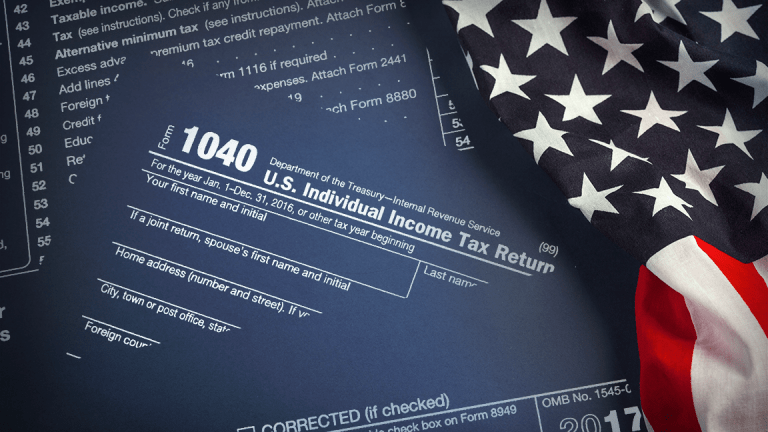 Stocks Move Lower After House Passes Tax Bill
Stocks moved slightly lower Wednesday after the House voted again to approve the U.S. tax bill.
Stocks on Wall Street moved slightly lower Wednesday, Dec. 20, after the U.S. Senate passed a sweeping tax-overhaul bill in the early hours of the day, and the House passed the measure again on Wednesday afternoon.
The bill now goes to Donald Trump, who is expected to sign the measure before Christmas.
As of 3 pm. ET, the Dow Jones Industrial Average was down 0.11%, the S&P 500 declined by 0.02% and the Nasdaq also fell by 0.02%.
Leading gainers for the Dow on Wednesday were Intel Corp. (INTC) - Get Intel Corporation (INTC) Report  and Caterpillar Inc. (CAT) - Get Caterpillar Inc. Report . The telecom sector, which is expected get a boost from the approval of the tax bill, was a standout on Wednesday -- Verizon Communications Inc. (VZ) - Get Verizon Communications Inc. Report gained 0.4%.
U.S. stocks stumbled on Tuesday, Dec. 19, after scoring new record highs during the previous session.
The Senate passed the GOP-led tax bill early Wednesday morning by a vote of 51 to 48, along party lines.
The House of Representatives voted 224-201 to pass the bill on Wednesday afternoon. The House approved the bill on Tuesday, Dec. 19, but the vote was repeated because of a procedural snag pointed out by Senate rules-makers. 
FedEx Corp. (FDX) - Get FedEx Corporation Report shares were up 3.2% after the shipping company on Tuesday reported higher quarterly profit due to increased volumes. The company posted second-quarter net income of $775 million, or $2.84 a share, up from $700 million, or $2.59, a year earlier.
Micron Technology Inc. (MU) - Get Micron Technology, Inc. (MU) Report shares gained 4.6% on Wednesday after the chipmaker posted better-than-expected quarterly earnings after the bell on Tuesday. The company reported an increase of 71.4% in net sales to $6.8 billion in the three months to Nov. 30, beating estimates of $6.41 billion.
Micron said it expected adjusted revenue of $6.80 billion to $7.20 billion and an adjusted profit of $2.51 to $2.65 a share for the current quarter.
Red Hat Inc. (RHT) - Get Red Hat, Inc. Report shares fell 5.7% on Wednesday despite the software company reporting fiscal third-quarter earnings and sales above Wall Street estimates and after Red Hat provided upbeat guidance.
BlackBerry Ltd. (BB) - Get BlackBerry Limited Report jumped 10.3% after the cybersecurity software company posted fiscal third-quarter adjusted profit that topped Wall Street's expectations.
General Mills Inc. (GIS) - Get General Mills, Inc. (GIS) Reportreported adjusted earnings of 82 cents a share in its fiscal second quarter, which was in line with analysts' expectations but down 4% from the previous year. The stock rose 1.3%.
Existing-home sales in the U.S. rose 5.6% in November to a seasonally adjusted annual rate of 5.81 million, the best since 2006. Economists expected existing-home sales to decline 0.7% in November.
Oil prices in the U.S. gained 0.7% to $57.95 a barrel after the Energy Information Administration said crude inventories fell by 6.5 million barrels in the week ended Dec. 15, wider than a decrease of 3.8 million barrels that analysts predicted.
More of What's Trending on TheStreet: