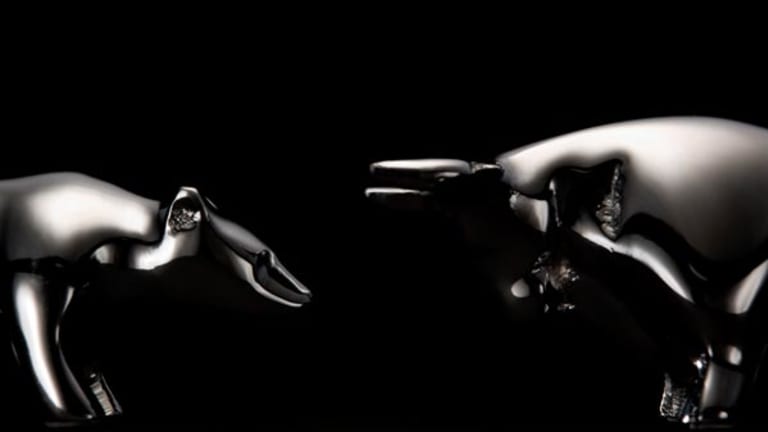 Publish date:
Stocks Sink as Greece Crisis Sparks Global Selloff
U.S. stocks sink as talks over the weekend between Greece and its creditors break down, sparking a global selloff.
U.S. stocks sink as talks over the weekend between Greece and its creditors break down, sparking a global selloff.
NEW YORK ( TheStreet) -- U.S. stocks declined Monday as talks over the weekend between Greece and its creditors broke down, sparking a global equities selloff. 
The S&P500 lost 0.61%, the Dow Jones Industrial Average fell 0.62%, with all 30 components in the index lower, and the Nasdaq declined 0.74%. Yields on the benchmark 10-Year Treasury dipped, reaching 2.39%, while gold prices rose 0.19% to $1,175.40 an ounce, as investors rushed into safer assets. 
U.S. banks were hit the hardest.  JPMorgan Chase (JPM) - Get Reportshares moved lower by 1.4%, while shares of Citigroup (C) - Get Report fell 1.7% and Bank of America (BAC) - Get Report slipped 1.4%. 
Greece announced plans over the weekend to call a referendum to allow citizens to decide if the debt-laden nation should exit the eurozone. This comes after talks between Greece and its creditors failed on Saturday. It was announced that banks in Greece would remain closed until July 6 with ATM withdrawal limits of 60 euros a day. One Greek official, however, told  CNBC that banks are set to open on Thursday. 
"The odds favor an eventual deal, but the probability of unintended consequences leading to a Greek euro exit has increased and is now at 20%, in our view," wrote Luigi Speranza of BNP Paribas in a Monday note. "We expect a knee-jerk reaction from the markets when they open on Monday and expect them to price in a far larger chance of Greece leaving the euro."
European stocks sank on the news. London's FTSE 100 was down 1.06%, Frankfurt's DAX slipped 2.2%, and Paris's CAC 40 fell 2.7%. The fears sent the euro down 0.43% against the dollar. European banks including Deutsche Bank (DB) - Get Report fell 4.6%, while BNP Paribas (BNPQY) traded lower by 4.8%.
"There will be two types of money taking action: those trying to profit from the end of Greece and those caught on the wrong side of it," said TheStreet's Jim Cramer in a story on Monday. "Neither should be met with your buying, because it would be foolish to help out either cohort. The first, the profiteering hedge funds, want to get a short off as low as down 1%, hoping that S&P will fall 2% minimum, so they can make a decent return."
Stocks in China entered bear market territory, with the Shanghai Composite down 3.34% and the tech stock index, the Shenzhen, falling more than 6%. This comes as the People's Bank of China announced a rate cut on Monday. Stocks in Tokyo fell 2.88%, while Hong Kong's Hang Seng dipped 2.61%.
Adding to global fears was Puerto Rico's debt crisis following Gov. Alejandro Garcia Padilla's comments that the island's $72 billion in debt is "not payable."
Brean Capital's Peter Tchir thinks the fallout from Puerto Rico's debt woes could be worse than Greece's. "While Greece is not well-owned by hedge funds - Puerto Rico is," he wrote in a Monday note. "Greece can go all sorts of ways, but will have very little direct impact on anyone's P&L (a 1% move in the S&P 500 is not a "big" reaction). It will definitely not affect anyone's decision to wake up today and buy a toy for their kids, or a tractor for their work."
U.S. pending-home sales for May rose, with the index up 0.9% to 112.6 from 111.6 in April, according to the National Association of Realtors.
Crude oil prices fell 1.7% on Wednesday to $58.61 a barrel.
General Electric (GE) - Get Report will sell its fleet-financing business in a deal valued at $6.9 billion, according to The New York Times. Shares fell 0.85%. 
Sysco (SYY) - Get Reportnixed its $3.5 billion takeover of US Foods after the Federal Trade Commission voiced opposition to the marriage of the two food-service giants. Sysco fell 0.9%.