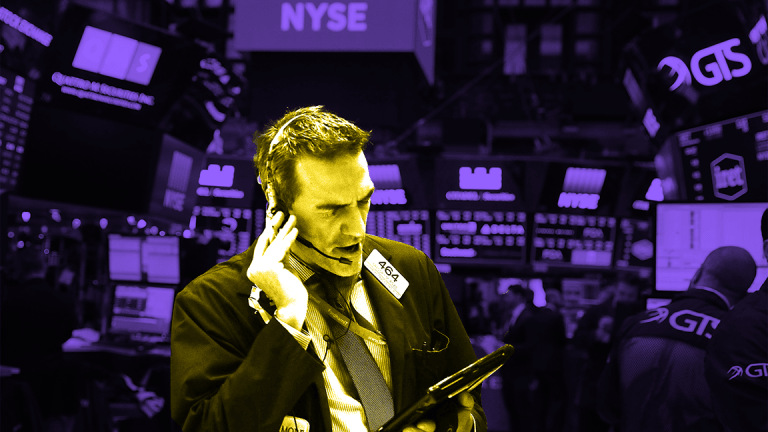 Stocks Eke Out Gains as Trade Tensions Ease
Stocks rose slightly Tuesday with the S&P 500 and Nasdaq setting closing highs for a third day as trade tension fears took a breather.
Here Are 3 Hot Things to Know About Stocks Right Now
The S&P 500 I:GSPC  set another record close but backed off earlier gains.
Best Buy Co. (BBY) - Get Report  fell 5% after the electronic retailer's third-quarter earnings guidance came in below analysts' forecasts.
Tiffany & Co. (TIF) - Get Report  rose 0.8% after second-quarter earnings easily topped estimates.
Wall Street Overview
Stocks edged up on Tuesday, Aug. 28, as Wall Street reacted to news of a possible NAFTA overhaul that could lead to the end of trade disputes between the U.S., China and the European Union.
The Dow Jones Industrial Average I:DJI  rose 14 points, or 0.06%, to 26,064. The S&P 500 I:GSPC crossed 2,900 for the first time before giving up most of its gains to end up 0.03% at 2,897.53. The Nasdaq I:IXIC  gained 0.15% to 8,030.04, after earlier trading as high as 8,046.31. It was the third straight record close for both the S&P 500 and the Nasdaq.
President Trump announced a new agreement on trade Monday with Mexico that will both replace the current NAFTA pact -- which covers an annual $1 trillion in trade -- and leave Canada, the U.S.'s second-largest trading partner, without a bespoke deal.
The fact that Mexico appeared ready to comply with several White House demands, including wage limits and "country of origin rules" in the auto sector, has investors hoping that Trump can work similar deals with Brussels and Beijing, moves hat would ease the current trade tensions and kick-start economic growth into the final months of the year.
Stocks also got a boost earlier in the trading day from a surge in the consumer confidence index, which jumped to 133.4 in August, an 18-year high.
Best Buy Co. (BBY) - Get Report reported fiscal second-quarter earnings of 91 cents a share, topping analysts' forecasts by 8 cents. Sales of $9.38 billion also topped estimates, and a same-store sales increase of 6.2% beat expectations of 4.2%. The company's third-quarter adjusted earnings estimate of 79 cents to 84 cents came in below forecasts of 92 cents, and the stock tumbled 5.1%.
Tiffany & Co. (TIF) - Get Report rose 0.9% after reporting second-quarter earnings of $1.17 a share, higher than estimates of $1.01. Sales of $1.08 billion topped estimates of $1.04 billion. Same-store sales in the quarter jumped 8% and the jewelry retailer raised its earnings-per-share outlook for 2018.
Campbell Soup Co. (CPB) - Get Report is expected to announce this week it doesn't plan to sell itself to a strategic buyer -- a move that could provoke billionaire Dan Loeb into waging a nasty proxy fight against the company's board of directors, sources told The New York Post. Shares of the struggling canned-food company fell 2.15%.
BJ's Wholesale Club Holdings Inc. (BJ) - Get Report  said adjusted earnings in its fiscal second quarter were 31 cents a share, 4 cents ahead of consensus estimates. Sales rose 4.3% to $3.24 billion but came in slightly below forecasts. Same-store sales rose 5%, beating estimates of 1.3%. The company also raised its full-year guidance. Shares fell 1.5%.
DSW Inc. (DSW) - Get Report jumped 20% after the footwear company smashed second-quarter earnings and sales estimates and lifted its guidance for the fiscal year.