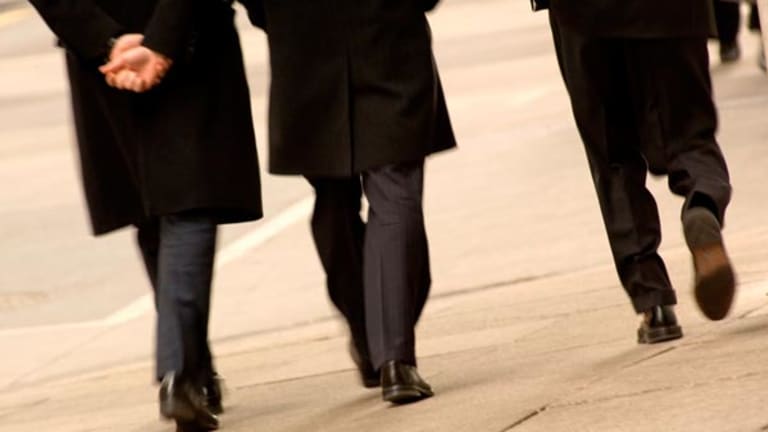 Stocks Take Small Step Ahead
Wall Street ticks up amid a flurry of news, including first-quarter earnings from Wal-Mart and economic releases on wholesale inflation and jobless claims.
Updated from 2:41 p.m. EDT
Stocks in the U.S. ended Thursday's session with small gains amid a flurry of news, including first-quarter earnings from
Wal-Mart
(WMT) - Get Walmart Inc. Report
and economic releases on inflation at the wholesale level and jobless claims.
The
Dow Jones Industrial Average
climbed 46.43 points, or 0.6%, to close at 8331.32, retracing some of the 184-point loss from Wednesday. The
S&P 500
added 9.15 points, or 1%, to 893.07. The
Nasdaq Composite
rose 25.02 points, or 1.5%, to 1689.21.
"This was somewhat encouraging, but the market is still trying to get its feet beneath it," said Robert Pavlik, chief market strategist with Banyan Partners. "We got beat up for three days, so we're still trying to shake that off."
Pavlik said there is still concern that the economy won't be as strong as the recent strength in the market anticipated. "Running the market up ahead of normal trend growth isn't working right now," he said. "The consumer is still burdened by heavy debt loads. We still really don't know where we are from an economic standpoint yet. Time will tell."
Gains of 4% or more in
Morgan Stanley
(MS) - Get Morgan Stanley Report
,
Dow Chemical
,
Ford
(F) - Get Ford Motor Company Report
and
Regions Financial
(RF) - Get Regions Financial Corporation Report
helped support the major averages.
Before the opening bell, Wal-Mart reported
first-quarter earnings of $3 billion, or 77 cents a share
, in line with the estimates of analysts and at the high end of the company's internal forecasts.
Wal-Mart said it expects second-quarter earnings of 83 cents to 88 cents a share. Analysts surveyed by Thomson Reuters expect the retailer to earn 85 cents a share in the period. Shares gave back 1.9% to $49.10.
Turning to economic data, the producer price index rose 0.3% in April, slightly above economists' forecasts. The core number, which excludes food and energy, was in line with expectations, rising 0.1%. The headline PPI figure came in higher than expected thanks to a 1.5% increase in food prices and a 2.6% advance in gasoline prices.
In a separate report, the Labor Department said weekly initial jobless claims data showed a 32,000 increase last week to 637,000, above the consensus figure of 610,000. The auto sector contributed to the jump in numbers, although the Labor Department did not say what the figure would be if auto-related layoffs were excluded.
Chrysler
filed for bankruptcy protection April 30, and it has laid off about 27,000 hourly workers, according to published reports, which would help explain the jump in jobless claims last week.
Earlier Thursday, Chrysler told a bankruptcy court that it plans to eliminate 789 of its dealers in the U.S. as part of its restructuring process.
Long-term Treasuries continued their recent run higher following the release of Thursday's economic data. The 10-year Treasury note rose 5/32 in price to lower the yield to 3.10%, and the 30-year bond gained 18/32 to yield 4.07%. The dollar was higher against the yen and lower against the euro.
U.S. stock indices faltered this week after the bulls enjoyed a two-month rally that pushed the major averages higher by more than 30%. On Wednesday, the Dow saw its biggest point and percentage drop since April 20 and the lowest close since the first day of May.
Following the prior close, the Obama administration released details of its plan to regulate derivatives of the kind that contributed to the near collapse of the financial system last year. Among the proposal's key elements is the creation of a central electronic exchange where the instruments would be cleared and traded.
"Regulatory action is not surprising given the financial market dislocation, though it's important to remember these are proposals and the banks may continue to be opposed to certain aspects of the plan," Citigroup analyst Donald Fandetti wrote in a note to clients. "Overall, the proposal would be a net positive for exchanges and could be negative for large dealers as transparency can equal lower spreads."
In other financial sector news,
American International Group
(AIG) - Get American International Group, Inc. Report
will spin off its Asian life insurance unit in a $5 billion to $10 billion Hong Kong initial public offering in the first quarter of next year, according to a
Dow Jones Newswires
report.
AIG will likely sell one-quarter to one-third of American International Assurance
and maintain majority control of the operation, according to a person familiar with the situation. AIG jumped 15% to $1.84.
Lehman Brothers
may
in order to help pay off part of the billions of dollars still owed to creditors.
The Wall Street Journal
said those Lehman assets include a collection of battered real-estate and private-equity holdings.
MBIA
has been sued by 18 global financial institutions, including
Bank of America
(BAC) - Get Bank of America Corp Report
,
Citigroup
(C) - Get Citigroup Inc. Report
and
JPMorgan Chase
(JPM) - Get JPMorgan Chase & Co. Report
for splitting into a "good bank" unit that guarantees municipal bonds and a "bad bank" unit that insures mortgage-backed structured bonds.
The banks claim MBIA's split has reduced its ability to pay policyholders. MBIA shares added 6.5% to close at $6.06.
In other earnings news,
Kohl's
(KSS) - Get Kohl's Corporation Report
profit fell 11% on a same-store sales decline, although results were still better than estimates.
Kohl's earned 45 cents a share
, compared to the Thomson Reuters estimate of 43 cents a share.
The retailer raised its full-year earnings forecast to a range of $2.19 to $2.42 a share from the previous range of $2 to $2.30 a share. That's still below analysts' average target of $2.52 a share. Kohl's finished down 1.7% to $41.24.
Sony
swung to a fiscal-year loss, and the electronics company also expects losses to continue next year. Sony also said it is closing three plants in Japan to turn its business around. After trading lower to start the day, shares rose 1.6% to end at $26.26.
Commodities were mixed Thursday. Oil reversed losses to finish higher by 60 cents to $58.62 a barrel, while natural gas was off 3 cents to $4.30 per million British thermal units. Gold futures tacked on $2.50 to $928.40 an ounce, and copper was unchanged at $2.02 a pound.