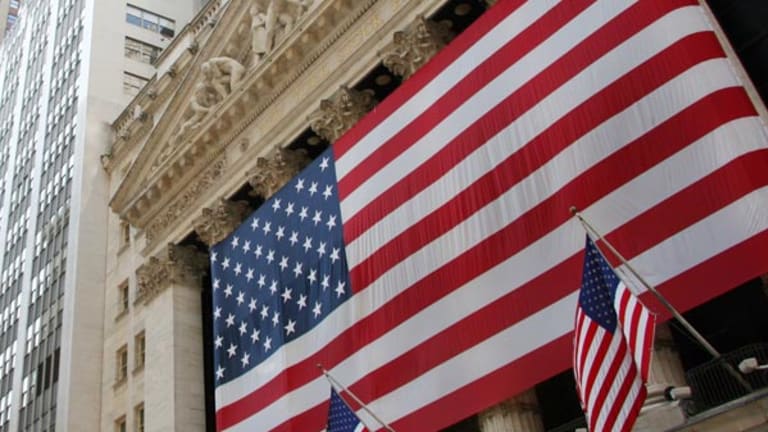 Stocks Take More Lumps
The Nasdaq falls 2.1%, dragging down the broader market.
Updated from 4:06 p.m. EDT
The
Nasdaq
fell for a seventh consecutive session Monday, dragging down the broader market, as investors continued to hunker down ahead of key readings on inflation this week.
The Nasdaq Composite lost 43.74 points, or 2.05%, to 2091.32, pressured by declines in
JDSU
(JDSU)
,
Monster Worldwide
(MNST) - Get Monster Beverage Corporation Report
,
Qualcomm
(QCOM) - Get QUALCOMM Incorporated Report
and
Apple Computer
(AAPL) - Get Apple Inc. Report
.
The Nasdaq closed at its lowest level since October 2005 and is now roughly 115 points, or 5.2%, below its 2005 close. The index is down 5.8% since surging 41 points on June 1.
The
Dow Jones Industrial Average
was up earlier but turned negative and fell 99.34 points, or 0.91%, to 10,792.58, despite positive news out of
General Motors
(GM) - Get General Motors Company Report
. Twenty-five of the Dow's 30 components finished with losses. The
S&P 500
tumbled 15.90 points, or 1.27%, at 1236.40.
Since its most recent peak on April 7, the Nasdaq has fallen 284 points, or 12%. On the Dow, which nearly hit an all-time high on May 10, the loss is 916 points, or 7.8%. The S&P 500 has fallen 91 points, or 6.9%, since its recent peak touched May 9.
The 10-year Treasury bond was flat in price to yield 4.98%, and the dollar rose against the yen and euro.
About 1.62 billion shares changed hands on the
New York Stock Exchange
, with decliners outpacing advancers by a 3-to-1 margin. Volume on the Nasdaq was 1.92 billion shares, with decliners beating advancers 4 to 1.
A handful of economic reports are lingering over trading this week, including the producer price index on Tuesday and the consumer price index on Wednesday. Also,
Federal Reserve
Chairman Ben Bernanke will speak publicly three times in the next four days, starting today at Georgetown's Stonier Graduate School of Banking.
"The buyers are on strike, and the markets are vulnerable ahead of economic data," said Dave Briggs, head of equity trading with Federated. "Once we get those numbers we may get some people in off the sidelines. We're seeing numbness set in, as there's a lot of risk."
Data released last week helped cement beliefs that the Fed will raise official interest rates by another quarter point when it meets later this month. Fed funds futures are currently pricing in an 84% chance of a June 29 rate hike, which would be the 17th increase in as many meetings and leave the rate at its highest level since March 2001.
"The PPI and CPI will be the most important, because they will be the ones to help us gauge inflation," said Barry Hyman, equity market strategist with EKN Financial. "Retail sales figures tomorrow will also be important, but we're more concerned with the reads on inflation."
Hawkish talk from several Fed members led to losses for stocks last week, with the Dow losing 3.2% to 10,892, the S&P 500 falling 2.8% to 1252 and the Nasdaq off 3.8% to 2135.
"Since the expectations have been dragged down with the market action, we would suspect that much of the bad news has been built in," said Marc Pado, U.S. market strategist with Cantor Fitzgerald. "Maybe not the absolute worse-case scenario, but certainly some level of negative inflation data is being anticipated. Any good news, especially on the inflation front, should be cause to send the markets higher."
Jay Suskind, head of institutional equity trading with Ryan Beck & Co, agrees that better-than-expected data may provide relief during Tuesday's session. "In anticipation of inflationary data, the market is still scared about the data we're going to see," said Suskind. "It's the same story of higher interest rates and a lower economy that has the market even more spooked. Hopefully we may get some relief, as we're expecting the data to be really bad."
To view Gregg Greenberg's video take on today's market, click here
.
Oil fell ahead of a meeting of the International Atomic Energy Agency in Vienna, where Iran's nuclear program will be discussed. In Nymex floor trading, July crude dropped $1.27 to close at $70.36 a barrel. Among other commodities, gold fell $1.50 to $611.30 an ounce, and copper was down 4 cents at $3.22 a pound.
The Gulf of Mexico's oil infrastructure appeared largely safe from the potentially damaging winds of Tropical Storm Alberto, which was located about 155 miles southeast of Apalachicola, Fla. Alberto now has sustained winds of 70 mph, putting it just 4 mph below hurricane strength. Forecasters believe the storm will hit Florida Tuesday, somewhere between the Tampa area and the Panhandle. Alberto is the first named storm of the 2006 Atlantic hurricane season, which goes from June through November.
Shares of General Motors finished higher after
Delphi
(DPHIQ)
announced late Friday that the two companies have reached an agreement with the United Auto Workers. The deal will extend retirement incentives for employees and will create a buyout program. Shares of GM were higher by 43 cents, or 1.7%, to $25.78.
Lehman Brothers
(LEH)
was declining after the company said it earned $1 billion, or $1.69 a share, in the second quarter. Revenue rose 35% to $4.4 billion. Analysts were forecasting earnings of $1.61 a share on revenue of $4.2 billion in the most recent quarter. After a disappointing conference call, Lehman dropped $3.60, or 5.5%, to close at $62.01.
The other big investment banks,
Goldman Sachs
(GS) - Get Goldman Sachs Group Inc. (The) Report
,
Morgan Stanley
(MS) - Get Morgan Stanley Report
and
Bear Stearns
(BSC)
, will report their results later this week.
By sector, the Philadelphia/KBW Bank Sector index was lower by 0.9%, and the Philadelphia Semiconductor Sector index was off 1.9%. The Philadelphia Housing Sector index lost 2.8%, and the Amex Oil Sector index ended lower by 1.7%.
Wall Street was busy updating stock research Monday. At Citigroup,
Disney
(DIS) - Get The Walt Disney Company Report
was cut to hold from buy based on valuation, while at First Albany,
Intel
(INTC) - Get Intel Corporation Report
was raised to buy from hold.
Shares of Disney were off 43 cents, or 1.5%, to close at $28.90. Intel lost 30 cents, or 1.8%, to $16.86.
Banc of America Securities reduced its stock price target for
RadioShack
(RSH)
to $16 from $18 a share, citing potential weakness during the second quarter. The stock closed down 22 cents, or 1.5%, to $14.86.
Overseas markets were mostly lower. London's FTSE 100 was down 0.6% to 5621, and Germany's Xetra DAX lost 1.3% to 5396. In Asia, Japan's Nikkei rose 0.6% overnight to 14,833, and Hong Kong's Hang Seng lost 0.1% to 15,721.