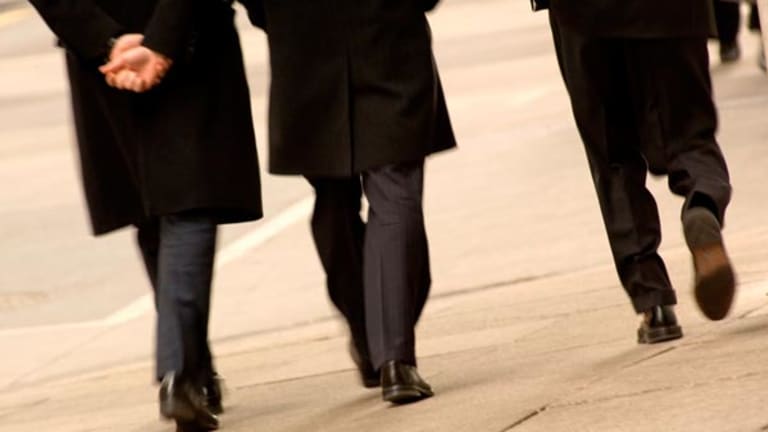 Stocks Take Late Dive
The year-end rally takes a hit after the Nasdaq flirts with a new 2004 high.
Updated from 4:04 p.m. EST
Stocks closed sharply lower Tuesday, as buy-happy investors got a reality check that worsened as the session progressed.
The
Dow Jones Industrial Average
dropped 106.48 points, or 1%, to 10,440.58, putting the blue-chip index back into the red for the year. Selling kicked in around 1 p.m. and remained steady for the rest of the day, sending the Dow to its biggest loss since it shed 115 points on Nov. 19.
The
S&P 500
fell 13.18 points, or 1.1%, to 1177.07, having closed at a 40-month high Dec. 1. The
Nasdaq
tumbled 36.60 points, or 1.7%, to 2114.65, after topping its Jan. 26 high of 2153.83 earlier in the session. The tech index, which had closed higher four sessions in a row, posted its biggest loss since Oct. 22, when it fell 37 points.
Volume on the
NYSE
was 1.53 billion shares, with decliners beating advancers by about 3-to-1. Volume on the Nasdaq was 2.68 billion shares, with decliners beating advancers by about the same ratio.
"There isn't any great selling pressure, but there's no buying pressure either," said Larry Wachtel, senior market analyst with Wachovia Securities. "You're in the twilight zone; you're too overbought to drive forward. There was some weakness in the indices and it's showing. The market can't really drive forward on its own volition."
In other markets, the 10-year Treasury bond was unchanged to yield 4.22%, while the dollar dropped to an all-time low against the euro and also fell against the yen.
The selloff in stocks was all the more remarkable because oil prices fell sharply again, closing $1.52 lower at $41.46 in Nymex floor trading. The decline came despite more production cuts in Nigeria by supermajors
Royal Dutch/Shell
(RD)
and
ChevronTexaco
(CVX) - Get Report
, amid heightened militant activity.
In economic news, the Labor Department said that business productivity increased at an annual rate of 1.8%, which was revised lower than an earlier estimate of 1.9%. Unit labor costs also increased at a 1.8% annual rate, up from the earlier estimate of 1.5%.
"I think we're at a point of indecision as far as the market is concerned," said Robert Pavlik, a portfolio manager at Oaktree Asset Management. "We're looking at year-end, still focusing on the dollar and Treasury. People are still curious about how retail sales for the Christmas season are going. Not much attention is paid to the revision of the third quarter, because the fourth quarter is of more concern right now."
Most sectors -- including oil, real estate, natural gas, semiconductors and hardware -- posted losses. The Philadelphia Semiconductor Index lost 2.1%, and the Philadelphia Stock Exchange Oil Index shed 2.2%.
Internet stocks were among the big losers Tuesday.
Overstock.com
(OSTK) - Get Report
lost $9.51, or 12.5%, to $66.54, falling on a downgrade from Legg Mason, which said the retailer's stock price might be out of sync with the company's underlying business.
TravelZoo
(TZOO) - Get Report
shed $9.76, or 10.2%, to $85.51.
Google
(GOOG) - Get Report
lost $4.86, or 2.8%, to $171.43.
EBay
(EBAY) - Get Report
lost $2.42, or 2.1%, to $113.92.
Retail stocks also faltered.
Rite Aid
(RAD) - Get Report
dropped 23 cents, or 6.3%, to $3.41 after lowering their financial expectations, blaming lower revenues on lagging sales trends.
CVS
(CVS) - Get Report
lost 99 cents, or 2.2% to $44.26.
Circuit City
(CC) - Get Report
, which posted a 6.7% loss Monday, shed 61 cents, or 4%, to $14.52 on Tuesday.
Best Buy
(BBY) - Get Report
also finished down, dropping 54 cents, or 1%, to $55.85.
Among companies,
Johnson & Johnson
(JNJ) - Get Report
is in advanced talks to acquire
Guidant
(GDT)
for about $24 billion, according to
The New York Times
. A merger would add a big portfolio of coronary medical devices to J&J's already strong collection of stent products. The talks still could fall through, the newspaper cautioned. Shares of Johnson & Johnson lost $1.42, or 2.3%, to $60.41, while Guidant gained $3.60, or 5.2%, to $72.35.
In other merger news,
DaVita
(DVA) - Get Report
said it will purchase Swedish dialysis rival
Gambro Healthcare
for $3.05 billion. DaVita rose 90 cents, or 2.4%, to $37.72.
Colgate-Palmolive
(CL) - Get Report
announced a restructuring plan that involves cutting 4,400 jobs, or 12% of its workforce. The company's four-year plan is aimed at generating savings of $250 million to $300 million by the fourth year. Colgate gained $3.78, or 8.2%, to $50.07.
Elsewhere,
IBM
(IBM) - Get Report
reportedly is preparing to cede majority ownership of its personal computer division to
Lenovo
of China as part of a joint venture arrangement. Lenovo will pay up to $2 billion to take control of the business, which would be deconsolidated from IBM's financial results. IBM lost $1.57, or 1.6%, to $96.10.
AMD
(AMD) - Get Report
saw shares fall after two downgrades, one from Deutsche Bank and the second from Wells Fargo. Both firms changed positions to hold from buy, citing valuation concerns after the stock rallied by market share gains. AMD finished down $1.36, or 5.5%, to $23.49.
Comcast
(CMCSK)
entered a long-term contract with
Level 3 Communications
(LVLT)
, which will provide dark fiber needed for Comcast to extend its network into metro areas. The network is expected to require $100 million in capital. Level 3 lost 4 cents, or 1.1%, to $3.51. Comcast rose 10 cents, or 0.4%, to $28.99.
Hewlett-Packard
(HPQ) - Get Report
will use $2.9 billion remaining in its buyback plan to purchase company shares in 2005. The company made the announcement at an analyst meeting, but did not comment on earnings or sales guidance during the presentation. Hewlett-Packard ended down 25 cents, or 1.2%, to $21.08.
Overseas markets closed mixed, with London's FTSE 100 finishing unchanged at 4722 and Germany's Xetra DAX ending up 0.4% at 4212. In Asia, Japan's Nikkei fell 1% overnight to 10,874, while Hong Kong's Hang Seng fell 0.2% to 14,236.