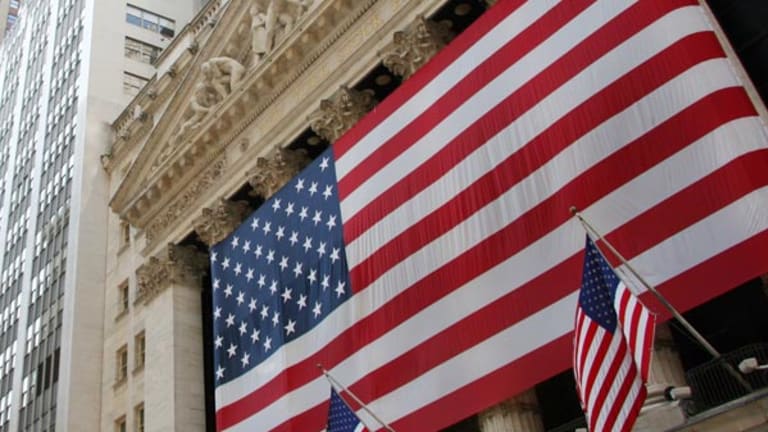 Stocks Take a Step Back
The market in New York falls Tuesday as investors are disappointed by economic data. Frank Curzio discusses the day in The Real Story video above.
Updated from 4:20 p.m. EDT
Financials led the stock market lower on Tuesday as investors brushed off
Goldman Sachs'
(GS)
upbeat earnings and focused on disappointing economic data.
The
Dow Jones Industrial Average
dropped 137.63 points, or 1.7%, to 7920.18, and the
lost 17.23 points, or 2%, to 841.50. The
Nasdaq
was off by 27.59 points, or 1.7%, at 1625.72.
Citigroup
(C)
rose 5.5%, but other financials were the worst performers on the Dow, and the KBW Bank Index fell 8.1%.
American Express
(AXP)
lost 9.9%,
Bank of America
(BAC)
declined 8.4%, and
JP Morgan Chase
(JPM)
fell 8.9%.
Meanwhile, President Obama and
Federal Reserve
Chairman Ben Bernanke spoke separately on Tuesday. The president responded to criticism of government spending and defended the economic relief efforts. "Economists on both the left and the right agree that the last thing a government should do is to cut back on spending in the middle of a recession," Obama said. "The government has to step in to temporarily boost spending in order to stimulate demand."
For his part,
said that there have been "tentative signs" that the decline in economic activity is slowing, also saying that "a leveling out of economic activity is the first step toward recovery."
A dose of early economic data weighed on the market throughout. The Census Bureau said
retail sales
fell 1.1% in March, surprising economists who predicted a slight increase. Factoring out autos, retail sales declined 0.9%, compared with no expected change.
If there's a silver lining, retail sales for the first quarter were up a cumulative 1.1% overall and 1.9% factoring out autos, writes Tony Crescenzi chief bond strategist for Miller Tabak and a
RealMoney.com
contributor. "That's far better than in Q4 when retail sales fell 8.9% overall and 8.7% ex-autos," he wrote in his
RealMoney.com
blog, adding that the past three weeks of chain store sales figures were the best of any three week period since December 2007. "Whatever the cause, the idea of stabilization holds up."
Investors were nonetheless shaken by recent data.
Macy's
(M)
declined 7.3%, while
Sears Holdings
(SHLD)
and
J.C. Penney
(JCP)
were weaker by about 1.7% and 3.4%, respectively.
Meanwhile, the Bureau of Labor Statistics said the
producer price index
, which measures prices of goods at the wholesale level, fell 1.2% last month. It wasn't expected to change. The core index was flat, roughly in line with forecasts. Investors will be watching for more clues from the consumer price index, the most widely cited inflation indicator, due to be released Wednesday.
Those data came on top of a few key earnings.
Johnson & Johnson
(JNJ)
topped Wall Street projections despite a slight decline in its first-quarter profit, and it affirmed guidance for the full year. Shares were 0.4% higher.
Late Monday,
, reported net revenue of $9.43 billion and earnings of $1.81 billion for the first quarter, well above expectations. The bank also said it plans to sell $5 billion of stock to the public and to repay funds it received through the Troubled Asset Relief Program.
Goldman Sachs shares were 11.6% lower in what Charles Rotblut, senior market analyst at Zacks Investment Research, says may be a bit of "sell the news" and profit-taking. Goldman's report followed a better-than-expected announcement by
Well's Fargo
(WFC)
on Thursday that sent banks rallying.
"Now we're waiting to see what the other banks do, and what they say about TARP," says Rotblut. "It has put some pressure on them, and also raises the question of whether they're going to act in the shareholders' best interest."
Citi is set to report its results on Friday, and Bank of America is slated for Monday.
Elsewhere, biotech company
Dendreon
(DNDN)
said its prostate cancer vaccine Provenge significantly extended overall survival according to long-awaited
results
of the IMPACT study. Shares ended the session 132.7% higher at $16.99.
As for commodities, oil fell 64 cents to settle at $49.41 a barrel, and gold lost $3.80 to $892 an ounce.
Longer-dated Treasuries were on the rise. The 10-year was adding 18/32 to yield 2.8%, and the 30-year was gaining 28/32 and yielding 3.7%.
Stocks overseas resumed trading after an extended weekend. In Europe, London's FTSE 100 added 0.1%, and Frankfurt's Dax rose 1.5%. In Asia, Japan's Nikkei lost 0.9%, but the Hang Seng in Hong Kong was higher by 4.6%.
TheStreet.com Ratings, recently cited for Best Stock Selection from October 2007 through February 2009 , is an independent research provider that combines fundamental and technical analysis to offer investors tremendous value in volatile times. To see how your portfolio can use this research, click here now!