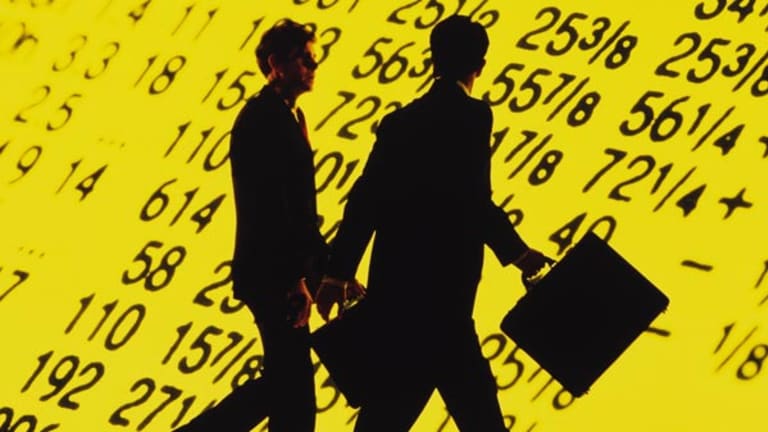 Stocks Take a Breather
Another slide in oil isn't enough to coax buyers.
Updated from 4:06 p.m. EDT
The summer rally in stocks took a breather Thursday as another dip in oil couldn't keep the major indices from closing little changed in thin volume.
The
Dow Jones Industrial Average
finished down 8.33, or 0.08%, to 10,173.41, after closing at a six-week high Wednesday. The
rose 0.13 point, or 0.01%, to 1105.09, while the
Nasdaq Composite
ended the session down 7.80 points, or 0.42%, to 1852.92.
The 10-year Treasury note was up 12/32 to yield 4.21% ahead of
Fed
Chairman Alan Greenspan's address before a Wyoming economic gathering Friday, while the dollar was lower against the yen and higher against the euro.
Slightly fewer than 1 billion shares changed hands at the
, where advancers came in just ahead of decliners 5 to 4. On the Nasdaq, 1.1 billion shares traded with advancers trailing decliners by 4 to 6.
Nymex crude for October delivery settled at $43.10, down 37 cents, its fifth consecutive losing session, following what appears to have been a successful amnesty offer for the Shiite cleric holding out against U.S. and Iraqi forces in Najaf.
According to
Reuters
, three weeks of fighting in Najaf have could end after radical cleric Muqtada al-Sadr agreed to the terms of a peace plan proposed by the ayatollah Ali Husseini al-Sistani, Iraq's most highly regarded Shiite cleric. Details of the plan include establishing a weapons-free zone for Najaf and Kufa, monitored and policed by Iraqi forces. It also called for the withdrawal of all U.S. troops from Najaf and for the militia to vacate the holy shrine of Imam Ali that they used as refuge.
"There really aren't a lot of trends driving the markets," said Michael Sheldon, chief market strategist at Spencer Clarke LLC. "You've seen a little strength and follow-through in the basic materials and some profit-taking in tech stocks but, all in all, not a lot of tremendous market-moving events affecting the market today."
"There isn't a lot of corporate or macro news out there, so I think the market is just mirroring what the oil markets do," said Jay Suskind, head of institutional equity trading at Ryan Beck & Co. "On light volume, I think that tracking oil is the only game in town."
Wednesday's nearly 4% drop in oil led to a stock market rally, with the Dow adding 83 points to 10,181, while the Nasdaq climbed 24 points to 1861, a three-week high.
On the economic front Thursday, initial jobless claims for the week ended Aug. 14 increased by 10,000 to 343,000. Analysts had expected claims to increase to 335,000.
Thursday's big mover was
Krispy Kreme
(KKD)
, which reported a second-quarter profit of $5.8 million, or 9 cents a share, down from $13 million, or 21 cents a share, last year. Total revenue rose 11.5% to $177.4 million.
Analysts surveyed by Thomson First Call had been forecasting earnings of 22 cents a share on revenue of $188.5 million. The company said systemwide sales will rise 10% from a year ago in this year's second half, well below a previous forecast, and refused to provide guidance for the current quarter. Shares ended the session down $1.59, or 10.4%, to $13.77.
Shares of
Taser
undefined
were up on heavy volume Thursday on news that the company had received larger-than-expected orders. Taser finished up 4.3% to $28.26.
In other news, shares of
Merck
(MRK) - Get Free Report
fell 2% after a Food and Drug Administration-sponsored study concluded that its arthritis drug, Vioxx, puts users at a higher risk of cardiovascular problems than rival
Pfizer's
(PFE) - Get Free Report
Celebrex. Shares of Pfizer ended up 1% to $32.31.
Starbucks
(SBUX) - Get Free Report
fell after saying that same-store sales rose 8% from a year ago in the month ended last week, its first month of single-digit growth this year. The stock, which closed Wednesday trading more than 40 times next year's First Call earnings estimate, fell $2.97, or 6.6%, to $43.07.
The publicly traded secondary-education sector was whipped around since Wednesday's close, initially jumping on strong revenue guidance from
Apollo Group
(APOL)
, then retreating on word of a federal grand jury investigation of
Career Education
(CECO) - Get Free Report
.
After the bell, Phoenix-based Apollo Group said first-quarter revenue should be $529 million to $532 million; analysts had forecast $529 million. For all of fiscal 2005, the company expects revenue of $2.285 billion to $2.288 billion; analysts had forecast $2.267 billion. The shares finished up $6.08, or 8.3%, to $79.42.
Shares of Illinois-based Career Education fell 7 cents, or 2%, to $30.94 after the
Financial Times
said the Justice Department convened a grand jury to probe allegations of fraud at the company, which operates 81 colleges worldwide and on the Internet. Prosecutors are reportedly trying to determine whether criminal charges are warranted. Former employees have alleged that the company faked enrollment records to boost government loan reimbursement.
Overseas stocks were flat to higher with London's FTSE 100 trading up 0.6% to 4437, while Germany's Xetra DAX added 1.1% to 3827. In Asia, Japan's Nikkei closed at 11,129 and Hong Kong's Hang Seng ended at 12,784, both virtually unchanged from the previous session.