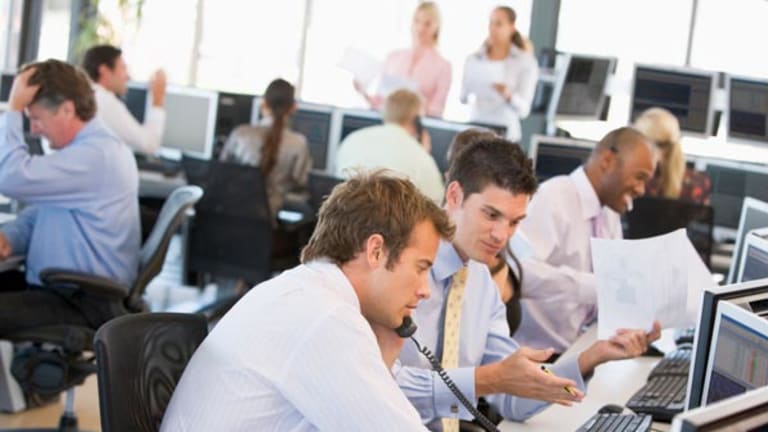 Stocks Take a Beating
Each of the three major indices posts a 2% loss as uncertainty in the financial sector weighs heavily on investor sentiment. Learn more about the day's action in The Real Story (above).
Updated from 4:21 p.m. EDT
Stocks in New York traded in heavily negative territory for the entire session Monday and mucked it into the close Monday as worries over several struggling financial-services companies left investors in a selling mood.
The
Dow Jones Industrial Average
sank 241.81 points, or 2.1%, to 11,386.25, and the
S&P 500
tumbled 25.36 points, or 2%, at 1266.84. The
Nasdaq
skidded 49.12 points, or 2%, to 2365.59.
On Friday, the markets closed with substantial daily gains following a report that troubled brokerage
Lehman Brothers
(LEH)
may have found a buyer in Korea Development Bank. Traders were also encouraged by statements from
Federal Reserve
Chairman Ben Bernanke that suggested the central bank would not be raising interest rates before the end of the year.
Before the new week's trading got underway, Korean financial regulators let some air out of the Lehman news, saying that Korea Development Bank should be careful when making such a risky purchase. During Monday's trading,
CNBC
reported that private equity firm Kohlberg Kravis Roberts is interested in buying Neuberger & Berman, Lehman's money management segment. Shares of Lehman were down 6.7% at $13.45.
Mortgage firm
Freddie Mac
undefined
, another focal point of the credit crunch, saw shares rise 17.1% to $3.29 after the firm successfully sold $2 billion worth of three-month and six-month bonds. During the previous week, a less successful bond sale had investors worrying about the company's ability to raise capital.
Freddie's sister company,
Fannie Mae
undefined
, traded up 3.8% to $5.19 in sympathy. The two were among the only financial-services stocks marking gains and led among the S&P 500's gainers.
Hugh Johnson, chief investment officer at Johnson Illington Advisors, said that Fannie, Freddie and Lehman remain among the chief concerns of investors and portfolio managers. He said he foresees a government bailout of Fannie and Freddie. "The question is when."
Johnson also pointed out that many traders are away on vacation this week, which makes it difficult for the market to find direction. "It's going to be a trendless and volatile week, and very news-sensitive," he said.
Elsewhere in the financials, Fitch Ratings said insurance company and Dow member
AIG
(AIG) - Get American International Group, Inc. Report
may be set for a credit-rating downgrade as the agency continues to assess its business. Credit Suisse piled on, lowering earnings estimates for the company, and AIG shares tumbled 5.5% to $18.78.
Along with AIG, financial firms
JPMorgan
(JPM) - Get JPMorgan Chase & Co. Report
and
Bank of America
(BAC) - Get Bank of America Corp Report
were dragging the Dow lower. JPMorgan announced that it had lost $600 million during the current quarter on investments in Fannie and Freddie, sending shares down 4.1% to $36.13. Bank of America dropped 4.1% to $28.96. None of the index's 30 components were in the green.
Morgan Stanley also predicted that further writedowns stemming from the credit crunch and weakened earnings from the economic slowdowns would hurt the S&P 500's performance.
Concerns were further exacerbated by the recent closure of Columbian Bank of Kansas. On Friday, the Federal Deposit Insurance Corp and Kansas regulators seized the bank. Columbian, which had $752 million in assets and $622 million in deposits as of June 30, is the ninth bank to fail in 2008.
Among analyst actions, Citigroup cut its rating on
Cablevision
(CVC)
to sell from buy on worries that the company's resilience against FiOS technology will be hard to maintain. Cablevision shares stumbled 4.7% to $30.89.
Meanwhile,
Broadcom
undefined
agreed to buy
Advanced Micro Devices'
(AMD) - Get Advanced Micro Devices, Inc. Report
digital TV segment for $192.8 million in cash. Broadcom fell 4.6% to $26.17, and AMD gained 2.1% to $5.93.
In commodities, crude oil gained 52 cents to settle at $115.11 a barrel, and the price of gasoline was at $3.68 a gallon, meaning it's now down 30 cents from a month ago. Gold shed $7.80 close at $825.70.
As for economic data, the National Association of Realtors' existing-home sales report came in at an annualized rate of 5 million units in July, vs. 4.85 million in June and ahead of analyst expectations. Inventories, however, rose 3.9% to 4.67 million units, a record level, and home sales fell 13.2% year over year, and the median home price fell 7.1% from a year ago.
"The real issue with whether you're talking existing-home sales or new-home sales is the inventory overhang," says Johnson. He pointed out that the inventory overhang remains high. "Until that comes down, we're not going to see any relief from the downward pressure on prices."
Longer-dated U.S. Treasury securities were gaining value. The 10-year was up 24/32 to yield 3.78%, and the 30-year was tacking on 1-4/32, yielding 4.4%. The dollar was softening against the yen and pound, but gathering strength vs. the euro.
Overseas, European exchanges were mixed, while Asia posted gains. The FTSE in London was gaining substantially, and the Dax in Frankfurt was losing ground. Japan's Nikkei and the Hang Seng in Hong Kong were both trading higher.