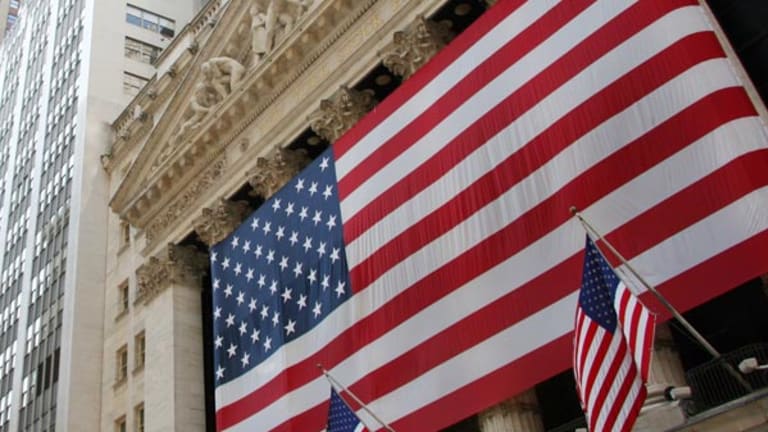 Stocks Tack on Modest Gains
Crude oil jumped, and car sales for June were higher.
Crude oil jumped, and car sales for June were higher.
Updated from 1:20 p.m. EDT
Stocks started the third quarter with modest gains Friday, as a spike in crude oil dulled investors' reaction to positive economic data.
The
Dow Jones Industrial Average
rose 28.47 points, or 0.28%, to 10,303.44, and the
S&P 500
added 3.11 points, or 0.26%, to 1194.44. The
Nasdaq Composite
gained 0.41 points, or 0.02%, to 2057.37. The 10-year Treasury bond was also reversing Thursday's move, falling 1-1/32 in price to yield 4.04%. The dollar was higher against the yen and euro.
"It's just before the Fourth of July weekend, so there wasn't much action today," said Edgar Peters, chief investment officer with PanAgora Asset Management. "We're bouncier from the overreaction yesterday. I don't think most people will be willing to hold positions over the weekend that they don't already have."
Trading volume on the
New York Stock Exchange
was 1.02 billion shares, with advancers beating decliners by a 5-to-3 margin. Volume on the Nasdaq was 1.21 billion shares, with advancers narrowly outpacing decliners 8 to 7.
Oil spiked, regaining some of the 6% that the front-month contract has given up over the past three sessions. August crude finished up $2.25 to $58.75. Market action Friday coincided with the official raising of OPEC's daily production quota to 28 million barrels a day, an increase of 500,000 barrels.
U.S. stocks were pasted Thursday after the
Federal Open Market Committee
raised its benchmark fed funds rate by a quarter point to 3.25% and said it will continue to tighten at a "measured pace." The FOMC noted "elevated" price pressures in the economy, particularly in energy.
Thursday also marked the end of the second quarter, a period in which the Dow Jones Industrial Average fell 2.2%, the S&P 500 rose 0.9% and the Nasdaq Composite gained 2.8%. All three proxies remain down for 2005. For the month of June, the Dow fell 1.9% and the Nasdaq was off 0.5%. The S&P 500 was unchanged for the month.
"The aftermath of the FOMC has continued to keep pressure on the front end of the 10-year Treasury," said John Canavan, market analyst with Stone & McCarthy Research Associates.
For the week, the Dow gained a marginal 0.05%, while the S&P was ahead by 0.24% and the Nasdaq was higher by 0.19%.
In economic news Friday, the University of Michigan said the final reading of its consumer sentiment index for June came in at 96.0, the year's highest level. Economists had expected a final reading of 94.8, above May's final reading of 86.9.
"Consumers are holding up despite the higher oil prices," added Peters. "Prices have been in this range for a while, and everyone's become accommodated to them. We are still encouraged by the low level of interest rates and that the economy is still doing OK."
Also, the Institute for Supply Management said its June manufacturing index rose to 53.8%, higher than economists' forecast of 51.5% for June and May's reading of 51.4%. Prices paid fell to 50.5% from 58.0% in May, the lowest level since February 2002.
Finally, the Commerce Department said construction spending in May fell by 0.9%, much lower than economists' expectations of a 0.5% increase. Construction spending in April was revised to a 1.1% drop.
Among stocks,
Pixar
(PIXR)
fell after slashing its second-quarter earnings estimate because of lackluster DVD sales of
The Incredibles
. The animation studio lopped 33% out of its EPS estimate, lowering it to 10 cents a share. Pixar dropped 14% to $43.06.
Pfizer
(PFE) - Get Report
was one of the worst-performing stock on the Dow, down 1.7% after the company said it's discontinuing development of its AIDS drug capravirine. Additionally, German drugmaker
Altana
(AAA)
and Pfizer agreed to end their collaboration on Daxas, a treatment for chronic obstructive pulmonary disease and asthma. Pfizer was off 48 cents to close at $27.10.
Microsoft
(MSFT) - Get Report
struck a deal to resolve antitrust claims with
IBM
(IBM) - Get Report
, agreeing to pay $775 million to cover discriminatory pricing and overcharge allegations dating to the 1990s. Microsoft will also extend $75 million in credit toward deployment of Microsoft software at IBM. Microsoft was off 13 cents, or 0.5%, to $24.71, while IBM gained 47 cents, or 0.6%, to $74.67.
Sears
(SHLD)
rose after Deutsche Bank initiated coverage with a buy and set a $185 price target. The stock rose 1.3% to $151.75. DB said asset sales and real estate value should drive value.
Linux-vendor
Red Hat's
(RHAT)
first-quarter earnings rose 5% from a year ago to $12.4 million, or 7 cents a share, on a 46% jump in sales to $60.8 million. Analysts were forecasting profit or 5 cents a share on sales $61.3 million. Red Hat was higher by $1.21, or 9.2%, to finish at $14.31.
Unocal
(UCL)
, the California oil producer being courted in an international takeover battle, raised earnings guidance for the second quarter. Unocal expects EPS of $1.65 to $1.70, well above the $1.37-a-share consensus. Shares added 79 cents, or 1.2%, to $65.84.
Other oil companies were performing well Friday, with
Exxon Mobil
(XOM) - Get Report
up 1.5%,
Chevron
(CVX) - Get Report
higher by 1.9%,
BP
(BP) - Get Report
up 1.4% and
Royal Dutch
(RD)
gaining 1.7%.
Delphi
(DPH)
completed an accounting restatement related to improperly booked transactions, some of them with former parent
General Motors
(GM) - Get Report
. The parts maker cut about $335 million from previously reported 2001 and 2002 earnings. Delphi fell 10 cents, or 2.1%, to $4.55.
GM said that U.S. auto sales jumped 41% in June, thanks to the success of its "You Pay What We Pay" employee discount campaign. Truck sales surged 68%, while car sales rose 4%.
Meanwhile,
Ford
(F) - Get Report
saw U.S. auto sales rise 1%, representing the first sales increase of 2005. Car sales rose 9%, while truck sales slid 3%.
DaimlerChrysler
(DCX)
also posted a sales gain for the month of June, reporting that its U.S. auto sales rose 5%.
3M
(MMM) - Get Report
affirmed its estimate for second-quarter earnings. It expects to earn $1.08 to $1.10 a share in the quarter, prior to a charge of 10 cents a share to cover the repatriation of overseas profits. Analysts surveyed by Thomson First Call were forecasting $1.09 a share. 3M gained 70 cents, or 1%, to $73.
Qualcomm
(QCOM) - Get Report
has formally named Paul Jacobs as chief executive officer and Steven Altman as president. The communication equipment company had previously announced its succession plan on March 8. Qualcomm was higher by 59 cents, or 1.8%, to finish at $33.60.
Radware
(RDWR) - Get Report
slashed its second-quarter profit forecast and cut its revenue outlook. The supplier of connectivity products sees revenue of roughly $17.5 million, down from $21 million, with earnings now expected between 3 cents and 5 cents a share, down from previous expectations of 23 cents to 24 cents a share. The Thomson First Call consensus calls for earnings of 23 cents a share and revenue of $21 million. Radware slid $2.76, or 15.3%, to $15.32.
In ratings moves, UBS said it lowered its investment rating on
Pepsi Bottling
(PBG)
and
PepsiCo
(PEP) - Get Report
to neutral from buy, citing aggressive competition from
Coca-Cola
(KO) - Get Report
and higher energy costs. The firm also lowered its 2005 earnings estimates for PepsiCo to $2.58 from $2.61 and its 2006 forecast to $2.87 from $2.92.
Pepsi Bottling was down 23 cents, or 0.8%, to $28.38. PepsiCo was off 42 cents, or 0.8%, to close at $53.51.
Overseas markets were mostly higher, with London's FTSE 100 up 0.7% to 5153 and Germany's Xetra DAX adding 0.5% to 4610. In Asia, Japan's Nikkei rose 0.4% overnight to 11,630, while Hong Kong's Hang Seng was unchanged at 14,201.
To view Gregg Greenberg's video take on today's market, click here
.