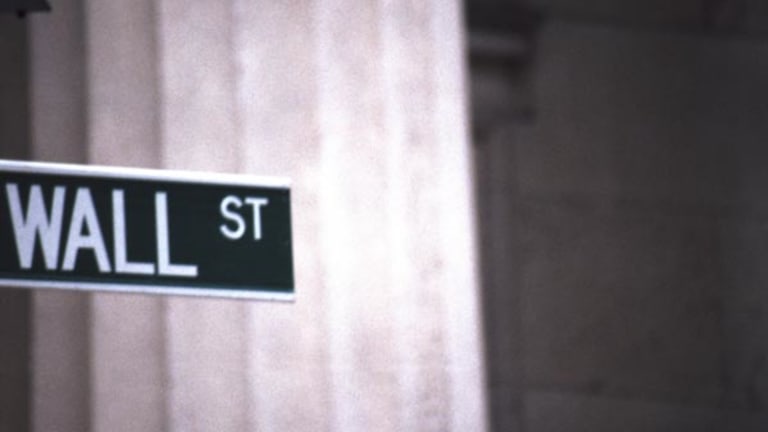 Stocks Swing Higher on Late-Day Push
The Dow is hitting new session highs in the final hour of trading of a day marked by volatility.
Updated from 3:14 p.m. EDT
U.S. stocks were rising on a strong push by bulls in the final hour of trading Thursday. The day has been marked by wide swings, as traders took in a flood of corporate earnings statements, saw evidence of additional turmoil in the financial sector and stomached a fresh serving of economic data.
The
Dow Jones Industrial Average
was lately up 208 points to 8,786, and the
S&P 500
was better by 17 points at 925. The
Nasdaq
was adding 52 points to 1681.
Art Hogan, chief market strategist at Jefferies, said that he believes the market bottomed at its intraday low on Friday, and the markets will not even return to test that. "We're still convinced that the punishment is not fitting the crime and we're overdoing it here." He said the market is seeing indiscriminate selling as firms continue to try to raise cash.
Bob Andres, chief investment strategist for Portfolio Management Consultants, was less bullish, saying, "The consumer is a dead man walking." He said the
Federal Reserve
and Treasury have gotten behind the curve. Now that the government has somewhat addressed the credit crisis, it's time to move on and look at the economy, he said.
"Everybody is relating the bailout package in some way to the economy ... and it has almost nothing to do with the economy," said Andres. As for equities, "You can't call a bottom or a top," he said. "Are we closer to fair value? Certainly we are." However, he said he predicts GDP will decline 2.5% this quarter, and the economy will remain stagnant for a long time.
Ahead of Wednesday's trading, Swiss bank
UBS
(UBS) - Get Report
received a $5.3 billion cash injection from the Swiss government in exchange for a 9% equity position in the company.
UBS and the Swiss National Bank
also reached an agreement for UBS to transfer up to $60 billion of currently illiquid securities and other assets from its balance sheet to a separate fund.
There was trouble back in the U.S. as well.
Bloomberg
reported that
largest hedge fund lost as much as 30% this year on bad bets in convertible bonds, stocks and corporate debt. Citadel quickly denied the rumors but said that its performance was hindered by the challenging market.
were once again in focus. Following the close Wednesday, online auctioneer
(EBAY) - Get Report
swung to a third-quarter profit but said its core business may face difficulties ahead.
Quarterly results from financial firms continued to reflect the impact of the credit crunch.
(C) - Get Report
reported a third-quarter loss that was narrower than the Street had forecast.
Merrill Lynch
(MER)
, meanwhile, posted a widened loss that included a $2.5 billion payment related to a stock offering and a $425 million expense tied to settlement of a government approval of its dealings in auction-rate securities.
Bank of New York Mellon
(BK) - Get Report
and
BB&T
(BBT) - Get Report
announced declines in profit of 53% and 19%, respectively.
Beyond the financials,
(NOK) - Get Report
reported declining profit.
Continental Airlines
(CAL) - Get Report
said it lost money for the quarter, in part because of high fuel costs.
Southwest
(LUV) - Get Report
registered its first quarterly loss in 17 years as it wrote down its fuel cost-hedging portfolio.
On a positive note, coal company
Peabody Energy
(BTU) - Get Report
reported a 59% increase in third-quarter earnings on rising revenue.
Hogan of Jefferies said he foresees better-than-expected earnings statements for this quarter but lackluster forward guidance. He predicted that during the first half of next year, the market will begin to price in a broad economic recovery to be staged in the third and fourth quarters of 2009.
In technology,
Microsoft
(MSFT) - Get Report
CEO Steve Ballmer said that an acquisition of Internet portal
(YHOO)
would make economic sense. Yahoo! had earlier turned down a buyout offer from Microsoft for $33 a share. Yahoo! was lately trading up 11% at $13.07.
Volatility was soaring, as the CBOE Volatility Index reached 80, a level not seen in its 18 years. After rising 17% to 81 earlier, the index, used as a measure of fear in the market, was lately up 9.8% at 76.
"It's insanity," said Andres of Portfolio Management Consultants. He said the volatility indicates people don't know what's going on and are trading on knee-jerk reactions.
On the industrial side, a report from the
Detroit News
said that
General Motors
(GM) - Get Report
would lay off 1,500 workers at assembly plants in Michigan and Delaware.
Shifting to economic data, the Department of Labor's September consumer price index showed that prices were unchanged for the month, better than the 0.1% increase expected by economists. The core rate of price increases came in at 0.1%, below a 0.2% increase in August.
The Department of Labor also reported that, for the week ended Oct. 11, jobless claims declined by 16,000 to 461,000, below a consensus estimate of 470,000 and down from 477,000 the previous week.
Industrial production numbers from the
Federal Reserve
showed a 2.8% decline in production, the largest decline since December 1974. The Fed estimated that hurricanes accounted for 2.25% of the decline.
The Philadelphia Fed's October manufacturing index registered at -37.5, down from 3.8 in September and worse than the -5 forecast by economists.
Looking at commodities, crude oil dropped $4.69 to $69.85 a barrel. Gold was slipping $34.50 to $804.50 an ounce.
Longer-dated U.S. Treasury securities were mixed. The 10-year note was up 3/32, yielding 3.93%, and the 30-year was down 18/32, yielding 4.22%. The dollar was gaining on the euro and pound but flat against the yen.
Overseas, European markets such as the FTSE in London and the DAX in Frankfurt were trading lower. In
, the Nikkei in Japan and the Hang Seng in Hong Kong closed with losses.