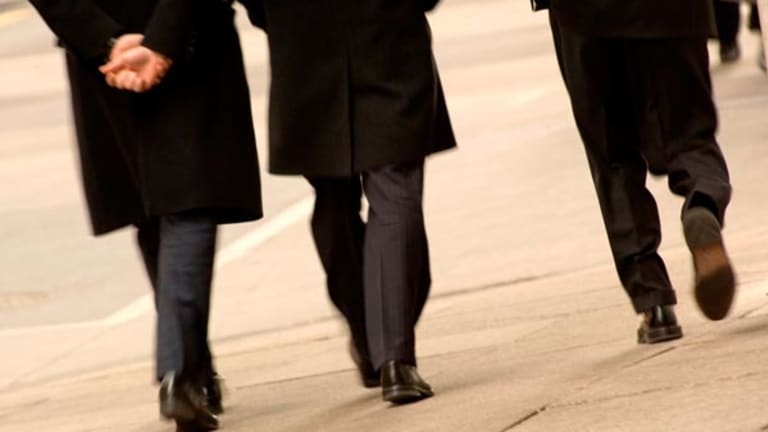 Stocks Get Jolly on Signs of Improving U.S. Economy
Stocks book gains as U.S. economy gives two more gifts in durable goods orders and new home sales in November, which increased more than forecast.
NEW YORK (TheStreet) -- Heading into the Christmas holiday, U.S. stocks can't find a reason to fall. It's been a jolly good year for investors who bet long on equities.
In a year that is poised to be the best for stocks since 1997, equity markets extended gains in a shortened session on Tuesday after data showed manufacturing grew in November while new home sales rose. That's two more bits of positive economic data to pair with upbeat readings on consumer spending that came earlier in the week.
Fueled by those upbeat indicators, the S&P 500 climbed 0.29% to finish at 1,833.32. The Dow Jones Industrial Average added 0.39% to 16,357.55 while the Nasdaq lifted 0.16 to 4,155.42.
The U.S. Census Bureau reported that durable-goods orders for November jumped 3.5% from the prior month -- orders dropped 0.7% in October -- and new orders excluding transportation increased 1.2%. Economists were expecting orders to rise 1.5% and 0.8%, respectively.
"The better-than-consensus 3.5% m/m jump in durable goods orders in November, although partly due to a bounce back in the volatile aircraft category, suggests that fourth-quarter business investment in equipment may have picked up a bit," Amna Asaf, an economist at Capital Economics, wrote in a note to clients on Tuesday.
Showing continued strength in other part of the economy was new home sales for November, which rose 464,000 -- the best reading since July. It was more than economists' expectations of 450,000. The report, by the U.S. Census Bureau, upwardly revised October sales to 474,000 from a prior reading of 354,000.
Markets jumped on Monday as improved consumer spending and sentiment data coupled with an upgrade in the International Monetary Fund's outlook for the U.S. economy added to a raft of economic news in recent weeks that suggested the economy is growing at a healthy clip despite a pullback in Federal Reserve stimulus.
Major equity markets closed at 1 p.m. on Tuesday for the Christmas break, and reopen Thursday at the regularly scheduled time.
In company news, shares of Johnson & Johnson (JNJ) - Get Johnson & Johnson Report ticked higher Tuesday after Reuters reported that private-equity firm Carlyle Group (CG) - Get Carlyle Group Inc Report is nearing an agreement to buy the company's ortho clinical diagnostics unit, sources told Reuters. Shares closed effectively unchanged at $92.06.
Traders eyed Target (TGT) - Get Target Corporation Report as the Justice Department has opened an investigation into the credit and debit card security breach connected to some 40 million accounts that were stolen from Nov. 27 to Dec. 15. Shares dipped 0.27% to $61.71.
Tesla (TSLA) - Get Tesla Inc Reportwas a big winner in the S&P 500 on Tuesday after federal regulators reaffirmed a 5-star crashworthiness rating for the electric car maker's 2014 Model S. Tesla was being investigated by the National HighwayTraffic Safety Administration for battery-related fires. Shares surged 5.5% to $151.41.
Retail sales data continued to look week for the 2013 holiday season as a report from ShopperTrak said that sales at U.S. stores dropped 3.1% for the week ended Sunday against the same time a year earlier. It marked a third-straight week of declining retail sales, which dropped 2.9 and 0.8%, in the prior two weeks, respectively. ShopperTrak collects data from 40,000 locations.
-- Written by Joe Deaux in New York
>Contact by Email.