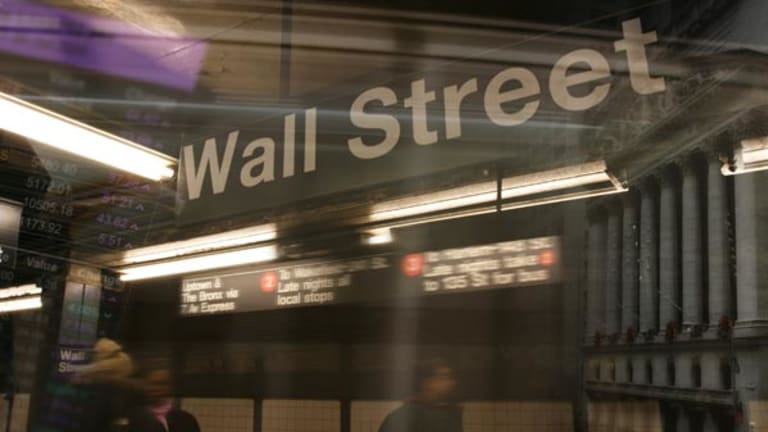 Stocks Suffer Energy Crisis
Higher oil prices take the Nasdaq and S&P to their lows of the year, while the Dow drops below 10,000.
Updated from 4:16 p.m. EDT
Stocks tanked while oil soared to record highs Thursday, with the
Dow Jones Industrial Average
falling back below 10,000 and the
Nasdaq Composite
and the
S&P 500
making new lows for 2004 in the run-up to Friday's July jobs report.
The Dow was off 163.48 points, or 1.61%, to 9963.03. The
S&P 500
dropped to its lowest close of the year, down 17.93 points, or 1.63% to 1080.70; and the Nasdaq did the same, tumbling 33.43 points, or 1.80%, to 1821.63.
"It's been a grueling decline," said Ken Tower, chief market strategist with CyberTrader. "I think it's too early to call it a bear market though, because there hasn't been a lot of strength on the downside. It's just been low-volume trading with a big lack of enthusiasm rather than a real downtrend.
"I think we're seeing a big adjustment on the part of analysts and investors as economic growth has slowed. People have been pulling back their expectations, which is part of a more correctional move than falling back into a recession," he added.
The only bright side to the carnage was the session's light volume levels, with under 1.4 billion shares trading on the
New York Stock Exchange
and under 1.6 billion changing hands on the Nasdaq. Decliners held roughly a 7-to-2 majority on both exchanges.
In New York, Nymex crude for September delivery settled up $1.58, or 3.7%, to $44.41 on news that Russian authorities had withdrawn permission for Russian oil maker Yukos to access key bank accounts to fund operations. The news renewed doubts that the company would resume production soon. Also, the 10-year Treasury note traded up 6/32, yielding 4.39%, while the dollar was higher against the yen and lower against the euro.
Recent terrorism jitters were being fanned after two men were arrested in Albany, N.Y., on charges stemming from an alleged plot to help a man they thought was a terrorist purchase a shoulder-fired missile, according to a report from the
Associated Press
. They reportedly had links to a group called Ansar al-Islam, which has been known to have relations with Al Qaeda.
On the geopolitical front, insurgents loyal to the radical cleric Muqtada al-Sadr downed a U.S. helicopter during a standoff in the Iraqi town of Najaf this morning, as their leader issued a call for an uprising against American and coalition forces that ended a supposed two-month truce. The wounded crew was evacuated, according to a report from the
Associated Press
. South of Baghdad, a suicide car bombing killed five people and wounded 27 at a police station.
"The big story today is that oil is once again at new highs," said Peter Cardillo, chief market analyst with S.W. Bach & Co. "The market is being tanked by this situation, and also anticipating tomorrow's unemployment report."
Traders are now turning their attention to Friday's employment report, due out at 8:30 a.m. EDT, in which the Labor Department is expected to say the U.S. economy added 243,000 nonfarm jobs in July. A weak print could fuel speculation that the
Federal Reserve
can ratchet back its rate-tightening schedule but could also hurt perceptions of President Bush's re-electability, something that generally has had negative consequences for stocks.
In a positive prelude to the report, the Labor Department reported that initial jobless claims dropped more than expected in the last week of the month, to 336,000 from the upwardly revised 347,000 reported for the previous week. Economists had expected a dip to 340,000.
"I think a good number
Friday could reverse market psychology a bit," he added. "But a bad number would confirm what people are interpreting as economic malaise setting in again. Combine that with these oil prices, and I think stagflation would become the headlines a day."
Steve Kolano, assistant vice president of international equity trading with Boston Company Asset Management, said people were starting to feel better about job creation in recent months, even with the weak number out in June, but then, when last Friday's revised second-quarter GDP report came in at 3%, talk of a potential slowdown in economic growth got more serious.
"People have kind of flagged 3.5% GDP growth as the point where jobs are created in the economy, so once again those labor market concerns are kicking in again," said Kolano.
In other economic news, the Bank of England Thursday raised official interest rates by a quarter point to 4.75%, while the European Central Bank left rates unchanged.
Early retail reports were mixed, with
Wal-Mart
(WMT) - Get Walmart Inc. Report
saying July same-store sales rose a slightly better-than-expected 3.2% from a year ago. The discount giant said August same-store sales should rise between 2% and 4%. Its shares closed down $1.15, or 2.2%, to $52.05.
Its main competitor,
Target
(TGT) - Get Target Corporation Report
, said same-store sales rose 3.8% for the month, above expectations, thanks to warmer weather and strong sales in gardening and home improvement products. Its shares closed down $1.37, or 3.2%, to $41.76.
Meanwhile, the nascent turnaround story at
Pier 1
(PIR) - Get n.a. Report
took a hit when the furniture retailer reported a 1.3% decline in July same-store results. Pier 1 also said it expects earnings in its current quarter to be 10 cents to 12 cents a share. Analysts had been expecting 13 cents a share. Its shares dropped $1.63, or 9.2%, to $16.
Super-performing specialty outfit
Chico's FAS
(CHS) - Get Chico's FAS, Inc. Report
said July same-store sales jumped a better-than-expected 13.7%. The results followed a 5% decline in same-store sales at
Hot Topic
(HOTT)
, reported after the bell Wednesday. Hot Topic guided its current-quarter earnings in line with estimates.
The S&P Retail Index closed down 2.6%.
In the telecommunications field, the nation's largest long-distance provider,
AT&T
, announced in a filing with the
Securities and Exchange Commission
that it is considering writing off some of the value of its $43.8 billion in assets, a move that would signal the company is worth less than its financials currently show. Its stock closed down 58 cents, or 3.9%, to $14.18.
In earnings news,
Goodyear Tire
(GT) - Get Goodyear Tire & Rubber Company Report
swung to a larger profit than expected for its second quarter, as the company's embattled tire division turned a profit for the first time since 2002. It earned $25.1 million, or 14 cents a share, on record sales of $4.5 billion. That's compares to a loss of $53 million, or 30 cents per share, on sales of $3.8 billion in the same quarter last year. Its stock added a nickel, or 0.5%, to $10.90.
Overseas markets closed higher, with London's FTSE up 0.1% to 4413 and Germany's Xetra DAX adding 0.1% to 3829. In Asia, Japan's Nikkei added 0.5% overnight to 11,061, while Hong Kong's Hang Seng added 1.7% to 12,492.