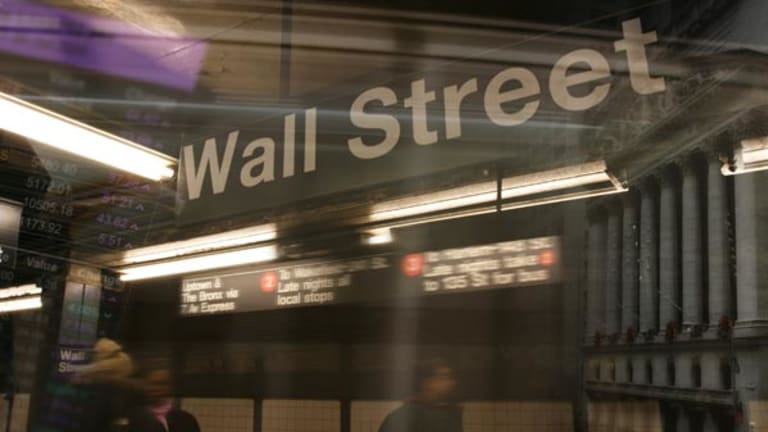 Stocks Suffer a Late-Session Fade
The market finishes lower in another day of light trading.
The market finishes lower in another day of light trading.
Updated from 4:05 p.m. EDT
Stocks incurred mild losses Monday after a session marked by indecision gave way to uncertainty in the final hour of trade as the markets await a major economic and geopolitical milestone that's just more than a week away.
The
Dow Jones Industrial Average
lost 44.94 points, or 0.43%, to 10,371.47; the
S&P 500
lost 4.70 points, or 0.41%, to 1130.42; while the
Nasdaq
fell 12.35 points, or 0.62% to 1974.38. The 10-year Treasury note was trading up 7/32 to yield 4.68%, while the dollar was lower against the yen and higher against the euro.
The Nasdaq managed to close above its 50-day moving average of 1973; the three major indices continue to remain above that technically significant level.
Volume stayed light, with just over 1.1 billion shares trading on the
New York Stock Exchange
, while nearly 1.4 billion changed hands on the Nasdaq. Decliners held about a 5-to-4 majority over advancers on both exchanges.
"For basically three weeks now, we've been stuck in a fairly tight trading range, and this decline here brings us down to the lower end of that range, but it doesn't break us out yet," said Ken Tower, chief market strategist with CyberTrader. "We seem to be in the grips of some uncertainty here, but I tend to think that the market will come to some conclusion about what's going to come out of the Fed's meeting before June 30, so I suspect that the market will find some direction before then."
With no major economic releases due out until Thursday, the market is widely considered to be in "wait-and-see" mode until next week's pivotal day -- June 30 -- when the
Fed
is expected to raise short-term interest rates and the U.S.-led coalition in Iraq will hand sovereignty over to the war-torn country's new government.
"I think this is a mistake that people are making," said Al Goldman, chief market strategist with A.G. Edwards. "I would be a buyer here."
Goldman thinks the two potential negatives coming on the June 30 deadline are in fact positives for the market in the long run. He said higher interest rates will be good for the economy, which is now showing sustained growth, and the handover in Iraq will show the world that Americans are liberators and not occupiers, giving the Iraqis more optimism about their future.
"We're still in a bull market. This year, of course, the market is basically flat," he said. "The problem is twofold. First, we had an uninterrupted rally last year, which we have been correcting this year, and the current cloud hanging over the market is that people are waiting for June 30."
Oil prices dropped in a volatile session after oil shipments reportedly resumed in Iraq, where terror incidents led to a six-day shutdown. Nymex Crude ended down $1.20, or 3%, to $37.80 a barrel, while gasoline prices closed more than 3 cents, or 2.8%, lower at $1.162 a gallon.
The Associated Press
reported Monday that four U.S. service members were killed in the Sunni Muslim stronghold of Ramadi. Videotape reportedly showed the four, still in uniform, lying dead near what appeared to be a walled compound after they failed to check in at the appointed time while conducting operations in the area.
Also putting the markets on edge was a report that the Iranian navy seized three small British vessels and detained eight crew members Monday morning, according to a report from
The New York Times
. The boats and their crew were seized after they were found in the Iranian waters of the Shatt al-Arab River, which borders Iran and Iraq.
On the home front, the banking sector continued to consolidate Monday morning with
Wachovia
(WB) - Get Report
agreeing to buy
SouthTrust
(SOTR)
for stock worth $41.83 a share, or about $14.3 billion. SouthTrust has been mentioned as a takeover candidate for months. Its shares have climbed 11% since the beginning of May at the opening bell, and they closed up $4.57, or 13.1%, to $39.37 on the day. Wachovia shares ended down $1.91, or 4.1%, to $45.09.
Elsewhere,
Intel's
(INTC) - Get Report
chief executive reportedly declared the recession in the semiconductor market over and said his company might be headed for a record quarter in three months to June 30. Craig Barrett's comments came in an interview with the Spanish newspaper
El Pais
. Its stock lost 12 cents, or 0.4%, to $27.52.
Also, shares of
Taser International
(TASR)
jumped $4.68, or 18.2%, to $30.45 after the stun-gun maker raised its sales outlook for the year, citing strong demand for its products in the law enforcement community.
European markets closed lower, with London's FTSE 100 down 0.1% to 4502 and Germany's Xetra DAX losing 0.3% to 3989. In Asia, Japan's Nikkei ended up 1.9% to 11,600, while Hong Kong's Hang Seng fell 0.1% to 11,846.
Earnings releases are due out before Tuesday's opening bell from
Goldman Sachs
(GS) - Get Report
, expected to report second-quarter earnings before special items of $1.95 a share, up from last year's $1.36 a share;
Kroger
(KR) - Get Report
, expected to report third-quarter profits of 36 cents a share, down from last year's 46 cents a share; and
Morgan Stanley
(MWD)
, expected to report second-quarter earnings of $1.06 a share, up from last year's 55 cents a share.
No major economic releases are scheduled Tuesday.