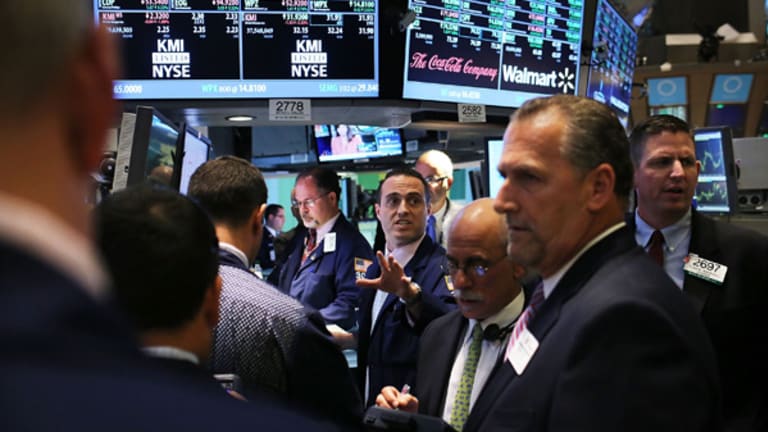 Stocks Stung as Commodities Climb
The Nasdaq and the Dow fall 0.6%. Gold and oil prices surge.
Updated from 4:04 p.m. EDT
Stocks closed with losses Monday as rising oil and gold prices and mixed results in the banking sector left investors spooked at the start of earnings season.
The
Dow Jones Industrial Average
dropped 63.87 points, or 0.57%, to 11,073.78. The
lost 3.80 points, or 0.29%, to 1285.32. The
Nasdaq Composite
fell 14.95 points, or 0.64%, to 2311.16. The 10-year Treasury bond was up 9/32 in price to yield 5.01%, and the dollar fell against the yen and euro.
The Dow was pressured by losses of 1.8% or more in
General Electric
(GE)
,
General Motors
(GM)
,
Home Depot
(HD)
and
Hewlett-Packard
(HPQ)
.
"The market has run out of momentum, with higher oil and commodity prices taking their toll," said Dave Briggs, head of trading with Federated. "The psychology seems to be changing. Today's action was disappointing. We need to bring cash in from the sidelines. People are ignoring stocks."
About 1.33 billion shares traded on the
New York Stock Exchange
, with decliners beating advancers by a 9-to-7 magin. Trading volume on the Nasdaq was 1.79 billion shares, with advancers outpacing decliners 3 to 2.
The averages tripped in the afternoon when Chicago
Fed
President Michael Moskow sounded a mild warning about U.S. price pressures.
"Inflation currently is near the upper end of the range that I feel is consistent with price stability," Moskow said at a speech in Chicago. "As such, I believe monetary policy must be vigilant."
Oil rose to an all-time closing high, as traders grappled with low gasoline inventories in the U.S. and political tensions in Iran. May crude finished up $1.08 to $70.40 a barrel in Nymex floor trading. Meanwhile, gold added $18.70 to $618.80 an ounce, a 25-year high.
"Investors are chasing commodity prices," said Paul Nolte, director of investments with Hinsdale Associates. "Until we fall even lower, though, we're still in a trading range. We'll be very focused on inflation for the rest of the week. Economic numbers are coming a little weaker lately, adding to why the market is reacting poorly."
To view Gregg Greenberg's video take on today's market, click here
.
Several banks had uneven results. Shares of
Citigroup
(C)
rose 0.6% after the company posted first-quarter earnings that easily beat estimates but also said revenue in global consumer lending fell.
The decline was greater in the U.S., where Citigroup's consumer segment saw revenue fall 4% to $2 billion. Weakness in the division comprising credit cards and consumer lending could be viewed as a troublesome economic proxy, and it suggests that higher interest rates are taking a toll on demand. Citigroup added 30 cents to $48.35.
Other banks reporting earnings Monday included
SunTrust
(STI)
, which said earnings rose 8% to $531.5 million, or $1.46 a share, beating estimates. Shares were lower by 21 cents, or 0.3%, to close at $73.60.
Wachovia
(WB)
earned $1.73 billion in the first quarter, up from $1.62 billion a year ago. Stripping out some charges, earnings of $1.12 a share matched the Thomson First Call consensus. Wachovia fell 80 cents, or 1.4%, to $55.05.
Charles Schwab
(SCHW)
said it had first-quarter earnings of $243 million, or 19 cents a share, in line with estimates. Revenue increased to $1.28 billion from $1.06 billion last year. Shares lost 25 cents, or 1.4%, to $17.34.
Another big story in the financial sector Monday involves
Bear Stearns
( BSC), which is reportedly close to an agreement under which China Construction Bank would buy up to $4 billion of convertible bonds that could eventually give it a 20% stake in Bear.
The Wall Street Journal
says the deal is in early stages and could change or fall through. The stock was up $2.23, or 1.6%, to finish at $143.50.
The day's economic calendar included Treasury Department data on foreign purchases of U.S. securities, which rose to $86.9 billion in February from a revised $69.1 billion in January. February's number represents the largest amount of purchases since November. The report is increasingly watched because of its implications for interest rates.
Also influencing bond trading was an article Friday in the
Journal
suggesting that various
Federal Reserve
governors are less wedded to two additional rate hikes than the market apparently believes. The article said these governors feel "an inclination, not a commitment," to future rate increases.
Elsewhere on the economic front, the Empire State manufacturing index for April dropped to 15.8 from 29.0, a six-month low. The consensus was for a slight dip to 24.3.
"The headline drop is startling," said Ian Shepherdson, chief economist with High Frequency Economics. "The Empire State has overpredicted the national ISM
Institute for Supply Management index in recent months. Today's report implies the ISM dropping to 53 or so, from 55.2. But one bad month does not make a trend, and the late Easter may have affected the Empire State data."
By sector, the Philadelphia Oil Service Sector index gained 1.6% and the Amex Oil index rose 1.8%. The S&P Retail index was off 1.2%, and the Philadelphia Semiconductor Sector index lost 1.5%.
Meanwhile, the Amex Airline index tumbled 5.6%, due to a 10.8% decline in
Continental Airlines
and 8.9% losses in
AMR
(AMR)
and
JetBlue Airways
(JBLU)
.
Back to earnings,
InfoSys
(INFY)
, the Indian tech outsourcer, said fourth-quarter earnings rose 20% to $152 million, or 54 cents per American depositary share, missing estimates by a penny. Revenue rose 30% and slightly beat forecasts. Shares of InfoSys surged $9.80, or 13.1%, to $84.78.
Transportation company
J.B. Hunt Transport
(JBHT)
posted first-quarter net earnings of $49 million, or 31 cents a share, matching estimates. Revenue grew 10% from last year to $779.9 million, below the consensus. Still, shares rose $1.38, or 6.4%, to close at $22.88.
Eaton
(ETN)
reported first-quarter net income of $208 million, or $1.36 a share, up from $187 million, or $1.19 a share, a year earlier. Excluding charges, earnings were $214 million, or $1.40 a share, ahead of the average Thomson First Call estimate of $1.32 a share. The stock was higher by $1.37, or 1.8%, to $75.99.
Shares of
TiVo
(TIVO)
rose 7.5% after a report in
Barron's
over the weekend said the company could be a takeover target of
Cisco
(CSCO)
or
Motorola
( MOT). TiVo finished up 60 cents to $8.65.
Among ratings moves, Harris Nesbitt downgraded
RadioShack
(RSH)
to underperform from neutral, cutting its stock price target to $15 from $17. Shares fell 71 cents, or 3.9%, to $17.71.
Most overseas stock markets were closed Monday for holidays. In Asia, though, Japan's Nikkei dropped 1.4% overnight to 17,000.