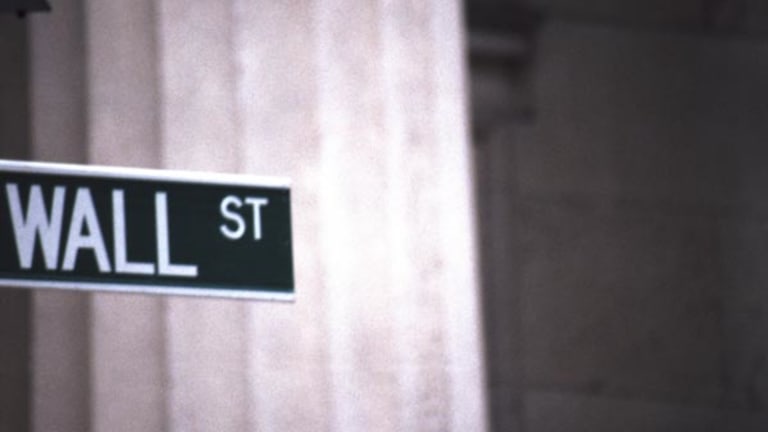 Publish date:
Stocks Struggle to Recover but Fed Rate Hike Worries Persist
They get an A for effort, but stocks never managed to recover from Tuesday's brutal selloff.
They get an A for effort, but stocks never managed to recover from Tuesday's brutal selloff.
NEW YORK (TheStreet) -- Stocks get an A for effort, but they never managed to recover from Tuesday's brutal selloff.
Instead, after spending much of the day flitting between gains and losses, benchmark indexes settled slightly lower with next week's Federal Reserve meeting still a heavy cloud over Wall Street. 
By market close, the S&P 500 was down 0.18%, the Dow Jones Industrial Average slipped 0.15%, and the Nasdaq slid 0.2%. 
Markets have been pressured for much of the week as investors process the likelihood the Fed will raise rates sooner than later. Wall Street is preparing for the Fed to remove its "patient" language from its release in a two-day meeting next Tuesday, a signal that could mean a mid-summer rate hike.
Jim Cramer says a Fed rate hike is the last thing the economy needs, given its risk of starting a global contagion. He makes his case in an article for Real Money Pro.
More pain might be on the horizon, says one analyst who thinks the market hasn't yet priced in a Fedrate hike later this year.
"The market has been in this blissfully ignorant state where they haven't quite embraced ... a rate hike," said Jeff Sica, chief investment officer of Circle Squared Alternative Investments, in a call. "Even though the market has pulled back a little, it's still inflated beyond where it should be."
Uncertainty over when the Fed's timing of a rate hike pushed the U.S. dollar even higher after notching a 12-year high on Tuesday. The greenback was up 1.5% against the euro, 0.9% against the British pound, 1% against the Swiss franc, and 0.66% against the Aussie dollar.
Banks were charging higher ahead of round two of the Fed's stress tests. The central bank will release its examinations of banks' capital return plans after the bell Wednesday. Bank of America (BAC) - Get Report, Citigroup (C) - Get Report, and Goldman Sachs (GS) - Get Report were all higher, while the Select Sector Financial SPDR ETF (XLF) - Get Report added 0.67%.
Crude oil moved lower after the Energy Information Administration reported 4.5 million barrels of oil added to U.S. inventories over the week ended March 6, higher than a forecast 4.4 million. West Texas Intermediate was up 0.1% to $48.34 a barrel.
"Currently, the U.S. has more crude than it knows where to store it, potentially inciting operational limits," said Schneider Electric's Brian Milne. "The inability to store the growing surplus of crude could send its price down sharply, potentially to the low $30s a barrel from the current $50 a barrel that would also arrest the recent advance in gasoline prices."
Zogenix (ZGNX) - Get Report was down 25.8% after announcing plans to sell its Zohydro painkiller business to Pernix Therapeutics (PTX) - Get Report for $100 million upfront and $283.5 million in milestone payments.
Salix Pharmaceuticals (SLXP) jumped 7.1% after receiving a takeover bid from Endo International (ENDP) - Get Report. Endo proposed a cash-and-stock offer worth $175 a share, 11% higher than an offer from Valeant Pharmaceuticals (VRX) last month. 
Lumber Liquidators (LL) - Get Report was moving higher again on Wednesday after CNBC reported Robert Chapman, activist investor and CEO of Chapman Capital, was interested in taking a long position in the company. The stock has been under pressure after a damning report from 60 Minutes earlier this month.
Express (EXPR) - Get Report jumped 3.5% after beating quarterly estimates on its top- and bottom-line. The retailer also guided for first-quarter earnings between 11 cents and 14 cents a share, better than consensus of 11 cents.
Google (GOOGL) - Get Report was slightly lower after reports it is close to buying Bangalore start-up InMobi, according to The Economic Times. InMobi, a mobile advertising network, has reportedly been seeking a valuation of more than $2 billion.