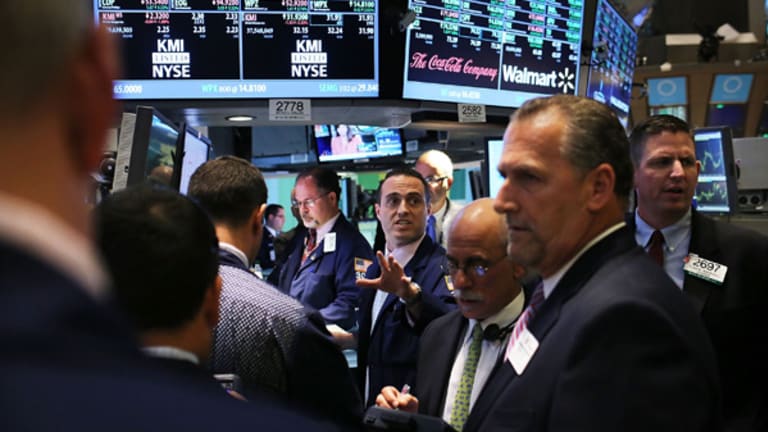 Stocks Struggle for Direction
Wall Street trades slightly higher Thursday mixed as with investors take in a drop in weekly jobless claims and more earnings reports.
Wall Street trades slightly higher Thursday mixed as with investors take in a drop in weekly jobless claims and more earnings reports.
Updated from 9:44 a.m. EST
Stocks on Wall Street were struggling for direction midmorning Thursday, as investors took in a host of economic data and earnings reports.
Lately, the major indices were sporting modest gains. The
Dow Jones Industrial Average
gained 13 points to 8837, and the
S&P 500
ticked up 3.6 points to 908. The
Nasdaq
ticked up 9.8 points to 1589.
Stocks ended Wednesday with losses as investor enthusiasm over the
Federal Reserve's
historic rate cut Tuesday got overshadowed by a larger-than-expected loss at
Morgan Stanley
(MS) - Get Report
.
Ahead of trading Thursday, the Labor Department reported that new applications for
jobless benefits
fell to a seasonally adjusted 554,000 from an upwardly revised figure of 575,000 the week before. The number came in slightly below economists' expectations of 558,000.
The Conference Board also released the Leading Indicators index, which comprises 10 variables, such as unemployment, inflation, consumer sentiment and new building permits. The index declined 0.4% after falling 0.8% a month prior. The Philadelphia Fed Index fell 32.9 vs. expectations for a decline of 40.5.
(FDX) - Get Report
reported second-quarter earnings that beat estimates by a penny a share and unveiled a plan to save costs that calls for a cut in its senior executives' pay and a one-year freeze on 401(k) contributions.
Nike
(NKE) - Get Report
posted strong second-quarter results late Wednesday. The athletic apparel company reported net income of $391 million, or 80 cents a share, up 9%, from the $359.4 million, or 71 cents a share, it posted a year ago.
Analysts at Jeffries offered a bearish view for a number of chipmakers Thursday. The firm downgraded
Texas Instruments
(TXN) - Get Report
to underperform from hold and slashed its price target to $10 from $20; it also cut its rating for
National Semi
(NSM)
to underperform from hold and lowered its target to $5 from $20; it also lowered its rating for
Intel
(INTC) - Get Report
to underperform from buy and scaled back its target to $11 from $26.
(GM) - Get Report
denied as untrue a report in
The Wall Street Journal
that said the company and
Chrysler
have reopened merger talks. GM, Chrysler and
Ford
(F) - Get Report
continue to await word on a federal bailout for the U.S. auto industry.
The Bush administration reportedly wants to forge the bailout for Detroit's Big Three automakers before Dec. 25. The White House said earlier that it might be willing to use money drawn from the $700 billion Wall Street bailout, known as the Troubled Asset Relief Program (TARP), and the Treasury also said it's prepared to pitch in after a federal rescue plan failed to pass the Senate last week.
Meanwhile, President-elect
Barack Obama
is working on a massive economic stimulus package that could total $850 billion over two years to promote jobs, provide middle-class tax relief and expand aid for the poor.
Moving to commodities, crude oil was falling $2.24 to $37.82 a barrel a day after oil-exporting cartel OPEC said it would cut production targets by another 2.2 million barrels effective in January. Gold was down $15.50 to $853 an ounce.
Longer-dated U.S. Treasury securities were rising in price. The 10-year was rising 21/32 to yield 2.1%, and the 30-year was rising 1 08/32, yielding 2.6%. The dollar was recently weaker against the euro, and stronger against the pound and yen.
Overseas, European exchanges such as the FTSE in London and the DAX in Frankfurt were mixed -- with the former down 0.7% and the latter up 0.5%, respectively. In Asia, Japan's Nikkei and Hong Kong's Hang Seng ended with gains.
Copyright 2008 Associated Press. All rights reserved. This material may not be published, broadcast, rewritten or redistributed. AP contributed to this report.