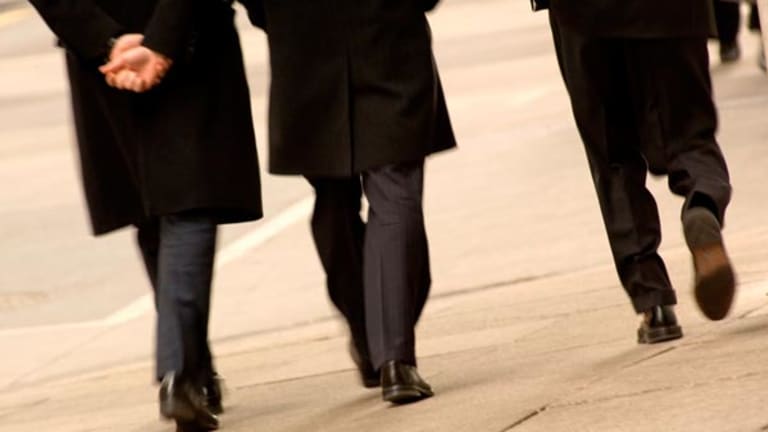 Stocks Stick to Winning Ways
But just barely. The major indices tick higher late and close with gains.
But just barely. The major indices tick higher late and close with gains.
Updated from 4:11 p.m. EDT
Wall Street's recent winning streak remained intact Friday, as a late break into positive territory allowed stocks to close slightly higher.
The
Dow Jones Industrial Average
rose 11.94 points, or 0.11%, to 10,640.83, while the
S&P 500
added 1.42 points, or 0.12%, to 1227.92, another new four-year high. The
Nasdaq Composite
gained 3.96 points, or 0.18%, to 2156.78. The S&P 500 and the Nasdaq have ended higher for seven straight sessions.
Volume was light for an options-expiration Friday. About 1.32 billion shares changed hands on the
New York Stock Exchange
, with decliners matching advancers. Trading volume on the Nasdaq was 1.53 billion shares, with advancers narrowly outpacing decliners 8 to 7.
"We appear to be running into some resistance at the 1229.11 level
on the S&P, which was the previous intraday high on March 7," says Paul Mendelsohn, chief investment strategist with Windham Financial. "NYSE cumulative advance/decline activity was negative yesterday on a strong up day, indicating that the advance was focused in a narrow group of issues."
For the week, the Dow gained 1.8%. The Nasdaq was 2.1% higher, while the S&P 500 rose 1.3%.
"This is a week where everything that could go right did go right," said Michael Sheldon, chief investment strategist with Spencer Clarke LLC. "We had gains in 9 of 10 sectors this week, with only energy showing declines. Investors are taking profits in the best performers and rotating funds into economically sensitive areas, such as technology."
Most of Friday's economic news was bullish, including a 0.9% gain in June industrial production, a strong reading on factory utilization and an unchanged producer price index. Core PPI, which excludes food and energy, fell 0.1% last month, compared with expectations for a rise of 0.1%.
Ian Shepherdson, the chief economist with High Frequency Economics, says producer prices were held back by a 1.1% drop in food prices.
"Without this it would have risen 0.4%," Shepherdson noted. "Elsewhere, there was the usual mix of ups and downs; core PPI inflation has peaked and will slow over the next year in the wake of the steep slowing in core raw materials prices."
Two other economic reports, the Empire State manufacturing index and the University of Michigan consumer sentiment index, were also stronger than expected.
In other markets, the 10-year Treasury was up 1/32 in price to yield 4.17%, while the dollar rose against the euro and fell against the yen.
Oil rose after two days of heavy losses, with August crude finishing up 29 cents to $58.09 a barrel. The contract plunged more than $2 Thursday as Hurricane Emily diverted course and traders weighed recent signs of moderating worldwide demand.
Stronger areas Friday included health care, hardware, retail and homebuilding. Energy, technology, semiconductors and software were among weaker-performing sectors.
On the corporate news front,
General Electric
(GE) - Get Report
said second-quarter earnings shot up 24% from a year ago, beating estimates, but the shares eased on concerns about the full-year outlook. Earnings in the June quarter were $4.65 billion, or 44 cents a share, up from $3.75 billion, or 36 cents a share, a year earlier. Sales rose 13% from a year ago to $41.56 billion.
Analysts surveyed by Thomson First Call were forecasting earnings of 44 cents a share on sales of $41.62 billion in the most recent quarter. For the full year, the company sees earnings of $1.80 to $1.83 a share, while analysts expect $1.81 a share. Executives on a conference call put third-quarter EPS as much as 2 cents below the Wall Street consensus, however.
The stock was up before the conference call but eased afterward. It closed at $35.53, down 10 cents, or 0.3%.
Another Dow component,
McDonald's
(MCD) - Get Report
, rose after saying second-quarter earnings should be about 51 cents a share, excluding a charge for repatriating overseas earnings. Analysts were forecasting earnings of 48 cents a share on that basis.
McDonald's said same-store sales rose 3.8% last month, led by strength in its U.S. restaurants. Analysts had expected same-store sales to increase between 2% and 4.1%. Shares were up $1.39, or 4.7%, to finish at $30.99.
Technology bellwether
Samsung
reported a 46% decline in second-quarter earnings to about $1.7 billion, reflecting weakening sales in most of its business lines. Sales fell about 9% from a year ago. The results matched analysts' estimates and the company predicted a rebound in semiconductor prices over the next six months.
First Data
(FDC) - Get Report
said first-quarter earnings fell 16% from a year ago to $391.9 million, or 50 cents a share, on a 3% rise in revenue to $2.6 billion. Adjusted earnings of 56 cents a share were a penny light and the revenue line was about $100 million short of forecasts. First Data fell $1.01, or 2.5%, to $40.13.
Cleveland bank
National City
( NCC) said second-quarter earnings jumped 20% from last year to $625 million, or 97 cents a share, blowing away the Wall Street consensus of 75 cents. The company said strong deposit growth and mortgage lending offset narrowing loan spreads. National City added 94 cents, or 2.6%, to $36.70.
Rambus
(RMBS) - Get Report
fell 7% on a decline in second-quarter profit. The company earned $5.4 million, or 5 cents a share, in the quarter, down from $8.3 million, or 8 cents a share, last year. Rambus lost $1.02 to $13.62.
Transportation company
JB Hunt
(JBHT) - Get Report
fell almost 5% after the company's earnings missed estimates. Net income rose to $54.6 million, or 33 cents a share, from $45.6 million, or 27 cents a share, a year ago, missing analysts' expectations by a penny. The stock was down 98 cents, or 4.7%, to close at $20.01.
Hewlett-Packard
(HPQ) - Get Report
could announce a restructuring plan as soon as Tuesday, which may lead to a large number of layoffs, according to a report in
The Wall Street Journal
. The stock rose 32 cents, or 1.3%, to $24.94.
Among oil stocks,
Royal Dutch/Shell
( RD) fell 0.6% and
Chevron
(CVX) - Get Report
was off 0.3%. Meanwhile,
Sunoco
(SUN) - Get Report
gained 1%.
Overseas markets were mixed, with London's FTSE 100 down 0.6% to 5230 and Germany's Xetra DAX adding 0.3% to 4713. In Asia, Japan's Nikkei fell 0.1% overnight to 11,758, while Hong Kong's Hang Seng added 0.1% to 14,504.