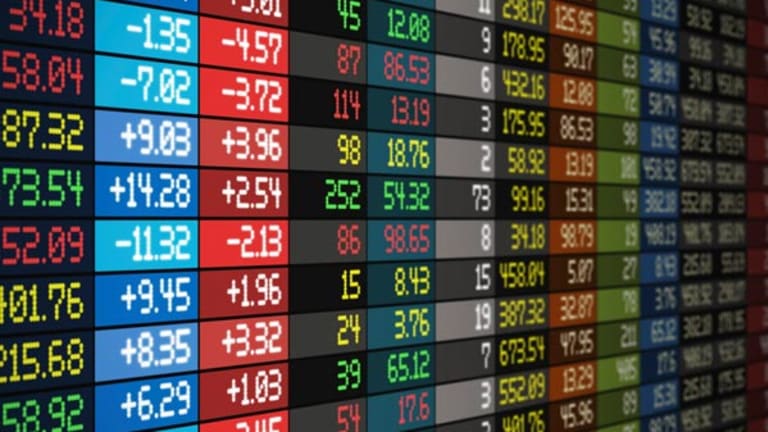 Stocks Stem Rout, End Mixed
A 6% decline in 3M sends the Dow 16 points lower.
Updated from 4:09 p.m. EDT
The
Dow
ended moderately lower Monday, hurt by heavy selling in
3M
(MMM) - Get Report
, as a handful of solid blue-chip earnings reports quieted the recent selloff but couldn't ignite any buying.
The Dow Jones Industrial Average lost 16.26 points, or 0.16%, to 10,071.25, having touched its low for the session and year at 10,020.93 earlier. The
S&P 500
rose 3.36 points, or 0.29%, to 1145.98, while the
Nasdaq Composite
gained 4.77 points, or 0.25%, to 1912.92.
Trading volume on the
New York Stock Exchange
was again heavy at 2.15 billion shares, with advancers beating decliners by a 10-to-7 margin. Volume on the Nasdaq was 1.84 billion shares, with advancers and decliners even.
Stocks ricocheted around Monday despite generally bullish earnings news from 3M,
Bank of America
(BAC) - Get Report
and
Eli Lilly
(LLY) - Get Report
. 3M's $5 decline accounted for roughly 35 points of Dow downside.
"The market is shell-shocked from last week," said Jay Suskind, head of institutional equity trading with Ryan Beck & Co. "There's no economic news today, and instead there's a tug-of-war between earnings data. The market is looking at economic numbers and earnings for this week. The question is if we need a bigger selloff before it becomes buyable."
The 10-year Treasury bond was down 4/32 in price to yield 4.25%, while the dollar was lower against the yen and euro. Oil fell 12 cents to close at $50.37 a barrel in Nymex floor trading.
Coming off three straight losses of 100 points or more on the Dow, talk over the weekend turned to the possibility of a technical bounce from stocks' current lows. After losing about 4% over the last three sessions, the Dow, S&P 500 and Nasdaq Composite all began the day at their worst levels of the year, beaten back by a string of disappointing earnings news in the technology sector.
"Last week, we finally had people reacting to a market that has been declining since early March," said Ken Tower, chief market strategist with CyberTrader. "Investors were waiting patiently for the market to recover and then just couldn't take it anymore.
"It's a positive thing, though, as you can't look for a trend to reverse until people really react," Tower said. "The market is in a bottoming process right now. We'll watch how it unfolds."
Stronger sectors Monday included energy, materials, semiconductors and retail. Weaker sectors included health care, software and drugs.
"You're seeing a reversal of what was weaker and stronger on Friday," said Paul Nolte, director of investments with Hinsdale Associates. "Judging by the volatility so far, people didn't know how to follow Friday. There is some sector rotation with people going to strength in health care on Friday and selling it today. You will see investors continue to do this if the market continues to deteriorate."
One hallmark of the recent downturn in stocks has been the market's insensitivity to good news. Friday's rout occurred despite solid quarters from
Citigroup
(C) - Get Report
and
General Electric
(GE) - Get Report
.
Bearing down on the Dow Monday was 3M, which reported first-quarter earnings of $809 million, or $1.03 a share, about 2 cents a share better than estimates. The stock fell as analysts said quarterly sales might not be strong enough to meet year-end figures. 3M was lower by $4.96, or 6%, to close at $75.90.
Bank of America said first-quarter earnings soared 74% from a year ago to $4.7 billion, or $1.14 a share, beating estimates by about a dime. Shares added 45 cents, or 1%, to $44.73.
Less impressive was
Hasbro
(HAS) - Get Report
, which swung to a first-quarter loss of $3.7 million, or 2 cents a share, from a year-ago profit of $6.5 million, or 3 cents a share. Analysts had been forecasting earnings of 4 cents a share. Revenue fell 4% from a year ago to $454.9 million, about $34 million below estimates. Hasbro gained 2 cents, or 0.1%, to $19.31, having been in the red for most of Monday's session.
Drug giant Eli Lilly rose after it delivered first-quarter earnings that topped forecasts by 2 cents a share but tempered estimates for the second quarter. Lilly's first-quarter profit rose 84% from a charge-soaked year-ago quarter to $736.6 million, or 68 cents a share.
For the second quarter, Lilly expects to earn 65 cents to 68 cents a share, compared with the Thomson First Call consensus estimate of 69 cents a share. For all of 2005, Lilly expects to earn $2.80 to $2.90 a share, compared with the Thomson First Call consensus estimate of $2.83 a share. Eli Lilly was up 93 cents, or 1.6%, to finish at $59.
Tech stocks were aided by Wall Street research. Wells Fargo upgraded
Intel
(INTC) - Get Report
to hold from sell, on the basis of valuation. Also, Deutsche Securities upgraded
Applied Materials
(AMAT) - Get Report
to buy from hold, citing valuation. Both upgrades helped the Philadelphia semiconductor sector index rise 0.8%. Intel added 9 cents, or 0.4%, to $22.21, while Applied Materials gained 36 cents, or 2.5%, to $14.86.
Despite the market's travails, the mergers and acquisitions bug continues to bite in the software space. In the latest deal, graphics pioneer
Adobe
(ADBE) - Get Report
agreed to buy
Macromedia
(MACR)
for $3.4 billion in stock. Adobe will exchange 0.69 share for each Macromedia share.
On the basis of Friday's closing price, the price comes out to about $41.86 per Macromedia share. Adobe fell $5.89, or 9.7%, to $54.77, while Macromedia surged $3.27, or 9.8%, to $36.72.
And video-game retailer
GameStop
(GME) - Get Report
agreed to buy rival
Electronics Boutique
(ELBO)
for $1.37 billion in cash and stock. The takeout price comes out to $55.18, about 34% above Electronics Boutique's Friday's close. Gamestop added $2.10, or 9.7%, to $23.71. Electronics Boutique rose $14.09, or 34.3%, to $55.21.
Fiber-optic cable company
Corning
(GLW) - Get Report
rose over 4% Monday after guiding higher for the first quarter. The company said it expects quarterly results to beat its prior forecast, due to stronger performance from Dow Corning and higher-than-expected demand for hardware and equipment products. Corning said it now expects first-quarter sales to be in the range of $1.04 billion to $1.05 billion and EPS of 16 cents to 17 cents before items. Shares were up 46 cents, or 4.1%, to close at $11.56.
Shares of
CV Therapeutics
(CVTX)
jumped after its experimental drug Ranexa showed a reduction in weekly angina frequency during a late-stage trial. Shares of CV Therapeutics finished 2 cents, or 0.1%, higher at $20.75.
In brokerage action, Deutsche Bank upgraded
Symantec
(SYMC) - Get Report
to buy from hold, citing the belief that quarterly results will exceed its estimates. The brokerage feels that the pending merger with
Veritas
(VRTS) - Get Report
should be completed by the end of May, after which the company is likely to repurchase roughly $3 billion worth of stock. Symantec added 15 cents, or 0.8%, to $19.04.
Brokerage Legg Mason upgraded
Travelzoo
(TZOO) - Get Report
to hold from sell on valuation, helping the stock add 83 cents, or 2.6%, to $32.18.
Other brokerage upgrades Monday include Banc of America upgrading
J.P. Morgan Chase
(JPM) - Get Report
to buy from neutral on the basis of the company's risk-vs.-reward profile. Bernstein upgraded
Oracle
(ORCL) - Get Report
to outperform from market perform, and Deutsche Securities upgraded
SBC Communications
(SBC)
to buy from hold.
J.P. Morgan Chase added 71 cents, or 2.1%, to $34.64; Oracle rose 10 cents, or 0.8%, to $11.80; SBC gained 21 cents, or 0.9%, to $23.21.
After the bell Monday,
Texas Instruments
(TXN) - Get Report
is due to post quarterly results. Posting earnings Tuesday will be
Johnson & Johnson
(JNJ) - Get Report
,
Pfizer
(PFE) - Get Report
, brokerage
Merrill Lynch
(MER)
and stun-gun maker
Taser International
(TASR)
.
Overseas markets remained under pressure, with London's FTSE 100 finishing down 1.3% to 4827 and Germany's Xetra DAX losing 2.5% to 4202. In Asia, Japan's Nikkei plunged 3.8% overnight to 10,938 and Germany's Xetra DAX lost 2.1% to 13,355.