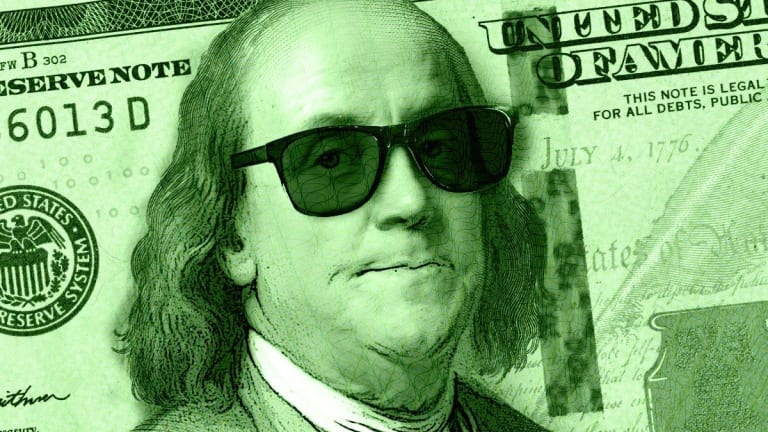 Stocks Steady After Brutal Trade War Selloff
A brief overnight pause in the brewing global trade war helped stocks in Asia hold steady and European and US markets look to early gains. But a bear market in China, and diminishing appetite for U.S. dollars, should be cause for broader concern over the summer months.
A brief overnight pause in the brewing global trade war helped stocks in Asia hold steady and European and US markets look to early gains. But a bear market in China, and diminishing appetite for U.S. dollars, should be cause for broader concern over the summer months.
The Tuesday Market Minute
Global stocks steady as trade war goes quiet during overnight session.
Mixed messages on trade from the White House keep dollar assets on the back foot.
Asia shares mixed, but gains only modest as investors wait for next round of tit-for-tat tariffs.
China's Shanghai Composite slumps into bear market territory as stocks hit a two-year low.
Oil markets little changed as investors debate impact of OPEC agreement on production cut compliance.
Wall Street futures drift lower after yesterday's sell-off push Dow within touching distance of correction territory.
Market Snapshot
Global stocks steadied Tuesday, even as investors remained wary of the rising trade rhetoric emanating from Washington and the impact it may have on broader economic growth, with non-dollar assets finding favor amid what could be a major summer challenge for financial markets.
President Donald Trump's recent focus on trade and tariffs, and his administration's plans to curb inward investment in the tech sector in order to combat intellectual property theft, sent markets reeling Monday, but investors still appear to be willing to bet that the President is using his classic deal-making strategy of pushing for the maximum before relenting to a workable compromise.
The fact that officials in China also remained silent overnight was enough to convince investors to test the waters after yesterday's sell off, which clipped 328 points from the Dow Jones Industrial Average  I:DJI and push the benchmark just a few percentage points away from correction territory. 
Wall Street could claw some of that back this morning, however, although equity futures are currently pointing to a 24 decline for the Dow and a 1.5 point slip for the broader S&P 500 I:GSPC . The tech-focused Nasdaq Composite I:IXIC , which slumped 2.09% yesterday, is poised for a modest 10 point rebound. 
General Electric Co. (GE) - Get Report shares were an active mover in pre-market, rising 4.7% to $13.36 each after the struggling conglomerate confirmed earlier reports it is planning to spin off its healthcare division and sell its stake in oil services group Baker Hughes (BHGE) - Get Report .
GE said the plans, which follow its ongoing strategic review, will mark a shift in focus towards its power, aviation and renewable-energy businesses and create "a simpler, stronger, leading high-tech Industrial company". The group also said it will maintain its dividend until the healthcare unit is separated, but will "adjust" it after that to put it "in line with industrial peers". The announcements comes as the former equity market bellwether faces its first day of trading outside of the Dow after having been turfed from the benchmark last week by S&P Dow Jones Indices in favor of the Walgreens Boots Alliance Inc (WBA) - Get Report
That said, dollar-denominated assets did not appear to be the market's flavor overnight, with the U.S. dollar index slipping 0.1% to 94.21 and the euro rising to a two-week high of 1.1722. Benchmark 10-year U.S. Treasury bond yields were also softer, rising to 2.90% as investors gingerly moved cash into riskier markets or shunned the greenback altogether.
Stocks overnight were also broadly positive, although the early hours of the session followed Wall Street's lead with heavy selling. The region-wide MSCI Asia ex-Japan index was marked just 0.1% to the downside heading into the close, held down by extended weakness in China, while Japan's Nikkei 225 managed to shrug-off a stronger yen and claw its way into a 0.02% gain to end the session at 22,342.00 points.
China's markets, however, which are both heavily exposed to tech and sitting on the front lines of the global trade war, continued to suffer, with the Shanghai Composite index falling 0.51% to 2,844.65 points, putting the benchmark into "bear market" territory, a condition which defines a market that has fallen at least 20% from its previous peak.
It's official! #China has entered a bear market. Shanghai composite down more than 20% from its January high. pic.twitter.com/MaVF0fUX9n
European stocks were higher at the open as well, with the Stoxx 600 rising 0.35% by mid-day in Frankfurt as the euro retreated from its earlier gains to trade at 1.1666, although persistent concerns that the current trade dispute between Washington and Brussels will escalate further, is likely to keep cap gains for much of the session. Germany's DAX index gained 0.42% while Britain's FTSE 100 was marked 0.54% to the upside by mid-day of trading in London. 
However, yesterday's announcement from Harley Davidson (HOG) - Get Report , the iconic American motorcycle maker that was a specific target of EU tariffs put in place as a response to Trump's 25% levy on steel and aluminium imports, that it will shift some of its manufacturing to non-U.S. locations in order to avoid paying EU duties could spark similar moves from targeted companies, putting pressure on policymakers keen to protect jobs. 
Away from equities, global oil markets were little-changed for the second consecutive session Tuesday, with investors still picking through the pieces of last week's OPEC meeting in Vienna which pledged to adjust output to meet the collective 1.2 million barrel production cuts agreed in December 2016.
Brent crude futures contracts for September delivery, the new global benchmark, were seen 11 cents higher at $74.70 per barrel at the start of the European session while WTI contracts for August were marked 19 cents higher at $68.27 per barrel.