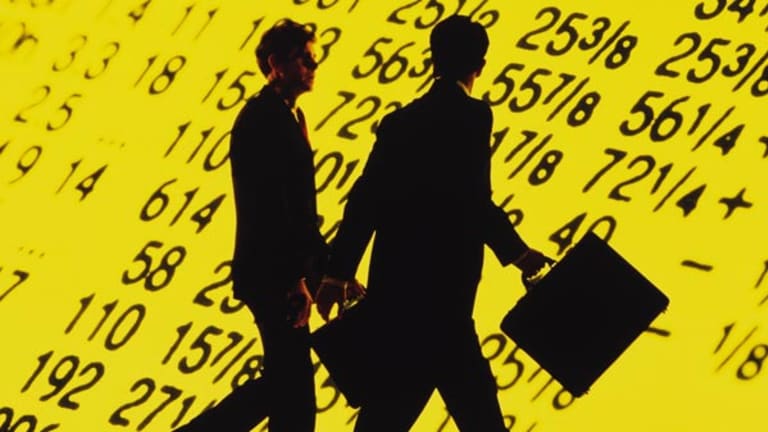 Stocks Steady Ahead of Fed
Natural gas jumps as Conoco seals a deal for Burlington Resources.
Stocks sat still early Tuesday as a mammoth deal in the oil and gas sector was drowned out by caution ahead of the Federal Open Market Committee's meeting.
Index futures recently showed the
S&P 500
trading at fair value while the Nasdaq 100 was set for a half-point gain. The 10-year Treasury bond was up 3/32 in price to yield 4.54%, while the dollar firmed against the yen and euro.
Overseas markets were mixed with London's FTSE 100 up 0.1% to 5509 and Germany's Xetra DAX losing 0.2% to 5292. In Asia, Japan's Nikkei fell 0.2% overnight to 15,779, while Hong Kong's Hang Seng added 0.3% to 14,943.
Energy prices were also mixed, as
Conoco's
(COP)
$36 billion acquisition of
Burlington
(BL)
sent natural gas futures up 26 cents to $15.11 per million British thermal units. January crude eased 12 cents to $61.18 a barrel.
While other corporate dramas played out Tuesday at
Vodafone
(VOD)
and
Wendy's
(WEN)
, traders remained focused on the
Fed
, which is expected to raise official interest rates by a quarter-point to 4.25% after a meeting Tuesday in Washington.
Of interest to financial markets will be the wording of the FOMC's economic assessment, which could contain a rewording of the Fed's longstanding vow to raise rates at a "measured pace" at future meetings. Such a revision is viewed as the first step in the suspension of the current tightening campaign.
At Wendy's, Nelson Peltz, the Milken-era corporate raider who ran
Triarc
( TRY), reportedly is proposing a further restructuring for the fast-food chain, including the complete spinoff of Tim Hortons. Wendy's agreed to a partial spinoff of the doughnut store operator under pressure from other activist hedge funds over the summer. Peltz owns a 5.5% stake in Wendy's, according to the
New York Times
.
Vodafone reportedly has made the highest offered in an auction for Turkish mobile phone operator Telsim, outbidding Kuwait's MTC for the company. Vodafone reportedly offered $4.55 billion for Telsim, which has about a quarter of the Turkish cell phone market.
General Motors
(GM)
was lowered further into junk territory by credit analysts at Standard & Poor's, who argued that a bankruptcy filing might ultimately be the only way for the automaker to cure its ills.
Cendant
( CD) says weakness in its travel division will lead to lower-than-expected earnings in the companies fourth and first quarters. For the three months ending this month, Cendant expects to earn 23 cents a share, a penny below estimates.